PMC Commercial (PCC) is one mortgage REIT that's flying way under the radar - no analyst coverage, no quarterly earnings calls. The micro-cap (~$80 million market cap) commercial originator has seen its stock sink 30% in the past two months, falling from $10 in March to just $7 in May. But has PMC's pounding been overly punitive?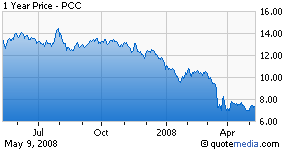 Before I get into the first quarter earnings, let's take a look at PMC's business model. The Company that primarily originates first-lien, real estate-collateralized loans to small businesses, primarily in the limited service hospitality industry. PMC has two subsidiaries that act as non-bank Small Business Administration 7(a) Program lenders, which means that the Company is able to originate loans that are guaranteed up to 75% by the SBA. It also means that portions of 7(a) loans guaranteed by the agency can be transformed into AAA rated government bonds and sold on the secondary market.
Obviously, in the current economic environment, PMC's business would be expected to decline, so secular pressure on the stock is not surprising. PMC's fundamentals, however, are telling a different tale.
During the first quarter, the Company originated approximately $17.1 million of loans, but funded $8.9 million in April -- an increase of 56% over the first-quarter run rate. Impairments and provisions ticked up just $10,000 over the prior quarter, so credit metrics on the retained portfolio showed no deterioration. Most importantly, the Company earns taxable income of $0.31/share -- versus a $0.20/share dividend. Since management has indicated that it intends to maintain the $0.20/share payout throughout the year, PMC may end the year with excess taxable income if loan fundings remain strong. If I had to guess, I believe PMC will be able to declare a special dividend of $0.20 - $0.25/share. Such a distribution would lift the annual forward yield to over 13%.
PMC is a small-cap stock and thinly traded, so buyers beware. For those with some money to play with, however, this stock could prove to be an untapped gold mine.
Disclosure: none