With oil prices going through the roof, it is nice to see an airline generate some decent profits. Copa Holdings (NYSE:CPA) is the parent of Panama based Copa Airlines and Columbia based Aero Republica. Earnings for Q1, 2008 were 91¢ per share compared to $1.12 for the same quarter a year ago (See Transcript). As one could easily guess, higher fuel prices put a dent in the earnings, with average fuel costs 35% higher for the quarter. Other revenue numbers showed some nice growth (all of the numbers are YoY quarter growth):
Total revenue increased 21.9%.
Revenue passenger miles increased 13.5%.
Yield per passenger mile increased 7.2%.
Load factor increased 1.6% to 78%.
Operating cost per seat mile increased 20.7% (see fuel cost increase above).
Liquidity (available cash & investments) equaled 33% of last 12 months revenues.
An annual dividend of 37¢ was declared.
As a rule, airline stocks scare me, double scare me when fuel prices are rapidly rising. However, Copa is maintaining decent profitability in spite of increasing costs. The airline appears to be very well run (I have flown on Copa Airlines several times). It has a young (less than 4 years average age) fleet and serves the growing Latin America market.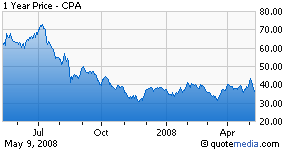 CPA shares trade at around 10 times projected 2008 earnings. If it gets any relief on fuel prices, owning this stock could be a nice place to be. I have CPA as a component of my Special Situations Portfolio and would be looking for buying opportunities if the stock pulled back into the low $30s.
Note: I currently do not have a position in CPA.