Barron's Jack Willoughby says that in a market that now routinely pays earnings multiples of 25 and more for oil services stocks, he's found a "sleeper" -- Cameron International (NYSE:CAM). The Houston rig specialist boasts almost $5B in annual revenue, mostly from developing custom oil-drilling systems and compression systems (they push the oil to the surface).
Shares of Cameron are down slightly on the year, giving it a P/E multiple of 19. Those of arch-rival FMC Technologies (NYSE:FTI) are up 30%, making it worth a richer 25x.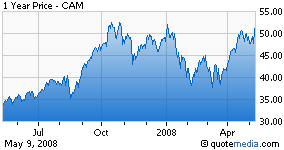 The Street has been unkind to Cameron due to a lack of clarity about its order flow and margins: "Delays have resulted from overly ambitious oil companies estimating that they would be able to grow without being sure of the rigs," Morgan Stanley analyst Ole Slorer says.
But with a 30% market share, and the average rate for day rigs above $500,000 in the GoM, from $200,000 in 2006, Slorer says Cameron's long-term destiny can be but one. "Cameron's dual exposure to sub sea and surface should put the company in an operational sweet spot over the coming three years," he says. He thinks Cameron could do "materially better" than its $2.85/share 2008 forecast.
CEO Jack Moore offers hints of the same: "We expect to see margin improvements, particularly in the second half of the year, as the recent additions to orders and backlog are converted into revenues."
Capital Management's Tim Call says investors should ignore the firm's conservative guidance and expect 20% growth as long as oil remains above $40/barrel (yes, $40). "The energy cycle benefits the suppliers last, making this a great late-cycle play," he says.
Barron's says it's only a matter of time before shares pull even with its peers.
=========================