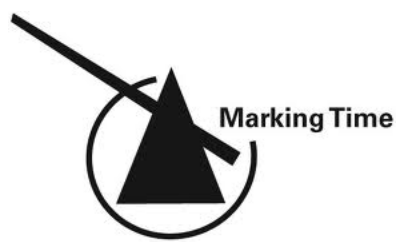 U.S. economic data Tuesday featured Personal Income & Spending (Income .5% & Spending flat); core PCE ex-food & energy rose (1.8%...and, thankfully we don't use that stuff, right?); the Case Shiller Home Price Index rose (2.2% vs. .5% expected & prior .7%); Chicago PMI rose (53.7 vs. 52.5 expected & prior 52.9), and Consumer Confidence rose (65.9 vs. 61.5 expected & prior 52.9). Taken together, these were good reports and not the stuff to accommodate more QE...one would think.
Investors await the Fed's Wednesday afternoon policy announcements, with bulls hoping for more QE -- or at least hints of that.
Meanwhile Germany continues to say "nein" to any thoughts of granting the ESM (European Stability Mechanism), a banking license that would enhance its power to buy bonds. This is one tool at the core of Draghi's "all-in" comments. At the same time, France's Hollande and Italy's Monti are cheerleading these ideas, as (no doubt) is our own Treasury Secretary Tim Geithner. The ECB meets Thursday to announce (kick the can) further with bailouts for all comers.
In all things government, micro-management, and basic "fairness," the Federal Housing Finance Agency (FHFA) has -- via Acting Director Edward Demarco -- decided not to reduce principal on underwater mortgages. Is it fair to reduce mortgage principal for some investors, but not all? (Crazy thinking right?) Geithner penned a response directly challenging this view, and endorsing the government's interventionist hand and its own views of fairness.
Not lost on investors will be Friday's all-important Employment report to kick-off August.
It's the end-of-month for bulls, which means it's time to mark-up (window dress) markets. News surfaced Tuesday that Apple (NASDAQ:AAPL) might consider splitting its stock, and might then be included in the DJIA, per this Forbes report. This allowed the stock to rally nearly 3%.
To add to current doubts, Bill Gross of Pimco wrote a note entitled the "Death of Equities," which won't be appreciated by Wall Street product vendors, including Pimco.
Stocks were lower, bonds (NYSEARCA:IEF) slightly higher in price, the dollar (NYSEARCA:UUP) and gold (NYSEARCA:GLD) weaker, as were commodities (NYSEARCA:DBC) overall. In other words, it was a down day, period.
Volume was light, and breadth, per the WSJ, was negative. Given the impending news from central banks, this posting is short, but longer than yesterday's.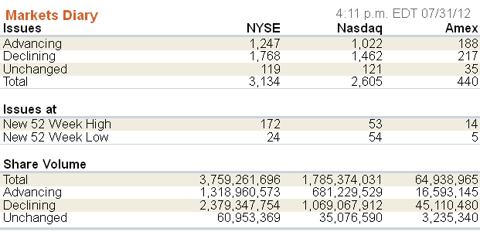 Click to enlarge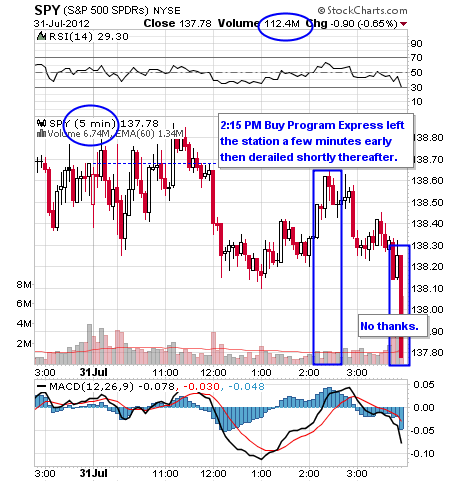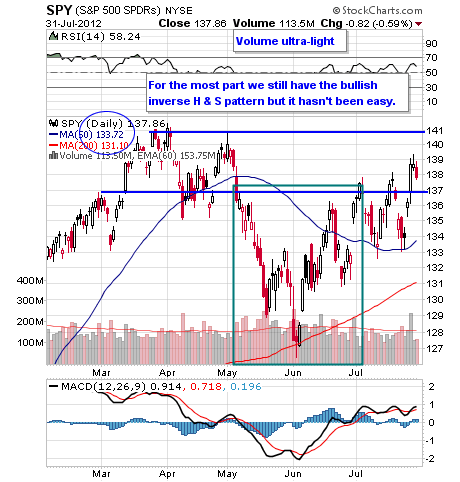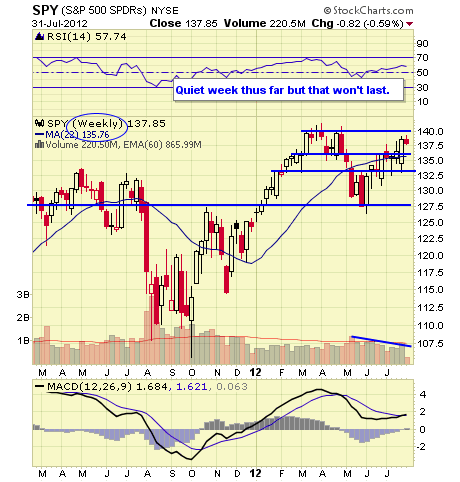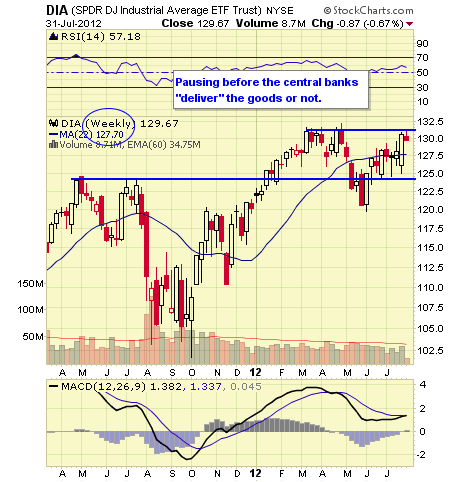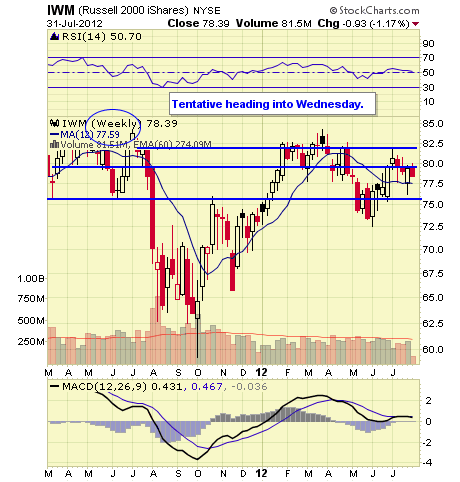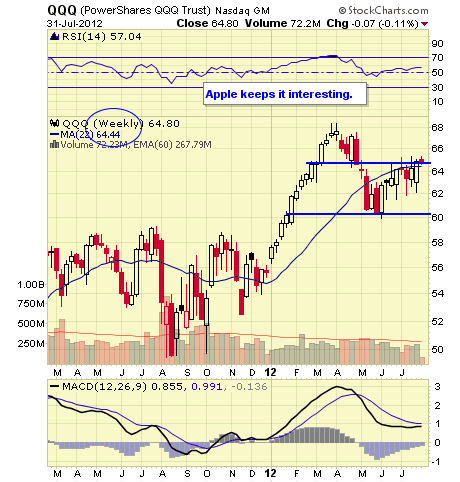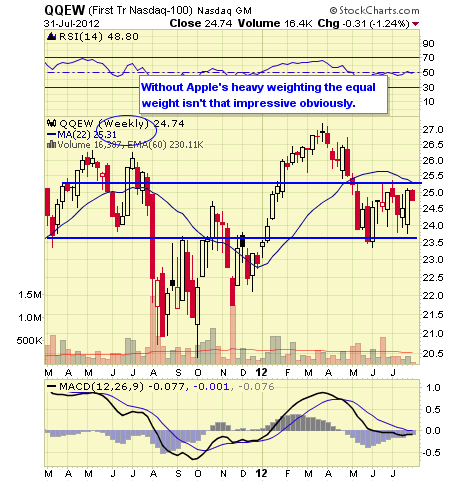 Continue to U.S. Sector, Stocks & Bond ETFs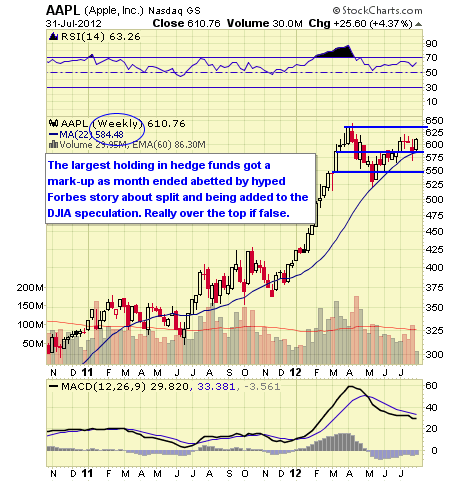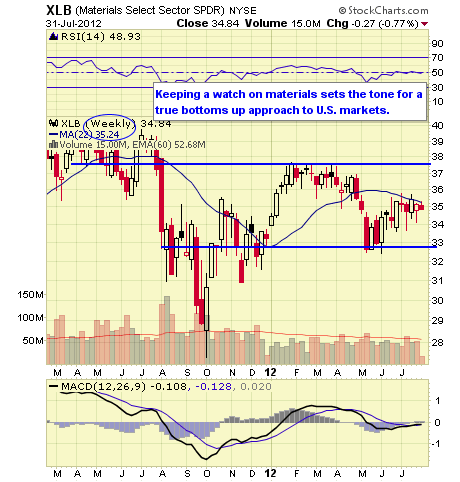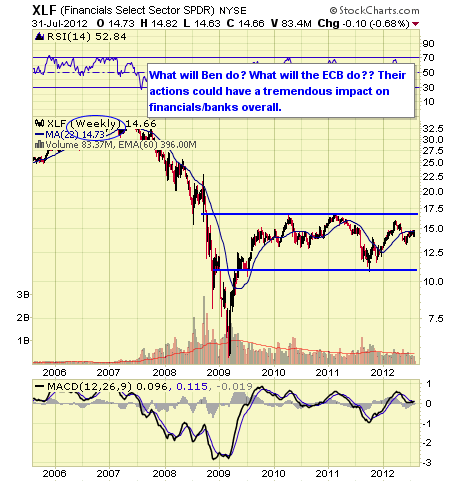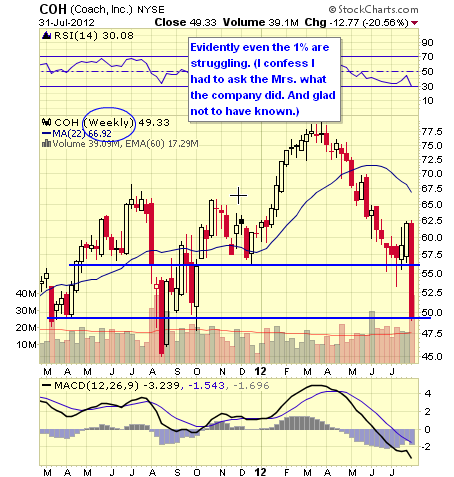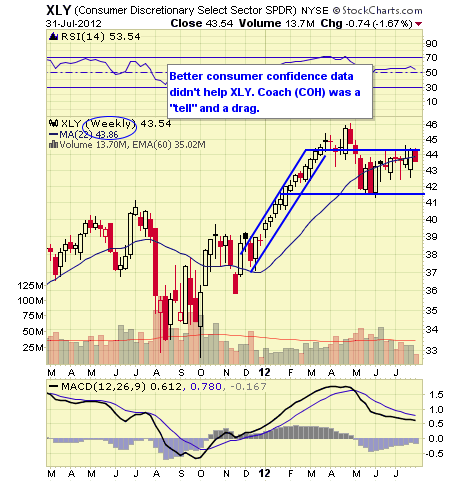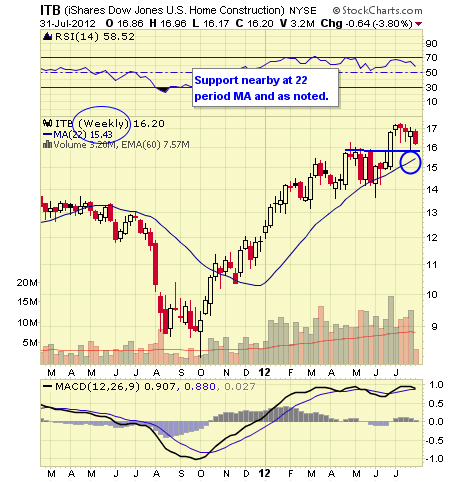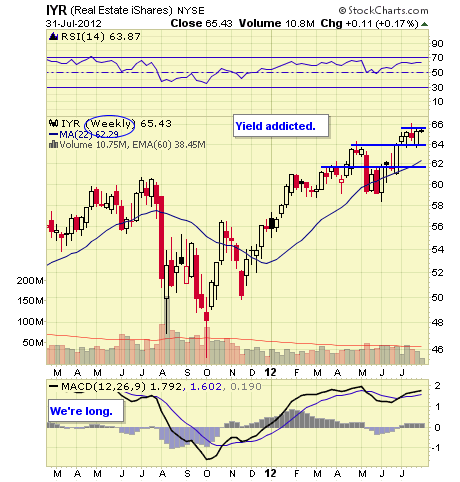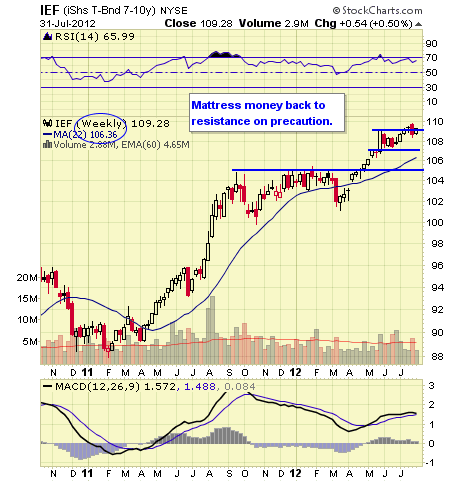 Continue to Currency & Commodity Market ETFs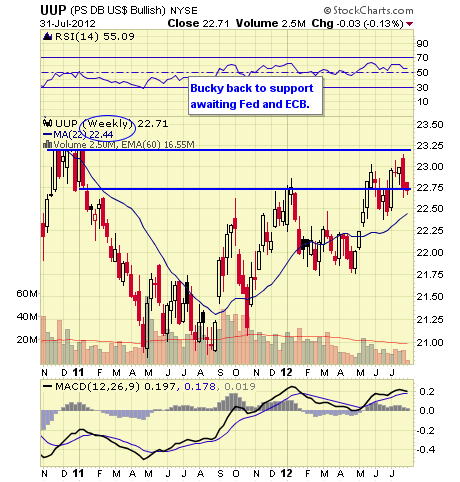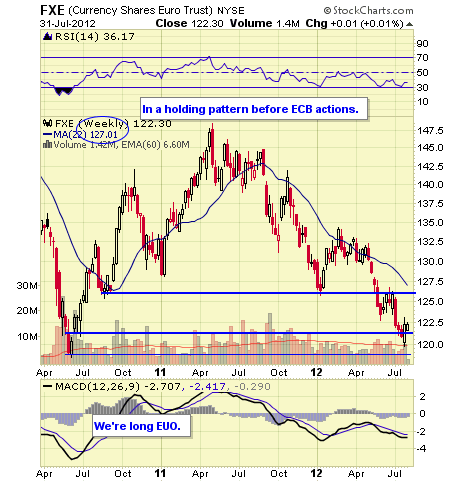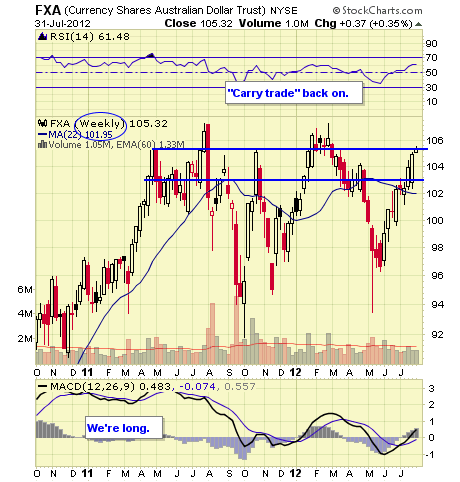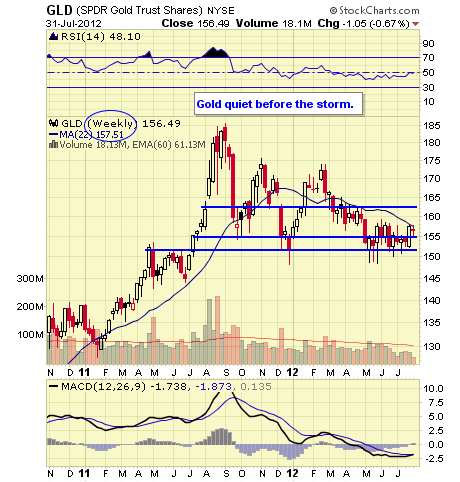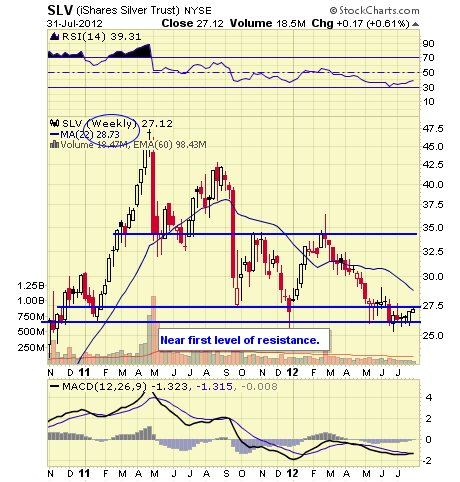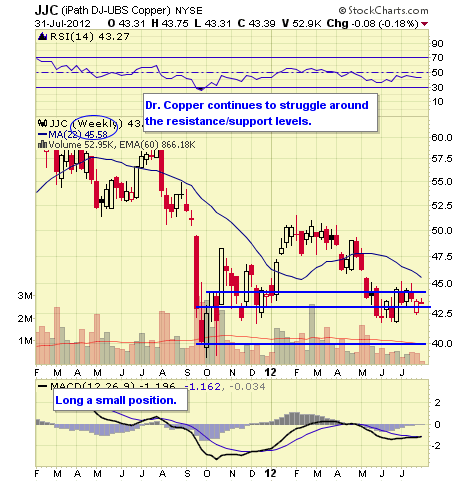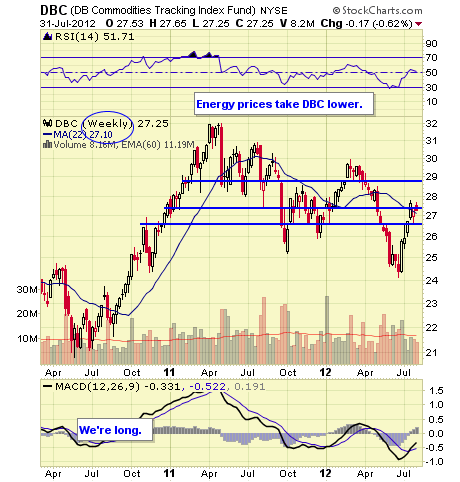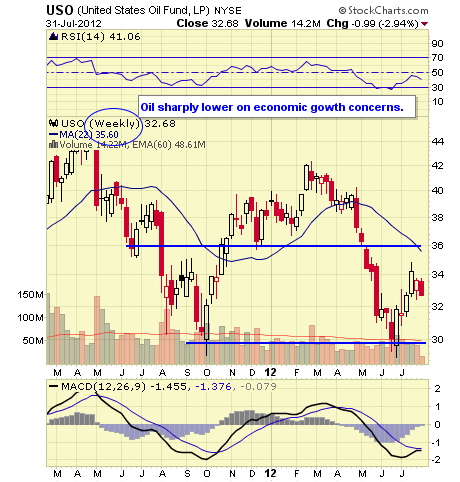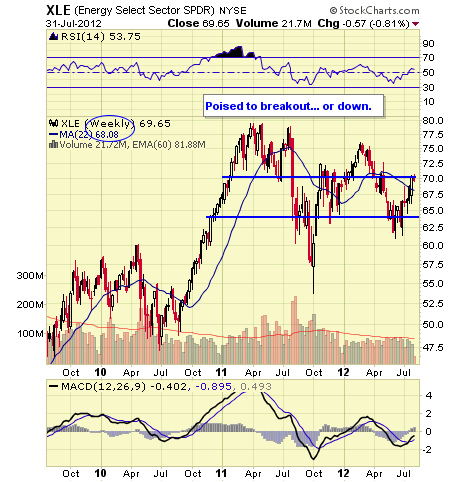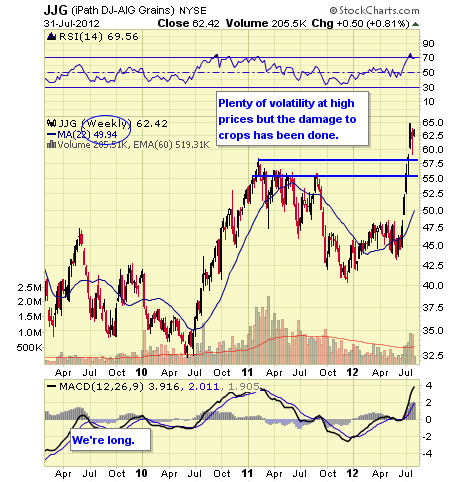 Continue to Overseas Sectors & ETFs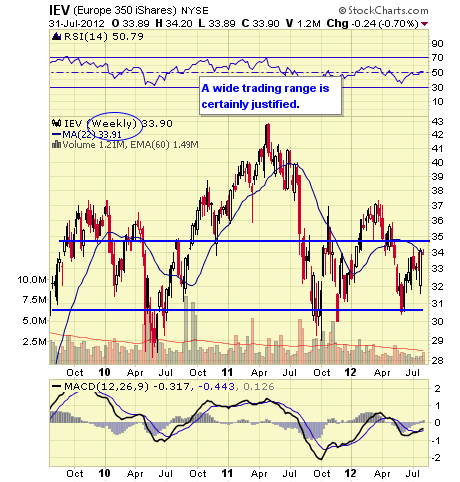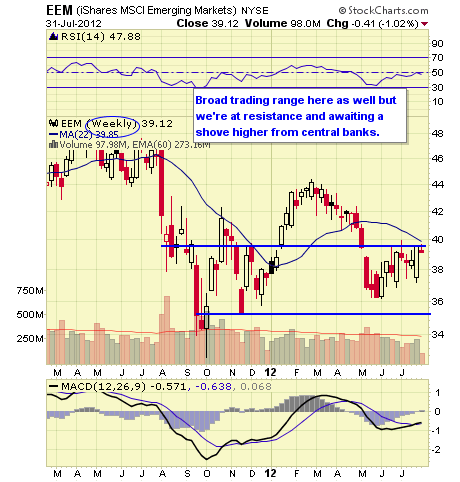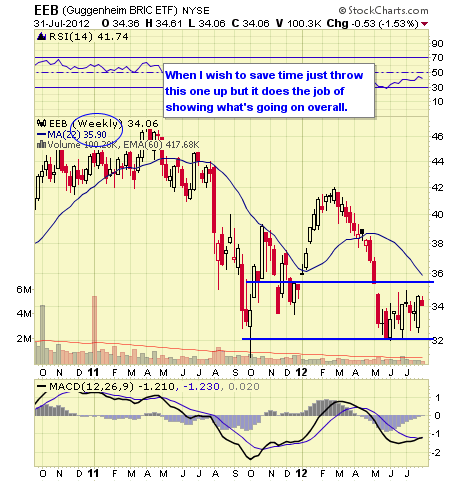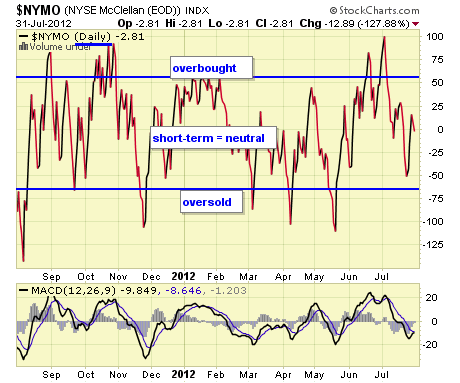 The NYMO is a market breadth indicator that is based on the difference between the number of advancing and declining issues on the NYSE. When readings are +60/-60, markets are extended short-term.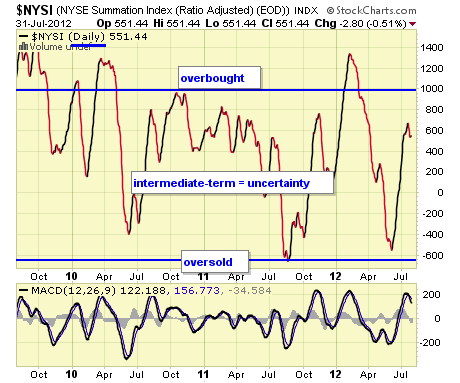 The McClellan Summation Index is a long-term version of the McClellan Oscillator. It is a market breadth indicator, and interpretation is similar to that of the McClellan Oscillator, except that it is more suited to major trends. I believe readings of +1000/-1000 reveal markets as much extended.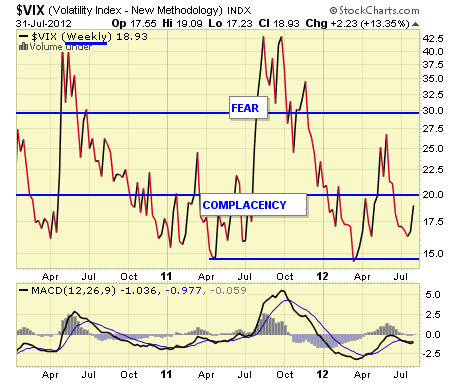 The VIX is a widely used measure of market risk and is often referred to as the "investor fear gauge". Our own interpretation is highlighted in the chart above. The VIX measures the level of put option activity over a 30-day period. Greater buying of put options (protection) causes the index to rise.
The VIX is a little higher than one would expect normally, but investors are seeking protection against an unexpected or disappointing central bank outcome.
The exhibition season for the month of July is over, and now in August, the real games begin. Keep your seat belt fastened.
Disclaimer: The ETF Digest maintains active ETF trading portfolio and a wide selection of ETFs away from portfolios in an independent listing. Current "trading" positions in active portfolios, if any, are embedded within charts: Lazy & Hedged Lazy Portfolios maintain the following positions: VT, MGV, BND, BSV, VGT, VWO, VNO, IAU, DJCI, DJP, VMBS, VIG, ILF, EWA, IEV, EWC, EWJ, EWG, & EWU.
The charts and comments are only the author's view of market activity, and aren't recommendations to buy or sell any security. Market sectors and related ETFs are selected based on his opinion as to their importance in providing the viewer a comprehensive summary of market conditions for the featured period. Chart annotations aren't predictive of any future market action rather, they only demonstrate the author's opinion as to a range of possibilities going forward.
Disclosure: I have no positions in any stocks mentioned, and no plans to initiate any positions within the next 72 hours.