Last week quite a few of the companies I have covered in the Web 3.0 analysis released its Q1 results. While some showed impressive performance, quite a few were battling the recession. Here is an analysis of some of these stocks.
Blue Nile (NASDAQ:NILE), the online jewelry retailer, announced Q1 revenues of $70.5 million, recording a 4% growth over the year and exceeding the market's expectations of $69.5 million. EPS for the quarter stood at $0.16, recording a 16% reduction over the previous year. The market was expecting an EPS of $0.14.
The company has been feeling the pinch of the economic conditions. With gold prices increasing by 30% and platinum by 50% over the year, it has felt significant pressure on its margins which is reflected in its outlook.
For the second quarter, it is expecting revenues to grow by 0-5% over Q2 2007 revenues of $72.1 million with EPS of $0.15 - $0.18. The street was looking for revenue of $78 million with EPS of $0.22. For the fiscal 2008, it expects annual sales growth of 10% over 2007 revenue of $319 million with earnings at $1.04 per share. The street had been expecting earnings at $1.05.
During the quarter it repurchased $41.7 million worth of shares at an average price per share of $42.05.
It is progressing with its objective of expanding the company's geographical reach this year. International sales grew to 8% of overall sales compared to 4% the year before and 6.5% in the previous quarter. It has launched itself in 25 countries in Europe and the Asia Pacific region.
I have constantly emphasized BlueNile's need to cross sell. Unfortunately, it is still stuck on diamonds and engagement rings. In fact, as diamonds become more expensive, it is also focusing on selling diamond bands as engagement rings.
The management might have decided to focus on improving customer service this year, but it sure is not taking the simple steps of personalizing the website for repeat customers and improving its community aspect, both of which are relatively weaker links in its web 3.0 equation.
The stock fell 5.4% post announcement of results to close at $45.18.
click to enlarge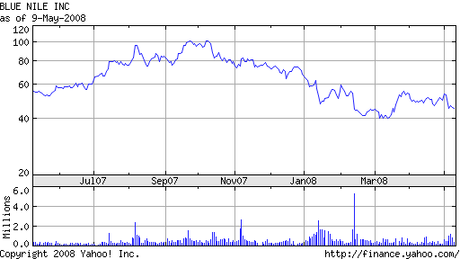 Another company that didn't fare too well was ZipRealty, the online real estate portal.
With the real estate sector struggling, the online players are in trouble as well. ZipRealty (NASDAQ:ZIPR) had hoped to continue managing itself through its current strategy of cutting operating costs, slowing down or stalling entry into new markets, and continuing to fortify its existing market share. Unfortunately, its Q1 results which were declared last week, did not support its hopes.
ZipRealty's Q1 revenues recorded a year on year 12% reduction to $20.6 million, substantially below the market's expectations of $22.3 million. Its loss per share increased to $0.24 compared to $0.10 loss the year before. The market had been expecting a loss of $0.12 instead.
During the quarter, the number of transactions closed remained flat at 3,121 compared to 3,110 the year before. The total value of these transactions stood at $844 million compared to $1,044 million the year before, registering a 15% reduction. Average net revenue per transaction also reduced by 9% for the year to reach $6,447.
The company expects 2008 revenues to range from $114.0 - $118.0 million with a net loss of $0.23-$0.30 per share. It is, of course, in the segment that is the hardest hit by the current financial crisis, so it is no surprise that the company is struggling.
Despite its good business model and excellent tools, it was unable to battle the housing market slowdown. Given the prediction by Borell Associates that by 2012, newspaper real estate ad revenue will hit $3.2 billion while online real estate ad revenue will surpass that at $3.4 billion, there is still enough market potential. But till the storm of the subprime crisis subsides, the online real estate sector will continue to shudder.
The stock continues to trade in the $5.00 range. With a market capitalization of $120 million, it is still quite an attractive buy for companies like Microsoft (NASDAQ:MSFT) and Yahoo (NASDAQ:YHOO).
click to enlarge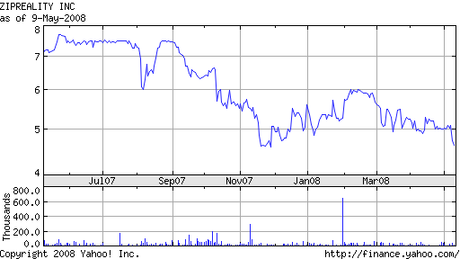 One web 3.0 company that beat the recessionary pressures is Monster (NASDAQ:MNST). In the web 3.0 series, I covered the online job vertical in great detail.
The company announced revenues of $370.4 million, recording a 13% increase over the year and beating the market's expectations of $362.9 million. Its EPS of $0.24 exceeded the market expectations of $0.22, but recorded a year on year reduction of 32%.
The company does not give an outlook, but did mention that it expects a non-GAAP operating margin goal of 25% by Q4 in a "reasonable revenue growth scenario."
I had mentioned how the online job vertical will see an increase in the M&A especially by media companies and major internet companies. As of now, that does not seem to be happening, largely because the MicroHoo deal was holding the industry up. Though within the segment, a lot of mergers are happening. Monster itself announced the acquisition of Affinity Labs this quarter. It purchased the company for $61 million with a view of improving its vertical presence through Affinity's product and site range.
To address the need to establish footprints in nearly every geo-location, it agreed to acquire the remaining 55% stake in ChinaHR.com for $225 million. Unfortunately completion of the transaction is taking some time, and it only expects to close the deal by Q3 of this year.
In the quarter, its international career revenue contribution grew by 44% while the American career revenue was flat at $184 million. The IAF revenue reduced by 14% over the year to contribute $34 million only. The reduction in the IAF revenue is also on account of its winding down of Tickle which deals with online photo and video sharing as it does not see it as its core business.
In continuing with its tie-ups with the newspapers and television properties, it became the exclusive job services provider to msnbc.com. During the year it plans to become more aggressive on product innovations. Its initiatives of improved job search engine, Express Apply product to make registration and application to jobs faster, video posting tool in North America and a job posting suite that gives the employer greater flexibility and options while posting a job helped increase its site visits by 26%.
Monster currently has a huge untapped market even within the U.S. In the previous year, of the 13 million American companies that employ between 1-9 people, it only did business with about 1%. Of the 1.7 million companies that employ between 10 and 500 employees, it transacted with only about 4% and of the 31,000 companies with over 500 employees, it only served 25%.
Add to that its current reorganization activities to maximize operational efficiencies, and it is surely on its way to higher revenues along with higher margins. In view of the good results, its stock rose 3.6% to $26.48. I peg this as a potential Microsoft (MSFT) acquisition as well.
click to enlarge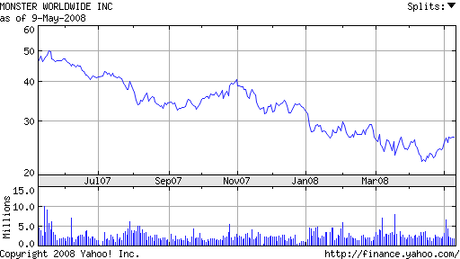 And, finally there is WebMD which also outperformed. Earlier last month, I had predicted that it was time to buy WebMD (NASDAQ:WBMD). The stock was then trading at a record 52-week low, and has since risen 42% to trade at $30.96 post-announcement of its Q1 results last week.
Q1 revenues grew by 14% over the year to $81.7 million narrowly exceeding the market's expectations of $81.6 million. EPS grew to $0.07 compared to the market's view of $0.05 and the previous year Q1 EPS of $0.01.
Segment-wise, online services segment grew by 15% in the year to $78.4 million. During the period, Advertising and sponsorship revenues increased by 18% and private portal licensing revenues grew by 9%. However, publishing and other services registered a reduction of 7% to reach $3.3 million in the quarter.
The company expects 2008 revenue of $380 - $395 million which is in line with the market expectation of $383 million.
Traffic to its Health Network continued to grow, with the average number of unique users increasing by 25% to reach 51.9 million per month. The total traffic grew by 24% to 1.2 billion page views.
During the quarter it also added to its existing lineup of niche products. Its interactive health check assessments have now been enhanced to integrate online health tracking with personalized follow-up. The company added to its already good Community feature through the launch of Physician Connect - a new community area on Medscape that allows physicians to connect with other physicians to discuss topics that are relevant to the practice of medicine.
It is looking at England, Germany, Russia, certain major Asian markets including India for expansion through tie-ups. The company will get into partnerships with media and healthcare companies in the region which have either existing relationships with the end uses or relevant local content and local contacts.
click to enlarge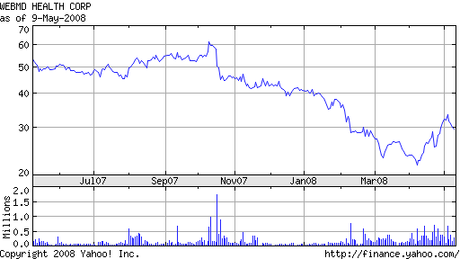 Disclosure: None