Israel Emerges As A Strong ETF Industry Leader
Tucked away in the heart of the Jewish country is Tali 25, an ETF that is already 8 years old. It was Israel's first fund to market.
Since then, the Israel ETF industry has grown considerably, with a ratio of ETFs to mutual funds of 25%. The ratio in the U.S. is 15%, reports Sarit Menaham for Haaretz.
The most notable aspect of the Israeli ETF market is the number of ETFs in various indexes. In the United States and other countries, a few ETF providers may have exclusivity over an index. This abundance is great for local investors as it creates competition, and has providers striving to be the best.
American investors seeking to invest in this market can do so with the iShares MSCI Israel Cap Invest Mkt Index (NYSEARCA:EIS). This ETF launched on March 28, and is up 10.1% since.
The economy is growing at 5% for the fifth consecutive year, with high-tech companies leading the way. Voice mail technology and other innovations actually have their roots in Israel, who has more listings on NASDAQ than any country aside from the United States and Canada, reports Abraham Rabinovich for The Australian News.
Socialism is a thing of the past; however, the gap between the rich and the poor is one of the deepest among developed nations. Investment in the land of one of the oldest civilizations could prove fruitful for American investors today.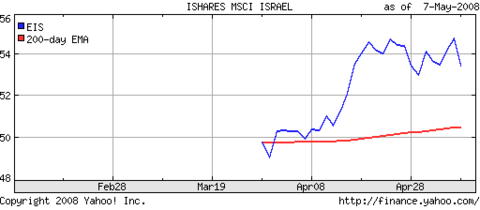 Power Shift Seems to Agree With Russia ETF
On May 7, Vladimir Putin stepped down and Russia's new president became Dmitry Medvedev - is it any coincidence that in one day, the Russia ETF rose 4.4%?
Market Vectors Russia (NYSEARCA:RSX) seems to be a beneficiary of the surge in energy prices in particular, as 43.1% of the fund is allocated in the sector. It's up 6.4% year-to-date.
Foreign investors, attracted by the record-high oil prices, are turning a blind eye to the country's expulsion of U.S. diplomats and threats of a war with Georgia, reports Peter Apps for Reuters. The expulsions were ordered on April 28 after the United States expelled three diplomats earlier in April. The back-and-forth is bringing back Cold War memories.
Some investors might be deterred by Russia's issues, especially when compared with other emerging markets such as Brazil, which has the growth without the political risks. And those investors who are concerned with the oil and energy sector in Russia are focusing on other sectors such as construction and retail.
An ETF is a good way to get exposure to several sectors - the diversification means you could potentially benefit from any growth, while avoiding too much risk if it doesn't pan out.
Exposure to Russia can also be had through the SPDR S&P Emerging Europe (NYSEARCA:GUR), which also contains exposure to Poland, Turkey, the Czech Republic and Hungary. Year-to-date, it's down 5.2%.
A closed-end fund contains Russia exposure, too: the Central Europe and Russia Fund (NYSE:CEE), which is down 5.1% year-to-date. 27.7% of its holdings are in Russia.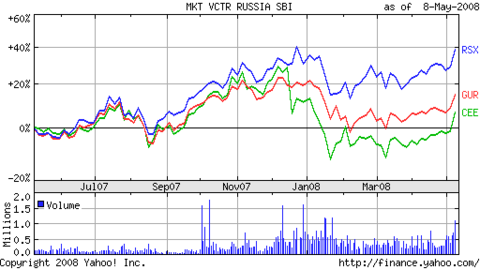 Turkey and Its ETF May Need More Time In The Oven
Are you brave enough to grow your nest eggs with a Turkey ETF? If you want to invest some of your time and money into the Turkish stock market, it is best to do so with an appetite for risk, as this country may need more time in the oven.
Vito J. Racanelli for Barron's suggests that after a 25% drop from October highs, the Turkish stock market is the cheapest it's been in a while. After outstanding performances since 2002, this emerging market has been one of the worst performers this year.
Investors have been deterred by two things in particular: a worsening economic picture and rising interest rates. GDP was once high at 7%, but is predicted this year to slow to between 4% and 5%.
The current government is market friendly and fiscally disciplined, but the survival of the president's party is in question. The Constitutional Court could sweep it off its legs and leave the economy and the country's political stability in doubt.
There are two ways to get exposure in Turkey:
Turkish Investment Fund (NYSE:TKF): A closed-end fund, which is down 14.8% year-to-date.
iShares MSCI Turkey Investable Market Index (NYSEARCA:TUR): A fund that launched on April 1, it's up 9.3% since then.