Imperial Sugar (NASDAQ:IPSU) is the one of the largest sugar refiners in the US. Its brands, which are etched into American culture include Holly, Dixie Crystals and Imperial. It processed and sold 2.6 billion pounds of refined sugar in Fiscal 2007 resulting in sales of $875 million and earnings of $44 million.
On 2/7/08 tragedy struck its Georgia's Port Wentworth Refinery when an explosion occurred that claimed 13 lives and destroyed 12% of the facility. This plant alone had supplied 9% of annual US sugar production. The cause of the explosion and subsequent fire was apparently combustible sugar dust. OSHA fined IPSU a total of $36,000 due to safety violations. IPSU has vowed to rebuild the plant and expects sugar production to resume before year's end.
The business of refining sugar appears on the surface to be simple, but many factors come into play that makes this business much more complex than meets the eye. IPSU tries to capitalize on the spread between raw sugar and refined sugar. They have to buy either sugar cane or sugar beets for processing. They then process the raw material through a conversion process which is energy intensive (IPSU utilized 2.7 million MMBTU's of natural gas and 1.8 million MMBTU's of coal in their 2007 refining efforts).
The Government, through its Farm Bill legislation, effectively controls the price of raw sugar by limiting the amounts of imported sugar as well as restricting US production of it. IPSU profits depend on three factors: (1) the price of its raw material (2) the cost of energy (3) the price they are able to obtain for their finished product. Throw in the wild card of intense government regulation and you have a business model that is not too appealing.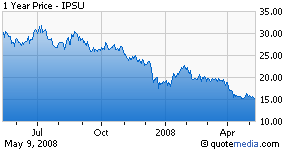 The company has been highly profitable after emerging from Chapter 11 in 2001 and its shares have soared as high $35 but have since nose-dived to a fresh 52-week low of $15. IPSU has also paid two special cash dividends totaling $5.50 as well as an annual $0.28 dividend. Katrina'a destruction of a Domino Food's sugar plant was one of the main drivers of higher refined prices and IPSU's subsequent windfalls.
The company is an interesting play. One important factor to consider is how effective will IPSU's insurance cover the cost of rebuilding its Port Wentworth plant and what will be its compensation for 'lost business' due to the shutdown of that plant?
There are 11.82 million shares outstanding. Lehman Brother's (LEH) is the single largest holder with a 31.6% stake, the Schultz Master Fund owns 15%, while Barclays Global retains an 11% position and Dimensional Fund Advisors owns 5%. These four entities alone control 63% of the company, leaving a small float of about 4 million shares. If you take into consideration a very high short position of 2.75 million shares, you'll see that the fuel for a tremendous short covering rally is squarely in place as there are only about 1.25 million shares freely available to trade.
This company has a clean balance sheet with no debt and approximately $8.92 per share in cash. It's selling at less than its current book value of $15.70. BWS Financial, the only firm that provides research coverage on IPSU, is quite negative on the stock with a $9 price target. This is a crazy scenario, since the analyst, Hamed Khorsand, is giving no value to the company other than for its cash on hand. What about the value of IPSU's goodwill, real estate, machinery and equipment and finally its future earnings ability? Shouldn't these components be assigned some sort of value?
Competitive pressures are building for IPSU as food processing titan, Cargill Inc., is expected to start construction of a refinery plant that will be in direct competition with it. IPSU is not taking this threat lightly as it has recently entered into a partnership with "Ingenios Santos" in hopes of a tapping into the Mexican market, as tariffs on Mexican sugar have recently been lifted by NAFTA.
The shares deserve a second look at these very depressed levels as there is evidence that more reward than risk exists at this juncture. IPSU is destined to hit the "sweet spot" once again, however, it will take time as the "healing process" needs to run its course.
Disclosure: None