The aerospace and defense sector has held up fairly well over the past year, with a small percentage gain in the face of a declining overall market. Some of the strength may be attributed to the continued wars in Iraq and Afghanistan. However, with much talk of troop withdrawal and the ongoing fight in Congress regarding funding, some companies have been hit hard in the past year; e.g. Ceradyne (CRDN)- which makes the ceramic SAPI plates used in individual body armor, and Force Protection (NASDAQ:FRPT)- which makes armored vehicles, like the USMC's new mine resistant ambush protected Cougar vehicle.
Here are the problems with CRDN, FRPT and similar companies:
The SAPI plates made by Ceradyne are amazing. When the war first began there were many troops that did not have these plates in their body armor, mostly non-infantry or non-combat arms units. Once it was realized that there really were no set "front lines", that many troops in non-combat specialties were finding themselves in ambushes and other hostile engagements, there was a large push to get this body armor to ALL troops, regardless of their military occupation. Since this need has largely been met, the demand for these armor plates is dramatically lower- mainly because the military will reuse and reuse the plates until they have been severely damaged by gunshots or shrapnel.
This same story applies to many of the companies that produce the mine resistant vehicles. At first, the military was using the traditional soft-skin and open-back humvees; once the danger of I.E.D.s and ambushes begin to present itself, the military transitioned first to after market bolt-on armor kits, up-armored humvees (these are built as armored vehicles and have more power to deal with the added weight, etc), and now to the M.R.A.P. vehicles. The problem is that these new vehicles are very, very expensive. The military will keep using the modified/armored humvees and not replace them [with the newer vehicles] until they are completely inoperable or destroyed.
If Congress should begin a substantial troop withdrawal, these companies will suffer further. I've operated in both Iraq and Afghanistan, so I can vouch for the these arguments. There is one area in which a strong demand will remain, regardless foreign policy- munitions, from small arms to larger missile systems.
Whether it is war-time or peace-time, as a crucial part of training, ground troops and pilots are constantly firing their respective weapons systems. In fact, due to the nature of the conflicts, I would venture to say that more rounds are put down range during peace-time training. So what's the ammo play in the sector? Alliant Techsystems (ATK).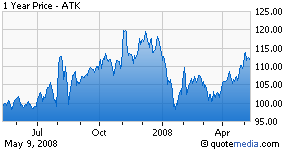 In FY '08, Alliant Techsystems operated in three segments: Mission Systems, Armaments Systems, and Launch Systems. Armament Systems products include small to medium caliber ammunition, weapons systems, propellants for tactical rockets, and also several types of commercial small arms ammunition; in FY '08 this segment accounted for over 35% of sales. Through the company's Mission and Launch Systems, ATK provides various strategic missiles, missile defense systems, tank ammunition, and many other air and ground munitions. Alliant Techsystems also provides launch systems for NASA, satellites and other space systems.
ATK recently reported 4th quarter earnings (FY '08) of $1.83 per share, and a record $6.5 billion in orders; the company raised FY '09 guidance to $7.15 - $7.35 earnings per share, and reaffirmed this guidance Friday after announcing a $0.11 per share charge due to the failed MDA deal.
The point being to all of this is that, regardless of who's in the White House, the military will always be firing their weapons- and you cannot reuse the ammunition. If you can shoot it, chances are ATK provides the ammo. The defense sector has held up well in the past year, but that could always change. If you want a play in the space, take a look at Alliant Techsystems. The stock is up slightly over 10% in the past year and, because it largely provides ammunition and weapons systems, I believe ATK will continue to be a steady performer.
Disclosure: Author has a long position in ATK