When investing, I cannot stress enough the importance of finding sectors that are doing well within the overall market. This does not mean that diversification is not important as that is the only way to protect yourself from downside in the market place.
With respect to sectors, steel looks very attractive, even at these valuations. Many investors believe that with the strengthening dollar that steel pricing could suffer as the dollar rebounds. In some cases this would be true, but it is not applicable if there is pricing strength derived from overall demand.
A good example is the current fertilizer boom. This is a much better example as fertilizer companies such as Intrepid Potash (NYSE:IPI) will do better with a weak dollar as countries outside the United States can buy their products more cheaply than from other countries, but prices will continue to increase for potash, if world demand is greater than production.
I think we will continue to see this with the steel companies. The hypothesis that the slowing United States economy will affect China's demand for steel is a good one, but I do not see this coming into play anytime this year, and the steel companies will continue to see increased earnings going forward. The steel demand in China can be likened to the United States' industrial revolution. This is important as the same events were occurring, as cheaper commodities were provided to the world and this was the first step in making our country the greatest and most diverse economy in the world.
Going forward agriculture, steel, coal and oil look to be great investment areas and any of these sectors are good picks. I currently do not hold any steel companies but did have a position in Steel Dynamics (NASDAQ:STLD) earlier this year. I thought the upcoming earnings estimates do look low for Gerdau Ameristeel (GNA) as the company has large exposure to the steel markets. We have seen one company after the other crush earnings in this sector. GNA is the second largest mini mill producer in North America. It is majority owned by Gerdau S.A., the 14th largest steel company in the world.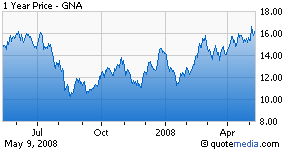 GNA has quite a few things going for it this quarter. It has beaten earnings expectations three out of the last four quarters. Its earnings estimates are over 11% below last quarter year over year, and that is with the expectation of revenues being 47% higher. Analysts have upped expectations for this quarter 4 times in the last 30 days. The current chart is bullish, as we have seen an upward movement since last August at $10.50 and now sets over $16. The current trend has a price target of $20, based on its triple top breakout April 7th.
GNA has been engaged in a buying spree that has increased not only its earnings dramatically, but also its debt. From 2006 to 2007 the company has seen many increases. The first is net sales of 29%. Net income increased 44%. Income from operations increased over 60%. This equated to an increase of a 59% increase in the stock price.
I believe that the current earnings will beat estimates as the synergies created by the company's acquisitions will increase its bottom line. It also is a large player in scrap steel which with respect to cost has caught up to current steel pricing, and is being implemented as a green strategy with respect to companies all over the world. Gerdau is a buy before earnings.