The E-Mini S&P 500 traded in a fairly narrow range as traders await the central banks meetings. Three meetings in one week to be topped off by a monthly US Unemployment report. US Federal Chairman Ben Bernanke may simply reference the tools that are available to the Fed to aid in price stability while deferring any major policy changes to the next Fed meeting.
The US housing market has gained some momentum. The S&P/Case-Shiller composite index that covers 20 metropolitan areas was up 0.9% in May while expectations were for 0.5%. US Consumer Spending dropped 0.1% in June, making up about 70% of the US economic activity. Household incomes were up by 0.5% in June, but consumers seem to hold back from spending perhaps reflecting the economic worries of this time.
The S & P 500 companies have had 303 earnings reported to date with 66% exceeding expectations. Facebook's (NASDAQ:FB) IPO may have been one of the most recent disasters on Wall Street as the legal ramifications are still in progress. Facebook shares were down to $21.61 Tuesday. Our target as stated on our radio program since before the IPO is $12.
Really, this week is about the central banks' potential action and the effect on the markets. We know all too well the Fed's mantra of obtaining economic stability and growth. Fed Chairman Bernanke's actual announcement may be to buy the rumor and sell the fact creating a couple of spikes. If there is no definitive mention of QE3 or similar easing we expect the S&P 500 Emini Futures to visit the 1340/1341 area rather quickly.
Thursday, the European Central Bank and the Bank of England will have their meetings. European Central Bank President Mario Draghi infused the market with fresh elation saying the European Central Bank will do all that is necessary to preserve the euro FX. The promise may not be so very easy to keep as the European Central Bank has already poured over a trillion euros into the marketplace in the form of cheap loans to stimulate the economy and support the European banking system.
It is thought that the European Central Bank may resume its bond-buying program to keep the borrowing costs down for Spain and Italy. The Bundesbank, founded in 1957 opposes any bond-buying as it may be adverse to European law. They further oppose the issuance of a banking license for the permanent fund the "European Stability Mechanism". Germany has remained one of the strongest European economies to shoulder much of the debt. They are more in line with reforms for the indebted countries.
On the stock side: JP Morgan Chase and Co. (JPM) was down 0.23 % to $36.06. Citigroup Inc. (C) was up 0.04 % to $27.15. Bank of America (BAC) was down 0.41 % to $7.25. Alcoa Inc. (AA) was down 0.12 % to $8.44. Boeing Co. (BA) was down 0.95 % to $74.15. Caterpillar Inc. (CAT) was down 0.82 % to $84.99. General Electric Co. (GE) was down 0.05 % to $20.79. Halliburton Co. (HAL) was down 1.51 % to $33.04. Hewlett Packard Co. (HPQ) was down 0.27 % to $18.21. SPDR Select Sector Fund - Financial (XLF) was down 0.61 % to $14.65.
E- Mini S&P 500 Chart.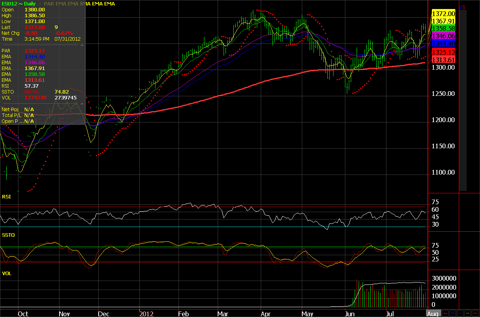 Click to enlarge
Wednesday, what to expect: We maintain a bullish bias unless the (September) E-Mini S&P 500 penetrates $1325.25! Wednesday, we anticipate an inside to lower to outside day. Tuesday's range was $1386.50 - $1371.00. The market settled at $1372.00. Our comfort zone or point of control for this market is $1379.50. Our anticipated range for Wednesday's trading is $1385.50 - $1359.50.
Disclosure: I have no positions in any stocks mentioned, and no plans to initiate any positions within the next 72 hours.