Statoil ASA (STO) released its second quarter 2012 earnings results on Thursday, July 26. The Wall Street Journal reported that earnings did not meet analysts' expectations although higher production helped to bolster the company's revenues. This higher production was offset by lower realized liquids prices than in the prior year quarter. Helge Lund, Statoil's president and CEO, seemed relatively pleased with the quarter and with the progress that the company made over the past few months. Here are the highlights from the report:
Statoil's second quarter 2012 net operating income was NOK 62.0 billion ($10.26 billion). This represents a 2% increase over the NOK 61.0 billion in the prior year quarter.
Statoil's adjusted earnings for the quarter were NOK 45.8 billion ($7.58 billion). This is an increase of 5% over the same period in 2011.
Net income was NOK 26.6 billion ($4.40 billion). This represents a 2% decrease from the prior year quarter.
Gas production increased by 33% and liquids production increased by 8%.
Statoil increased international (outside of Norway) production by 32%.
North American production doubled from the prior year quarter.
Statoil announced two high-impact discoveries during the quarter. These are located offshore Tanzania and Norway.
Over the past few years, I have written several times about Statoil's growth ambitions. The company once again stated its plans to achieve average daily production of more than 2,500 mboe per day by 2020 and this quarter showed some significant progress towards that goal. The company achieved average daily equity production of 1,980 mboe in this quarter, representing a 17% increase from the 1,692 mboe per day that was achieved in the prior year quarter. This huge production increase was one factor that contributed to both the higher revenue and the higher operating profit that Statoil achieved in this quarter compared to the prior year quarter.
Statoil spent considerably more on exploration during this quarter than the year-ago quarter. Quarterly exploration expenditure climbed 30.8% to NOK 5.1 billion versus NOK 3.9 billion in the prior year quarter. This is mostly due to higher drilling activity. Statoil drilled 22 wells in the second quarter of 2012 but only 17 in the second quarter of 2011. The company also drilled 13 exploration wells in the second quarter, 11 of which were outside of Norway. Five of these resulted in discoveries, which consisted of one on the Norwegian Continental Shelf and four outside of Norway. Statoil has had, and continues to have, success with its exploration program recently and the higher costs are a necessary evil that comes with this. Overall, these increased costs are precisely what would be expected when a company is growing its production and reserves as aggressively as Statoil has been doing and so this does not concern me.
International production growth has been the cornerstone of Statoil's growth ambitions. The North Sea and Norwegian Continental Shelf are generally considered to be mature areas. Despite new technologies and recent high profile discoveries revitalizing optimism for the production future of the region, Statoil believes that much of its growth will have to come from abroad. For that reason, the company's 32% production increase internationally is a good sign. It shows that the efforts that the company has undertaken to expand here are beginning to bear fruit.
Although the company's production was up significantly when compared against the prior year quarter, it was down when compared to the first quarter of 2012.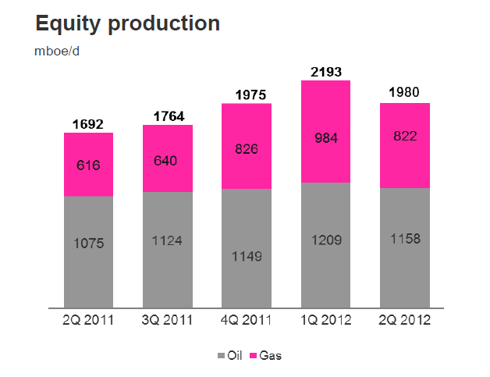 Source: Statoil Q2 2012 CEO Presentation
This does not appear to be any real problem though and instead looks like normal variances in production that occur in this industry. Statoil maintained its production guidance for 2012. The company expects full-year 2012 equity production to grow by around a 3% annual compound growth rate based on the actual 2010 equity production. The company stated that planned maintenance will have a negative impact of approximately 110 mboe per day during the third quarter and the recent strike at several wells in the North Sea will also have a negative impact on the third quarter average daily production. This will be partially offset by new production areas coming online and beginning to ramp up. The negative impacts to production are primarily going to impact domestic (Norwegian) production as opposed to international production. I expect that international production will comprise a greater proportion of the company's production mix in the third quarter than it did in the second when compared against domestic production.
Statoil maintains its goal of achieving an average daily production of over 2,500 mboe per day by 2020. The company intends to achieve this goal in two stages. The first stage of growth will come from new projects in the period from 2014 to 2016 that are expected to produce a growth rate of 2% to 3% for the period from 2012 to 2016. The second stage of growth will come from projects that will come onstream from 2016 to 2020. This will accelerate the company's production growth rate to the 3% to 4% range. If the company achieves this goal, then its total production in 2020 will be 26.3% higher than it is today. This should have the effect of pushing revenues and profits higher assuming that oil and gas prices do not collapse from present levels. The long-term fundamentals point to higher oil and gas prices than what has been seen in the past so it seems most likely that Statoil will deliver steady profit growth.
Statoil saw its revenues boosted due to higher gas prices compared to the prior year quarter. Statoil's average invoiced gas price was NOK 2.23/scm versus NOK 2.06/scm in the prior year quarter. This was offset by lower average oil prices compared to the prior year quarter. Statoil averaged $99.40 per barrel in the quarter compared to $112.10 per barrel in the prior year quarter. Commodity prices present the greatest risk to Statoil's profits. Naturally, rising prices for gas or oil will typically help the company while falling prices for either of these will hurt it. Another factor that could have a big impact is the USD/NOK exchange rate. The company provided this chart in its financial statements to show investors what effect changes in any of these things would be likely to have on earnings.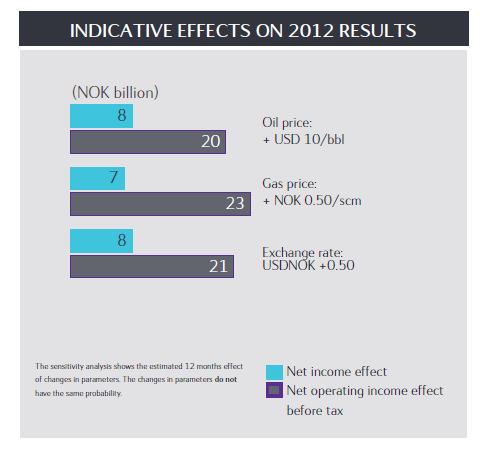 Source: Statoil ASA
Like most oil companies, Statoil uses techniques to manage these risks, including the use of derivatives. Despite this, commodity prices are the biggest risk that Statoil has. The long-term fundamentals for oil point to relatively high prices. However, given the current state of the world economy, there is a not insignificant risk of a market shock that could push oil much lower. I think that this would likely only lead to short-term price weakness before oil firms up again.
Disclosure: I am long STO.