In the May 12th edition of Fortune Magazine, there is an interesting article titled "Copter Crisis" that delves into how the growth in offshore drilling for oil and gas has led to increased utilization of helicopters to get to and from the offshore platforms. This offshore drilling boom combined along with increased usage of choppers for private travel has led to a shortage of helicopters and their parts.
Based on the earnings forecast of offshore drillers like Transocean (NYSE:RIG), Diamond Offshore Drilling (NYSE:DO) and Noble (NYSE:NE), the offshore oil drilling boom is likely to continue for years to come. In fact Transocean earned over $1 billion in just the first quarter of this year. We picked up Diamond Offshore Drilling for the SINLetter model portfolio in January 2007 and have been rewarded with a gain of over 70% over 16 months despite the recent pullback in the stock. Diamond Offshore was a proxy investment for rising oil prices and it appears that choppers could be a proxy for the offshore drilling boom based on the number of large offshore oil finds in the Gulf of Mexico and off the coast of Brazil over the last few years.
Four popular chopper models were mentioned in the sidebar accompanying the Fortune article: the Sikorsky S92 and S76 used for executive travel and by offshore drillers, the smaller AW119 Ke used by traffic reporters and the larger Boeing Chinook (NYSE:BA) used to transport civilian cargo.
Below is a list of public, private and international helicopter companies that make the models listed above and many others.
Long Island, New York based Sikorsky Aircraft is a division of the diversified industrial company United Technologies (NYSE:UTX) and makes the famous Black Hawk chopper as well as nearly half the maritime choppers used by armed forces around the world.

The Boeing Chinook as the name implies is made by Boeing.

The AW119 Ke is made by AgustaWestland, a division of Italian company Finmeccanica. 2007 revenue for Finmeccanica came in at 13.429 billion Euros, an 8% increase year-over-year and net income was 521 million Euros, a drop of nearly 50% year-over-year. However after excluding extraordinary items that affected both 2007 and 2006 results, net profit jumped 49% to 503 million Euros from 337 million Euros in 2006.

Finmeccanica is quoted on various exchanges such as London [FNA.L], Milan [FNC.ML], Berlin [FMNB.BE] as well as over-the-counter in the "grey market" (OTCPK:FINMF). If you use a full service broker or E*Trade Global Trade and like the prospects of Finmeccanica, you could pick up the stock from the London Stock Exchange.

Beyond helicopters, the company also has a hand in everything from high speed trains to homeland security in the United States. Finmeccanica is said to be in talks to acquire New Jersey based defense company DRS Technologies (DRS). If you have any social qualms about investing in a defense company, then Finmeccanica may not be your play as the company derives a majority of its revenue from defense electronics. Helicopters are the second biggest division of the company representing 22% of 2007 revenues.

If you prefer a pure play instead of a large industrial company like United Technologies or a company listed on the LSE, you could also consider Kaman (NASDAQ:KAMN), a helicopter and industrial distribution company quoted on the Nasdaq. Kaman has a market cap of $666.71 million and appears to be attractively valued with a forward P/E of 11.18 and P/S of 0.57 while sporting an above average 2.2% dividend yield.

While not a pure play, another company to consider is Bell helicopter, which is a subsidiary of aerospace giant Textron (NYSE:TXT). Textron was ranked number one in the Aerospace & Defense category of Fortune magazine's list of America's Most Admired Companies of 2008. As an added bonus, investing in Textron also gives you exposure to the red hot light jet segment as the company also makes the Cessna line of jets. The light jet theme was something I discussed while featuring Brazilian aircraft maker Embraer (NYSE:ERJ) in the August 2007 edition of my investment newsletter.

European aviation giant EADS [EAD.PA], more commonly known as the parent of Airbus, also has a helicopter division called Eurocopter that makes various models of both civil and military choppers. EADS is listed on various international markets such as Paris and Frankfurt. After suffering setbacks due to the delayed launch of the A380 superjumbo liner, the stock has been in a downward trajectory since 2006 and is now at levels not seen since 2003.

The Robinson Helicopter Company, according to the company website, "produces more helicopters annually than all of the other North American manufactures combined." Unfortunately Robinson is a privately held company that may only be accessible to deep pocketed private equity investors or hedge funds. According to the Fortune article, the biggest helicopter operator CHC Helicopter Corporation was recently acquired by private equity firm First Reserve for $3.7 billion. Other privately held helicopter companies include Enstrom Helicopter, RotorWay International, Brantly and MD Helicopters
A table comparing the public companies mentioned in this article is given below.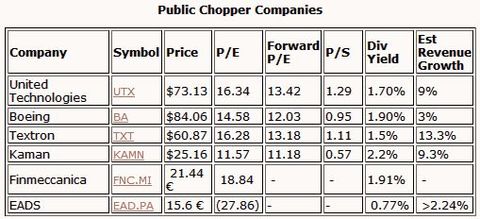 If I had to pick two companies from this list to invest in, I would pick Textron and Kaman based on their current valuations, estimated 2008 revenue growth rates, and because they seem to be the closest to pure plays. I am going to add these two companies to our watchlist and may add them to the model portfolio and my personal portfolio in the future.
Disclosure: I do not own any positions in any of the companies mentioned in this blog entry.