Peter Lynch, manager of the legendary Fidelity Magellan Fund from 1977 to 1990, simplified potential holdings into six general categories. His rationale behind the system was that different investment scenarios demanded standards tailored to different investment objectives. One of Lynch's favorite categories was the turnaround.
The question everyone seems to be asking lately is whether J.C. Penney Company Inc. (NYSE:JCP) will rise to retail prominence again. With J.C. Penney down 35% relative to the market in the last 52 weeks and 70.65% over the last five years, investors should at least evaluate the company as a potential turnaround due to its timeless brand and established retail footprint. Just over a week ago, activist investor Bill Ackman said he believes he can make 15 times his initial investment in the company. It turns out Ackman may be correct, J.C. Penney could be a great turnaround for long investors willing to be patient (but don't count on 15 times your investment).
J.C. Penney is a 110-year-old retailer that operates 1,100 retail stores throughout the United States and online. Most of the stores are located in suburban malls and many also house leased departments from other brands such as Sephora. After years of bleeding customers to competitors such as Macy's (NYSE:M), Nordstrom (NYSE:JWN), and Dillards (NYSE:DDS) the company hired Ron Johnson from Apple in June of 2011.
Johnson was the Senior Vice President of retail operations at Apple and was largely credited for Apple's retail success (store design, genius bar etc.). He also had prior mass market experience at Target (NYSE:TGT). The move was largely sparked by activist investors (including Bill Ackman) who believed they could combine J.C. Penney's large, visible footprint with Johnson's consumer touch. Since, J.C. Penney has been extremely disappointing with management forced to completely revamp its initial strategy after failing to draw consumers as expected. But there is big money behind the stock and the company is worth a look as a turnaround play.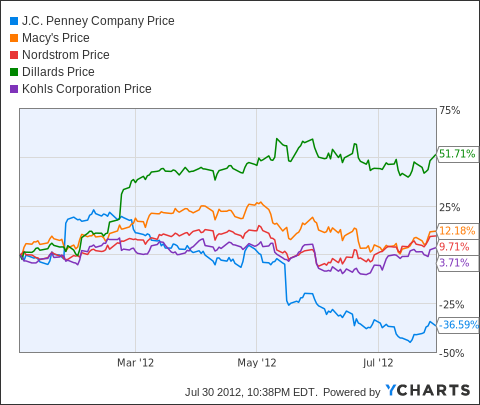 Debt, Cash Position, And Book Value
Debt levels are extremely important in any turnaround story for obvious reasons. A company with zero debt will not be going bankrupt any time soon and a company that cannot meet coming obligations is far riskier than one that can. The interest coverage ratio for J.C. Penney is a scary -0.7 meaning investors need to look closely at the company's ability to meet its debt obligations in the long term. Short term, however, the company has a current ratio of 1.9 that indicates the company is not at risk of default in the near future. With retail, this number can be suspect because the current assets over liabilities calculation includes inventories that depreciate rapidly, but in the short term, J.C. Penney appears stable.
With a debt to capital ratio of 0.4, the company is suffering more from poor margins and performance than from an outsized debt burden. Total long-term debt sits at $2.871 billion and has actually been decreasing over the last 7 quarters. The cash position is $839 million, which is not bad considering how poorly the company has performed as of late, but has shrunk $700 million since Q1 2012 (although retail can fluctuate in patters). Expect the cash position to continue to be hit in the near future, as management revamps its strategy for the second time this year. This is not necessary bad if the new strategy works, but could limit flexibility in the short term if management is forced to flip-flop a third time. As one would expect, the gap between the cash position and long-term debt continues to widen.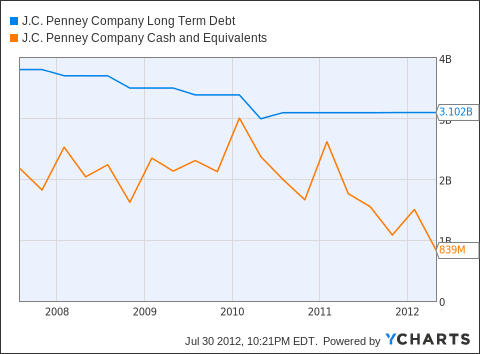 JCP Long Term Debt data by YCharts
It's a good idea to glance at employee pensions when evaluating a turnaround and J.C. Penney has a substantial pension obligation. Paying employees who aren't working is bad for shareholders and the company has a projected pension benefit obligation of $5.606 billion as of the 2011 annual report. The good news is pension plan assets are $5.176 billion, so the company isn't at risk of pension expenses suddenly expanding, but it would be nice to see the company find a way to reduce this obligation (cutting a deal where past employees settle for a smaller dollar amounts in lump sum form is a measure employed recently by others).
Earnings
Earnings per share are the bottom line when it comes to stock performance and J.C. Penney has often lagged its peers, which helps explain the long-term decrease in price per share. Next quarter, any change in earnings would be a surprise, so analysts do not expect much. Future earnings are what matters and the company has yet to substantially implement its vision for the stores, so the coming earnings report may not be that important, but may help knock the stock down for interested investors.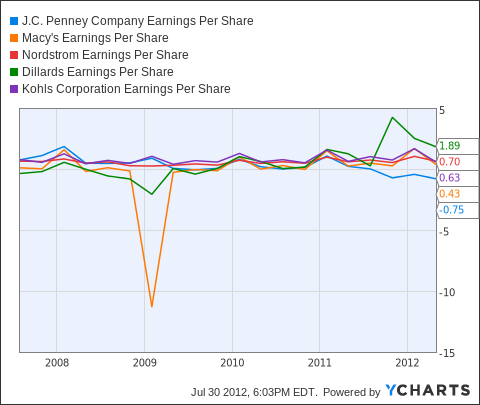 JCP Earnings Per Share data by YCharts
More important than the next quarter's earnings are the potential earnings the company could see if management is able to execute, and what valuation that warrants in terms of the stock. A general way to get an idea of this is to take a look at the price per share in relation to earnings and the price to earnings ratio. A look at how they react in relation to each other can give investors a better feel (albeit an unscientific one) for what the stock may do if earnings recover to previous levels and beyond. It doesn't look like 15 times today's investment as Bill Ackman suggests, but the stock could easily double if earnings recover to around $1.429; levels which were seen as late as last year. In that case, momentum forming behind Ron Johnson may drive the valuation higher than previously seen with the same earnings levels. (Note: The P/E line stops when the value turned negative and price per share outpaces earnings per share because the coming quarter has not yet been released.)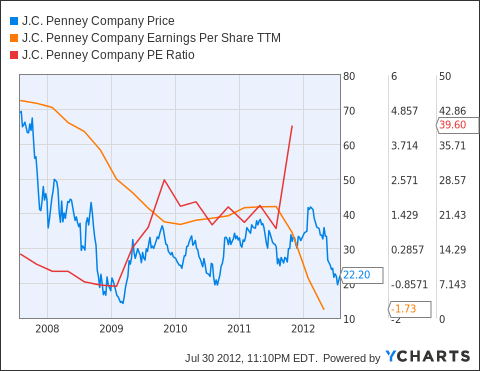 Revenue And Profit Margin
Profit margins in retail are not astounding to begin with so the negative number from J.C. Penney displayed below is not as concerning as such a number would be in another space. What stands out is the sheer volume of revenue relative to others in the space and what that means to investors. Such a huge retail presence means that if the company begins to catch the eye of consumers again the turnaround would be significant. In other words, profit margins have the potential to increase across a much larger revenue base and that bodes well for turnaround potential.
| | | | | | |
| --- | --- | --- | --- | --- | --- |
| Company (Ticker) | Market Cap | Revenue | 1 Yr. % Revenue Growth | Modified % Return on Capital | % Profit Margin |
| Macy's | 14.225 | 26.405 | 5.6 | 15.5 | 4.8 |
| Kohl's (NYSE:KSS) | 11.522 | 18.804 | 2.2 | 21.6 | 6.2 |
| Nordstrom | 10.767 | 10.77 | 12.1 | 32.5 | 6.3 |
| J.C. Penney | 4.593 | 17.260 | -2.8 | 7.6 | -.09 |
| Dillard's | 3.057 | 6.369 | 2.5 | 13 | 7.3 |
Source: Standard & Poor's Compustat
Changes Can Be Made And Business Can Return
Two of the most important questions Peter Lynch would ask when evaluating potential turnarounds was whether changes could be made and whether the core business could come back. With J.C. Penney, the answer to both questions is a resounding yes. But can isn't the same as will, and its up to the individual investor to decide whether the coming changes will be effective enough to get business to come back. Here, consumer sentiment is key, but fortunately investors are also consumers.
As simple as it sounds, going out to J.C. Penney with family and friends and gathering feedback as management implements changes can give investors a street-level feel for consumer sentiment. It is that sentiment that will matter in the end, as the fundamentals will allow the company to come back strong if management can deliver on improving the in-store experience. Attracting customers back is easier for J.C. Penney than it is for many companies because the footprint and brand are solidly situated (shoppers already at the mall can easily browse a revamped J.C. Penney). In other words, half the battle is won and it's up to a proven Ron Johnson to deliver on the customer experience.
The following theory is hard to quantify, but is worth looking into as a risk factor. The erosion of J.C. Penny's fundamentals may have a lot more to do with competitors outside of the traditional department store space such as Target and Wal-Mart (NYSE:WMT) and there maybe nothing the company can do to mitigate it. Both have been on a tear lately, as consumers become more cost-conscious and adapt to one-stop shopping. J.C. Penney operates as more of a value store than competitors like Macy's and Nordstrom and offerings at Target and even Wal-Mart (which have been well received) may be cutting into J.C. Penney's customer base. In fact, that is probably a huge understatement. Unless J.C. Penney can offer an experience capable of drawing those customers away from a Target (where they are already going every week for toothpaste and diapers), the fundamentals may continue to erode along with the sentiment. When an investor walks into a newly designed J.C. Penney, a great question for them to ask would be, "Can this draw me or my spouse 15 minutes away from the Target we're already at every week?"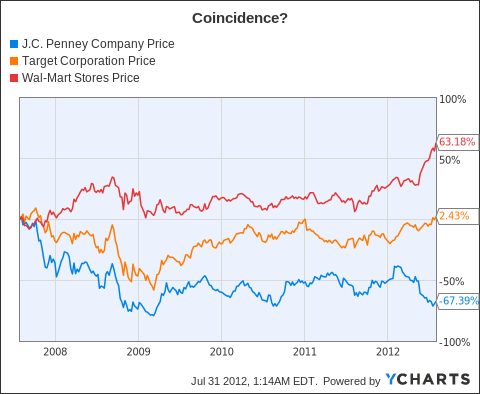 Conclusion
On August 10th, J.C. Penney reports its second quarter 2012 earnings. Expectations are low, but may not be low enough, since management has not yet fully implemented its new strategy. For investors looking to get long the stock, the period following the upcoming earnings release may present an opportunity. Additionally, that time frame will give potential buyers a chance to listen to the conference call and judge for themselves where the company is headed. J.C. Penney can survive and thrive again, but it's all about the consumer. Diligent investors will have to judge the sentiment and decide for themselves whether the company can achieve Bill Ackman's turnaround.
This is not a conservative investment (new rule: when a tweet moves a stock 7% it's not a conservative investment), but it could be a lucrative investment for those who have faith in the management. Those patient investors will need to be ready to stomach some risk and short-term fluctuations in earnings and share price. After all, J.C. Penney is a turnaround play at this point and should be treated as such.
Disclosure: I have no positions in any stocks mentioned, and no plans to initiate any positions within the next 72 hours.