Extra Space Storage (NYSE:EXR) released results for the second quarter 2012, and the results were strong. Details from the release are:
Funds from operations of $41,447 ($0.38), increased 40.7% YoY. The results were above the guidance given at the end of Q1 2012 ($0.35). Dividends per share were $0.20, leading to a payout rate of 53%.
Increased same-store revenue and NOI by 6.7% and 10.2%, respectively, as compared to the same period in 2011.
Same-store occupancy increased by 270 basis points to 90.4%, compared to 87.7% as of June 30, 2011.
Acquisitions:
Since quarter end, the company has continued to be acquisitive:
The

company acquired Prudential Real Estate Investors' 94.9% interest in the ESS PRISA III LLC joint venture that was formed in 2005. The joint venture owned 36 properties located in 18 states.

The

company also acquired nine additional properties for approximately $71.8 million. These properties are located in California, Colorado, New Jersey, New York and South Carolina.
Guidance:
The company currently estimates that FFO per diluted share for the quarter ending September 30, 2012, will be between $0.39 and $0.41 and will be between $1.47 and $1.53 for the full year ending December 31, 2012. The company has increased full year guidance from $1.40 - $1.46 at the end of the first quarter.
Issuer Description:
Extra Space Storage Inc., is a self -administered and self -managed REIT that owns and/or operates 882 self - storage properties in 34 states and Washington, D.C. The company's properties comprise approximately 585,000 units and approximately 64 million square feet of rentable space, offering customers a wide selection of conveniently located and secure storage solutions across the country, including boat storage, RV storage and business storage.
The company is the second largest owner and/or operator of self - storage properties in the United States and is the largest self - storage management company in the United States. As of June 30, 2012, the company managed 179 properties for third -party owners. Including 340 properties owned and operated in joint ventures, the company has a total of 519 properties under management.
Property Ownership Summary:

Equity Metrics:
The self storage sector has four main REITs: Public Storage (NYSE:PSA), Extra Space, Sovran Self Storage (SSS) and Cubesmart (NYSE:CUBE). When viewed on an enterprise value to EBITDA, price to FFO and a premium to net asset value basis, the sector is overvalued relative to the REIT universe. Returns year-to-date in the sector vary widely, and Extra Space has turned in the second highest total return of 34.9%.

The price performance of the four sector participants versus the Dow Jones U.S. Real Estate Index Fund (NYSEARCA:IYR) is the following: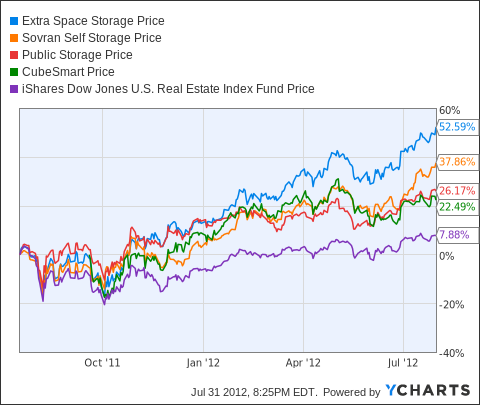 Debt Metrics:
The company's debt metrics have improved over the last year, with interest coverage improving from 2.78x to 3.77x, net debt to EBITDA improved from 6.35x to 4.7x - both very strong improvements and show the ability of the company to perform while strengthening the balance sheet. That said, 90% of their debt is secured, which is a high percentage (of this 80% is fixed rate with a weighted average cost of 5.1%). The ability to borrow against unencumbered assets is, by the company's estimates, limited to $153MM.
Growth Drivers:
Lack of supply coming on-line,
Reduced credit card processing fees,
Lower incentives due to increased occupancy rates,
Smaller operators selling out to larger operators or turning to EXR to manage their operations,
Development operations completed in 2009-2011 will be accretive in 2013.
Bottom Line: Extra Space's results were strong and its debt metrics show the strength and resiliency of the balance sheet, but the stock seems stretched at its current premium to net asset value, as well as its FFO multiple. Even though growth drivers are in place, the stock seems priced for perfection - which is a rare occurrence. From a yield perspective, the self storage sector is rich versus other REIT sectors and does not appear to offer much value at this point.
Disclosure: I have no positions in any stocks mentioned, and no plans to initiate any positions within the next 72 hours.
Additional disclosure: This article is for informational purposes only, it is not a recommendation to buy or sell any security and is strictly the opinion of Rubicon Associates LLC. Every investor is strongly encouraged to do their own research prior to investing.