How to profit from the fall in the ETF for soybeans, Teucrium Soybean (NYSEARCA:SOYB) and when it reverses, the rise in BRF-Brasil Foods (NYSE:BRFS) a Brazilian meat products company.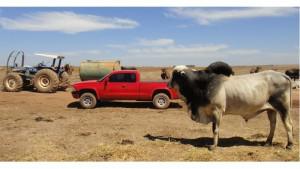 Cattle farming in central Brazil
As the chart below clearly shows, SOYB has soared as Brasil Foods has soured. That is due to the drought in the Midwest farm belt of the United States. As the share price of SOYB has increased, so has the short position. From June 29, 2012 to July 13, 2012, the short position rose from 12,348 to 24,647, a 99.6% increase.
By contrast, the short position on Brazil Foods is minimal. A short position above 5% is considered troubling for a company. The short position on Brasil Foods is only 0.88%.
SOYB is up 8.33% this month. While recent trading has been bullish, market action reveals technical patterns that portend a share price decline. Up 8.83% for the month and 7.05% for the quarter, Teucrium Soybean is down 4.47% for the last week of trading. Now trading around $26.80, SOYB is very close to its 52-week high of $27.58. As the chart below demonstrates, much of that increase has been since June 1.
At $14.25, Brasil Foods is near its 52-week bottom of $13.61, with recent earnings disappointing the analyst community. Higher prices for soy beans and other feed grains used for livestock cuts into the margins of meat product companies. At present, Brasil Foods' profit margin is just 5.31%. But when soy beans and other grains fall, Brasil Foods' margin will rise.
This will take the share price much higher as sales growth is up by 10.92% on a quarterly basis. For the year, earnings-per-share growth is higher by 71.03%. Next year earnings-per-share growth is expected to rise another 31.03%.
For emerging market traders there are profits waiting from going long Brasil Foods and short Teucrium Soybean. The drought will not last forever and neither will the two stocks respective share price trajectories. The reversal will be lucrative for those positioned accordingly.