Let us get this clear at the outset, Coca-Cola (KO) is a great company and a great income stock to hold in any portfolio. With strong long term fundamentals, the stock also has a short term catalyst in the upcoming stock split. So everything looks great.
But could it be possible that even this bluest of blue chips is over-heated and over-bought ? This article presents a few points based on historical numbers why that could be true today.
Price Action: The first chart below shows the price action over almost a decade. The uptrend over the past couple of years is very noticeable, which is good in general for the shareholders. While one can justify the increase in share price to increased earnings to some extent, the second chart shown below shows the share price increase has clearly outpaced the earnings increase (not just in absolute numbers obviously). The stock is just about 10% away from its all time high of $88.94, reached in 1998. Perhaps, this is the reason why insider selling has increased recently ? (Though selling can be for a variety of reasons.)
(Chart #1: Price action over the last decade. Click to enlarge)

(Chart #2: Comparing the increase in share price with the increase in earnings. Blue line is the EPS, while Orange line the share price. Click to enlarge)

Valuation: The point about share price outpacing earnings brings us to the obvious question of valuation. An expected growth rate of about 7%, even coupled with the great dividend growth record, makes a current PE of 21.5 look very rich. As the chart below shows, this is the highest level the stock has reached in more than 4 years. The last time the PE was greater than 21 (March 2008), the stock went nowhere in the subsequent two years, though one can attribute it to the market weakness back then.
(Chart #3: Valuation over the past 5 years. Click to enlarge)

Yield: While dividend growth has made the yield on original cost go up tremendously for long time Coke investors, the current yield of 2.5% is once again at the lowest level it has been in the past 4 years. This would make new purchases or even Dividend Reinvestment [DRIP] pretty pricey.
(Chart #4: Yield over the past 5 years. Click to enlarge)

(Source: All charts sourced from Ycharts.com)
The Best Investors Say So: SA user and contributor David Crosetti is considered as one of the best advocates of dividend growth investing around here. What makes David's opinion about Coke even more worthy is the fact that he worked there for two decades. So one can safely assume that he knows the business and the stock pretty well. Read the comment he made in an article back in June about Coke being overvalued. And that was when the stock was trading at about $74. If he does not want to buy here (or even lower), wonder why should the others?
While the $60 ($30 post-split) price point looks too far off now, you can certainly watch out for the 3% yield point. Given Coke's dividend growth greatness, one can expect another increase in Feb/March of next year.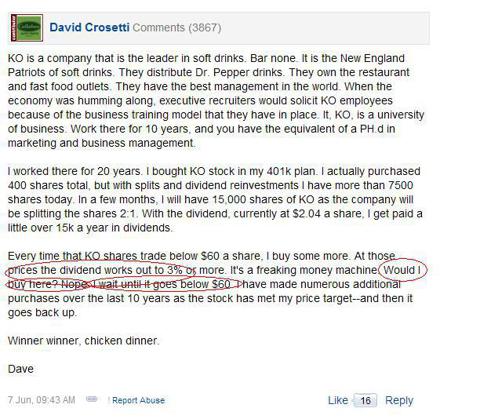 Actionable Takeaways:
If you are long and you DRIP: With the current yield just about 2.5%, you may want to take your dividends and try investing in other bargains yourself, rather than DRIP-ing into Coke here. Some advocate DRIP-ing only during bear markets or down time for the particular stock, as that leads to more share accumulation.
If you are long and do not DRIP: The best position one could take in our opinion. Stay in the stock for the stability it brings to your portfolio and also to get the benefits of the "stock split" effect.
If you are looking to go Long: Though the fundamentals do not change because of a stock split, there is perhaps something psychological that makes people chase stocks just before and after split. So, if you are not yet long, let the dust settle and then see how the prices (with respect to earnings) are post-split. The split is expected to be effective from August 10th, 2012, give or take a few days.
If you are looking to short: Just because a stock appears a little stretched, it does not mean you can short it easily. Sure, you may be able to ride it down a few points but why short a dividend growth champion when there are so many better shorts out there like Amazon (AMZN) and Facebook (FB)? Remember, if you short a dividend paying stock, you will be "paying" dividends to the rightful owner of the stock.
Disclosure: I am long KO.