Oh it's going to be an exciting week!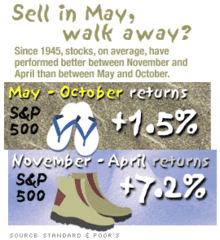 We have a ton of economic data and still not too shabby with earnings reports that can move the market, and the Fed is off their quiet period so we can expect a lot of Fedspeak this week along with the usual inane "Sell in May, go away" simplifications that prove that the average analyst has more in common with my kindergartener than with Milton Friedman or Warren Buffett. Whenever a complex economic situation is shoehorned by the media into a catch rhyme - you should probably be concerned that you may not be getting the best advice!
Yes, the statistics are there and they are very real, but every year is surprisingly different and the globalization and computerization of the markets no longer favor the 70 year-old habit of fund managers shutting down for the summer and driving the Yacht to the Hamptons while leaving a staff of junior traders to trade lightly. Of course there is nothing Wall Street tycoons like better than herding the sheep in and out of the markets at predetermined times of year, it's so much easier to make money off them that way ...
So now we have the MSM attempting to push all the lemming out of stock in May, so the people who pay for the advertising can scoop up the shares on the cheap and turn in another fabulous year, so the pundits can come on TV in the fall and say BUYBUYBUY as they herd you back into the markets in time for their fund manager pals to cash out, so those guys can then show up on TV and tell you how much better off you would have been if you had put your money in their fund this year.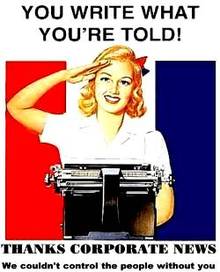 Let's see: Last May 1 - Dow 13,136, last Novermber 1 - Dow 13,930, this May 1 - 13,058. Well, that didn't work did it? How about 2006? May 1 was 11,343 and Nov 1 was 12,031 - would have sucked to miss that one! 2005? May 2 was 10,251, Nov 1 was 10,406 - nope again. 2004? May 3rd was 10,314, Nov 1 was 10,054 - hey, found one! In 2003 the Dow gained 1,300 points, and 2001, and 2002 were both losers but that's pretty much because someone blew up the World Trade Center in September 2001, not because the rhyme works. So in the past 5 Mays, only one time would this have been good advice yet we are being besieged by the media with this dreck as if they were somehow trying to help you make investment decisions.
I point this out now as it's such a blatant, obvious abuse of their position and such a totaly harmful disservice to you that hopefully you will make a mental note of which of these people are so comfortable handing out totally inaccurate, damaging advice, so that the next time they "try to help you" you will be a little better prepared to see what useless, self-serving jerks they really are. Speaking of pundits - our favorite analyst, Meredith Whitney, is back on TV warning everyone to get out of Citigroup (NYSE:C) again! Thank you, Ms. Whitney, that should knock out our callers right ahead of expiration with your usual exquisite timing (coincidence I'm sure!) and will give our new members another excellent entry opportunity ahead of the next time the facts prove you crushingly wrong. We already have the Jan $20s and $25s and this will be a great opportunity to roll out $25s down to the $20s.I do like those as a new position at around $5, but let's let Ms. Whitney have her day and we'll sell the June $25s to cover at .80, a nice 16% return on our $5 investment over 5 weeks! Aside from expirations we have a very data-heavy week. Here's the Briefing.com calendar:
Date
ET
Release
For
Consensus
Prior
My Comments
May 12
14:00
Treasury Budget
Apr
$157.5B
$177.7B
Like they ever stick to it.
May 13
08:30
Export Prices ex-ag.
Apr
NA
1.2%
May 13
08:30
Import Prices ex-oil
Apr
NA
1.1%
Even X-oil, we should beat 1.1%
May 13
08:30
Retail Sales
Apr
0.0%
0.2%
Definitely a miss
May 13
08:30
Retail Sales ex-auto
Apr
0.2%
0.1%
Probably a miss
May 13
10:00
Business Inventories
Mar
0.5%
0.6%
May 14
08:30
Core CPI
Apr
0.2%
0.2%
Rounding up to .3% this time
May 14
08:30
CPI
Apr
0.3%
0.3%
They promised us another decimal last year!
May 14
10:30
Crude Inventories
05/10
NA
5654K
Doesn't seem to matter if we have builds
May 15
08:30
Initial Claims
05/10
NA
365K
Random number
May 15
08:30
NY Empire State Index
May
1.0
0.6
I don't know who they thing is improving.
May 15
09:00
Net Foreign Purchases
Mar
NA
$72.5B
Watch this carefully, bad for $ if falling.
May 15
09:15
Capacity Utilization
Apr
80.2%
80.3%
Same as Empire - how is this improving?
May 15
09:15
Industrial Production
Apr
-0.2%
0.3%
Now that's recessionary!
May 15
10:00
Philadelphia Fed
May
-20.0
-24.9
From suicidal to just very depressing - great!
May 16
08:30
Building Permits
Apr
912K
927K
Can they miss this pathetic number?
May 16
08:30
Housing Starts
Apr
940K
947K
I don't see this happening.
May 16
10:00
Mich Sentiment-Prel.
May
63.0
NA
So lots of things to worry about along with earnings from lots of heavy hitters we can discuss this evening. This morning's group was a sea of red (misses) including Building Materials (BLG), Charter Communications (NASDAQ:CHTR), Coeur d'Alene Mines (NYSE:CDE), Cryptologic (NASDAQ:CRYP), Dollar Thrifty (NYSE:DTG), Evercore (NYSE:EVR), Holly (HOC), IMAX Corp. (NYSE:IMAX), Imperial Sugar (NASDAQ:IPSU) (massive miss!), MBIA (NYSE:MBI), Radian (NYSE:RDN), Tetra Technologies (NYSE:TTI) and XM Satellite Radio (XMSR). We are waiting for Sirva (NYSE:SIR) but they probably missed too.
Asia was mixed (big earthquake in China) and Europe has holidays so not much to be read from action over there and I'm behind schedule so let's just watch and wait today as I see no pressing reason to put on our rally caps. RIMM is all excited over the new Blackberry and AAPL is all excited that it does virtually nothing to challenge the IPhone so it's a win-win for Apple and RIMM. I am going to roll my RIMM puts higher and only cover if I have to.
Platinum fell $40 this morning (5%) but Gold only dropped $4 (.5%) so it will be interesting to watch that pair. Most likely the dollar is on the march again and we may get some oil relief which should be good for our VLO calls (finally!).
Be careful out there!