With 10-year treasury rates hovering around 1.5%, high-quality, dividend stocks have certainly been in vogue in 2012. As a matter of fact, the iShares Dow Jones Select Dividend Index (DVY) is up 8.6% year-to-date. While the recent rally has caused many stocks to trade above their respective "Buy Zones", there are several decent opportunities to consider this week.
Note: Each week we publish a "Buy Zone" report for our subscribers, which highlights some of our top-rated stocks that are currently "actionable" (i.e., stocks currently trading in our target "buy zone"). In other words, this report helps you decide WHEN you should buy a specific dividend stock.
One great stock that was featured in this week's report is McDonald's Corp. (MCD). MCD has actually been hovering in our "Buy Zone" for over a month now.
OVERVIEW
McDonald's franchises and operates McDonald's restaurants primarily in the United States, Europe, the Asia Pacific, the Middle East, and Africa. It operates over 33,000 restaurants in 119 countries, including approx. 27,000 franchised restaurants and 6,400 company operated restaurants. The company was founded in 1940 and is based in Oak Brook, Illinois.
Thanks to several Q2 2012 earnings misses, including McDonald's, Chipotle Mexican Grill (CMG) and Yum! Brands (YUM), restaurant stocks have come under pressure recently.
That said, MCD continues to hold our coveted "99" Parsimony rating (the highest rating in our system) and we think that this pullback is offering long-term investors a great opportunity to add their McDonald's position.
MCD "BUY ZONE": $87.00-$92.00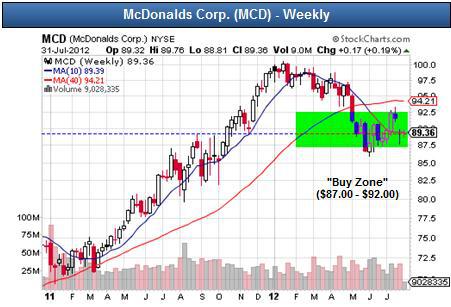 We focus on four key levels of support when determining a "Buy Zone":
Technical - Support from short and long-term trend lines
MCD is currently hovering around its 10-week moving average of $89.39 and we think the stock will continue to get support around this level.
Volatility - Target correction levels based on historical volatility
MCD's historical price volatility (1-year) is 15.4%. Our target pullback for MCD (from recent highs) is 12%-15%, which equates to a price range of approx. $87.00-$90.00.
Valuation - Support level based on historical valuation multiples
MCD has traded in a very tight valuation range over the past 3 years and we think the stock will get meaningful institutional support in the 16.0x-17.0x P/E range (which equates to a price range of approx. $85.00-$90.00).

Dividend Yield - Support level based on forward dividend yield
From a yield perspective, we think that a yield north of 3.0% is very attractive for MCD and the 3.0%-3.25% yield range should provide some decent price support (which equates to a price range of approx. $86.25-$93.50).
FINANCIAL SUMMARY
Even though McDonald's had a slight earnings miss this quarter, the company has a strong balance sheet and a very stable long-term operating history (see table below).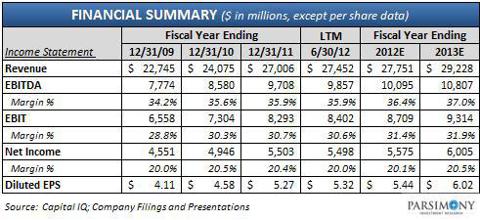 MCD also generates a ton of cash, with an industry-leading EBITDA margin over 35%. By comparison, industry peers Chipotle and Yum Brands have EBITDA margins of 20.3% and 20.8%, respectively.
DIVIDEND HISTORY
McDonald's also has a very stable dividend history. As a matter of fact, MCD is a member of the S&P 500 Dividend Aristocrats club, which have followed a policy of increasing dividends every year for at least 25 years.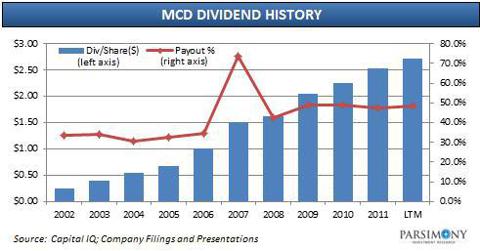 In addition, MCD has a modest payout ratio below 50%, which means that there is definitely room for future dividend growth!
CONCLUSION
We believe that MCD is a safe core holding for your DIY Dividend Portfolio and we think that long-term investors should consider purchasing the stock at current levels.
Disclosure: I am long MCD.