The last time I commented on Nokia (NYSE:NOK), the stock was at $2.63. That was only 2 weeks ago. It hit the $1.70 pavement, a breathtaking 35% decline, and then bounced back up to $2.17. Now that's one very miserable train wreck. Nokia was a $39 stock just five years ago.
Nokia investors are positive share price has to go up. Those hopes will be run over by the 4 O' Clock out of Grand Central. Reader DeepValueLover reminded me of an article I wrote in February 2011, Apple Sitting Pretty While Nokia Burns, a piece predicting Nokia's awful decline in the face of Apple's competitive advantage.
Compare the share prices of Apple and Nokia when this article was published.
Compare those share prices now.
Ouch.
Okay, DeepValueLover, let's compare. Make that double ouch.
Click to enlarge
So can Nokia stage a comeback? Doubtful. Same negatives are in place as when I wrote the 2011 piece. In fact, Nokia's problems are deepening.
1. The competition has gotten stronger. Apple (NASDAQ:AAPL) is bigger and better than ever - stronger margins, more cash, bigger distribution, greater economies of scale. Resurgent Samsung (OTC:SSNLF) has displaced Nokia as market share leader. Its Galaxy III S is a superb machine, right now arguably the best smartphone on the planet. Nokia is left fighting for third or fourth or even fifth place with HTC, RIM, Motorola and a host of Asian manufacturers.
2. Nothing differentiates Nokia from its competitors. Nokia's smartphones will go head-to-head with other rivals' Windows phones. Samsung plans at least two more Windows 8 handsets in addition to its Focus. HTC is already in the market.
2. Nokia's share price is deceiving. At a $2.17 share price, you'd think this was a microcap stock. In fact, this is an 8-billion-dollar market cap company. To hold onto a market cap that high, Nokia must deliver $800 million in profits somewhere down the line to give it a 10 multiple. Nokia is far from profitable having lost $3.5 billion over the last four quarters. Since Nokia bet the house on its Windows platform, it has had to cut the price of its faltering Lumia 900 in half. Not a rousing endorsement.
3. Nokia's unit profits keep dropping while its competitors' are rising. That's been the trend I identified in that article in February 2011, one that still holds true today:
(Nokia's) profits on each mobile phone it sells has dwindled while its over all sales volume stalled, a pattern that has been inexorable and dramatic.
It's been a dismal trend. Nokia's unit profits have evaporated.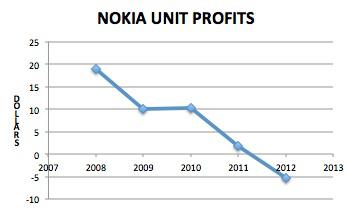 (source: my data from quarterly results)
Compare Nokia and Apple's unit profits: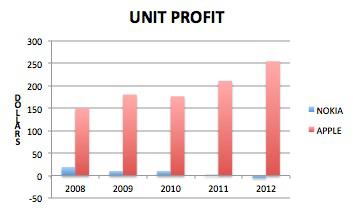 (Source: My data from Apple 10Ks. Unit profits are operating profit per unit. Nokia uses non-GAAP numbers, the GAAP numbers are lower.)
Apple earned $254 in operating profit on each unit. Nokia lost $5.30 (non-GAAP) and $6.88 (GAAP) on each unit.
Nokia isn't done going down. A share price of $1.50 beckons.
Disclosure: I am long AAPL.
Additional disclosure: Disclaimer: The opinions in this document are for informational and educational purposes only and should not be construed as a recommendation to buy or sell the stocks mentioned. Past performance of the companies discussed may not continue and the companies may not achieve the earnings growth as predicted. The information in this document is believed to be accurate, but under no circumstances should a person act upon the information contained within. We do not recommend that anyone act upon any investment information without first consulting an investment advisor as to the suitability of such investments for his specific situation.