The Clorox Company (NYSE:CLX) is scheduled to report its Q4 2012 results on August 2, 2012. The Street expects EPS and revenue of $1.27 and $1.53B, respectively.
In this article, I will recap the historical results of the company, its latest EPS estimates vs. surprises, the latest news from CLX and the news from its closest competitors.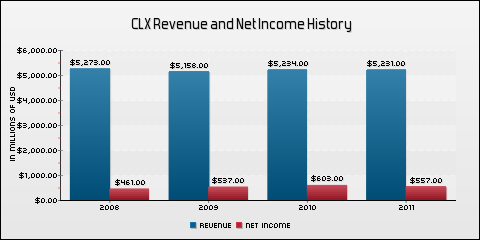 Recent EPS Actuals vs. Estimates
In the last quarter, it reported $1.02 EPS, just below analyst estimates of $1.03.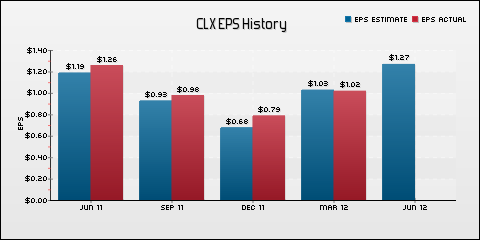 The consensus EPS estimate is $1.27 based on 17 analysts' estimates, just above $1.26 from a year ago. Revenue estimates are $1.53B, up from $1.48B a year ago. The median target price by analysts for the stock is $70.00.
Average recommendation: Hold
Source: Marketwatch
Latest News
On May 15, 2012, The Clorox Company announced that its board of directors increased the quarterly cash dividend on the Company's common stock by 6.7% , from $0.6 to $0.64 per share.
On May 2, 2012, The Clorox Co. announced that for fiscal 2013, it expects sales growth in the range of 2%-4% and Diluted EPS in the range of $4.20-$4.35. For fiscal 2012, it updated its sales guidance and expects sales growth of about 4%, versus the previous outlook of 2%-4% and diluted earnings per share (EPS) in the range of $4.00-$4.10 for fiscal 2012.
On February 3, 2012, The Clorox Co. updated its fiscal 2012 sales guidance and expects sales growth of 2%-4%and continues to anticipate diluted earnings per share in the range of $4.00-$4.10 for fiscal 2012.
Competitors
Colgate-Palmolive (NYSE:CL), Johnson & Johnson (NYSE:JNJ), Kimberly-Clark (NYSE:KMB), and Procter & Gamble (NYSE:PG) are considered major competitors for Clorox and the table below provides the key metrics for these companies and the industry.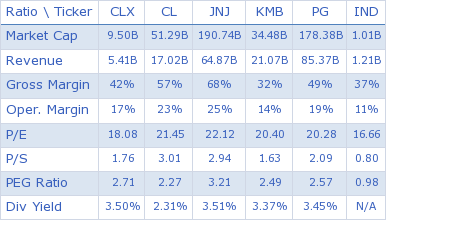 The chart below compares the stock price changes as a percentage for the selected companies and S&P 500 index for the last one-year period.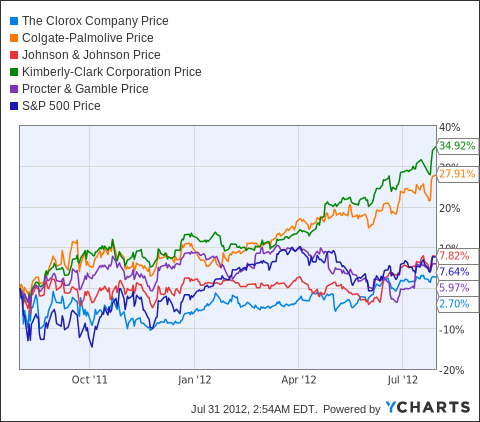 Competitors' Latest Development
Technical Overview
The stock has a market capitalization of $9.50B and is currently trading at $73.04 with a 52-week range of $63.06-$73.65. The stock's year-to-date performance has been 12.65%. It is currently trading above 20, 50 and 200 SMA.
Sources: Yahoo Finance, Google Finance, Marketwatch, Finviz, Reuters.
Disclosure: I have no positions in any stocks mentioned, and no plans to initiate any positions within the next 72 hours.