Mortgage REITs have been enjoying cheap borrowing rates for some time now. While the Fed does not intend to raise interest rates until the end of 2014, only REITs like Anworth Mortgage Asset Corporation (NYSE:ANH), who have large proportions of hybrid securities in their asset portfolios, will be best positioned to gain an advantage. Even though the company, like any other REIT, is benefiting from cheap borrowing costs, it is also the least adversely affected by the flattening of the yield curve. These reasons, along with a high dividend yield of 10.98%, allow us to give a buy rating for the stock.
Business Model
Anworth Mortgage Asset operates as a diversified small-cap REIT in the U.S. financial sector. Incorporated in 1997, the company largely invests in U.S. agency sponsored fixed-rate, adjustable-rate, and hybrid adjustable-rate mortgage backed securities, for which interest and principal payments are guaranteed by any government agency.
The company aims to generate high income for distribution to its shareholders. This is done by earning a spread between the interest income that the company earns over its residential mortgage asset portfolio and the cost of borrowing. A typical mortgage REIT borrows short term using repurchase agreements and lends or invests long term. Hence, both long and short-term interest rates influence the earnings of a REIT. Anworth is no exception. According to its Securities Exchange Commission (SEC) filings for the first quarter, it uses repurchase agreements of weighted average maturities of just 445 days to fund its assets mortgage portfolio. For some time now, mortgage REITs have enjoyed cheap borrowing rates due to the stubbornly low treasury short term interest rates. This is one reason why these mREITs have been hot picks since the beginning of the year. Besides providing elevated dividend yields, mREITs, as illustrated by the graph below, have exceeded the broad market index.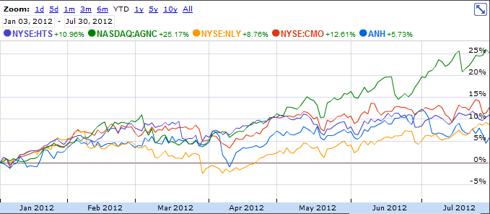 Source: Google Finance
Interest Rate and Prepayment Risk
These elevated returns do not come without risks. Typically, risks for agency mREITs stem from changes in interest rates and prepayments. Where the Fed's commitment to keep the Federal Fund Rate low until late 2014 is beneficial in terms of cheap borrowing costs, the flattening of the yield curve as a result of the central bank's efforts to stimulate the economy has threatened mREITs' interest income. In an earlier report, we explored at length how the yield curve had tilted due to Operation Twist and the Fed's maturity extension program.
Since Anworth last reported, the 10-year and 30-year treasury rates, as illustrated below, have gone down without affecting the one-year rate much. Since 82% of Anworth's MBS portfolio is invested in adjustable-rate or hybrid agency MBS, this flattening of the yield curve means the company paid the same cost on its borrowing during the second quarter as it did at the end of the first quarter. However, it generated lower interest income. Of this 82% adjustable-rate MBS, 72% consists of hybrid securities, for which the initial interest rate is fixed for a certain period, and then it is periodically adjusted to the prevailing rates. This means the effect of decreased interest rates and the resultant depressed interest rate spread will be less than what would have been if they were all adjustable-rate securities.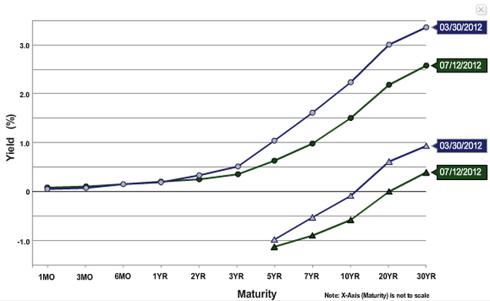 Source: Treasury.gov
Another risk that Anworth and other similar mREITs face is the acceleration of prepayments on the MBS portfolio. Accelerated prepayments due to lower mortgage rates and government-sponsored HARP increase the amortization cost for the company. These costs amounted to $15.9 million during the quarter ended March 31, 2012, up by 30% over the first quarter of the prior year. Credit Suisse (NYSE:CS), in a report to its investors, reported a surge in 30-year and 15-year MBS prepayment speeds of 3% and 3.5% respectively.
Q2 2012 Earnings Review
The company on July 26, 2012 reported earnings of $24.4 million, with a net interest spread of 127 bps, which shows a plunge of 16 bps compared to the first quarter of the current year. The decrease in the spread was largely due to a decrease of 12 bps in interest income earned on its assets portfolio. Since 19% of the company's mortgage portfolio is composed of 15-year and 30-year fixed rate agency mortgages, the tilt in the yield curve, as illustrated in the graph above, caused this decline in interest income earned. A decline in its interest spread is expected to continue going forward amidst talks of another round of quantitative easing (QE3) by the Federal Reserve Bank.
Dividends
Like most of its mortgage REIT competitors, Anworth Mortgage offers a high dividend yield of 10.98%, with a free cash flow yield of 25.5%. As of March 31, 2012, the company generated $234.66 million in operating cash flow and paid $28 million in shareholder distributions. This shows that the company generates sufficient cash to continue this dividend distribution in the foreseeable future. The dividend yield is sufficiently above the 10-year treasury yield of 1.45%, making it attractive for our investors.
Valuations
Anworth's stock, with a 6% YTD performance, is attractively priced as compared to most of its competitors. The stock, with regards to its book value multiple of 0.93x, is trading at a discount of 11.5% when compared to American Capital Agency (NASDAQ:AGNC) and Annaly Capital Management (NYSE:NLY).
Based on the above analysis, we recommend our investors to buy Anworth Mortgage.
Disclosure: I have no positions in any stocks mentioned, and no plans to initiate any positions within the next 72 hours.