We published our research report on BlackRock, Inc. (NYSE:BLK) back in May, around the time that the company bought back $1B worth of stock from Barclays PLC (NYSE:BCS) when Barclays decided to sell off its 19.6% stake in BlackRock. Two days later, Ignites Europe (Financial Times' subscription-only subsidiary that covers the asset management industry) cited our research in an article on BlackRock's $1B stock buyback.
We followed that up with a report comparing BlackRock's "Investing for a New World" Campaign is a more practical and useful investment marketing message than the wonky technocratic "New Normal" mantra spouted by PIMCO's resident Keynesians. In response to BlackRock's recent spate of executive departures, we analyzed and evaluated that event and concluded that it would be a case of addition by subtraction for BlackRock.
We were pleased that BlackRock once again beat consensus EPS expectations by $.10 on an adjusted basis and its GAAP Reported earnings beat the consensus adjusted EPS expectations by $.08. The difference between GAAP EPS and Adjusted EPS has narrowed to $.02, as the PNC LTIP and Merrill Lynch compensation contribution has become a smaller share of total expenses. We still think BlackRock is absolutely undervalued at 14.41X Trailing 12 Months EPS, 13.30X 2012 Consensus estimates and 11.85X 2013 Consensus estimates. Here is our latest analysis of BlackRock.
BlackRock grew its Q2 adjusted 2012 EPS by 3.33% versus Q1 2011. We were disappointed that revenue declined by 3% and profits declined by 11% and we would have preferred BlackRock repurchase more than the $1B that it ended up repurchasing. The EPS growth was due to a lower average share count during the quarter due BlackRock getting a full quarter's benefit from repurchasing Bank of America Corporation's (NYSE:BAC) remaining ownership interest of 13,562,878 Series B Convertible Preferred Shares for $2.545 billion, or $187.65 per share on June 1, 2011. Bank of America inherited Merrill Lynch's 49.5% stake in Blackrock when it acquired Merrill in 2009. The EPS growth also was aided by the aforementioned $1B share repurchase from Barclays. We noticed that BlackRock's stock bottomed out once Barclays completed the sale of its stake and BlackRock's stock has seen a 10.27% total return during this period, which exceeded the 5% generated by the SPDR Financial Sector (Financial Select Sector SPDR ETF: XLF).
Click to enlarge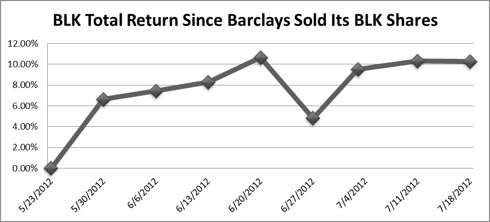 Click to enlarge
Source: Morningstar Direct
In the linked quarter, Blackrock's AUM declined by less than 3%. Declines in AUM were due to market depreciation as the second quarter was facing global economic weakness caused by the European debt crisis and slowing growth in the emerging markets. We also noted that BlackRock has nearly $55B in institutional client assets that it will begin to assume management of starting in Q3, up from $30B in the prior quarter. The majority of these asset management mandated will be in institutional index mandates ($42.7B or 78%). Another product area that BlackRock is leading the industry is in its Separately Management Accounts (SMA) platform, which has over $55B in AUM.
The U.S. Treasury redeemed about one-third of its $97.65B for its crisis era liquidation advisory mandate relating to the Maiden Lane I and Maiden Lane III assets taken on by the Federal Reserve in the wake of the American International Group (NYSE:AIG) bailout. BlackRock still oversees $65B in these liquidation assets and this represents less than 2% of BLK's AUM. Excluding this withdrawal, BLK saw net subscriptions of $2B for the quarter, as subscription strength in its Equity Institutional Index, Fixed Income iShares and Multi-asset asset allocation products was offset by the rest of its products.
BlackRock also reported strong operating margins of 39.2%, as the company held the line on expenses in the wake of the soft revenue environment. BlackRock saw its greatest base fee revenue growth from its BlackRock Solutions and advisory products (13%), multi-asset class asset allocation products (up 2.6%) and passive products (up 1.4%). Unfortunately, this wasn't enough to offset a 20% revenue decline from active equity products.
BlackRock also announced the acquisition of Swiss Re Private Equity Partners from Swiss Re and will close this purchase in September. This deal will create a private equity operation with a total of $15B in funding. We've already discussed how BlackRock is working to expand its brand through its "New World of Investing" campaign, as well as our opinion of it in relation to its peer competitors' marketing program. We noticed that its branded long-term mutual funds only account for about 4% of AUM and we believe that BlackRock can improve that. Retail assets under management for long-term investment products only represent about 11% of BlackRock's AUM.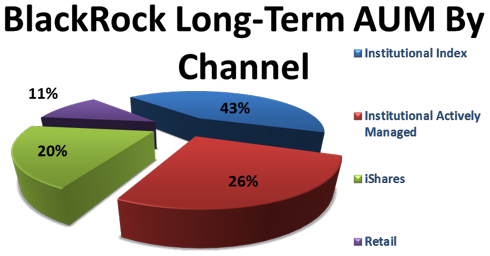 Click to enlarge
Source: BlackRock's Q2 Earnings Release
BlackRock saw its greatest AUM growth in the quarter come from Fixed Income iShares (7%), Institutional Fixed Income Index (1%) and Active Fixed Income strategies (1%). The sharpest decline came from currencies and commodities (10%) and 6% from its suite of equity investment management products. The effects of a stronger US Dollar caused AUM to decline by 0.5% in US dollar terms.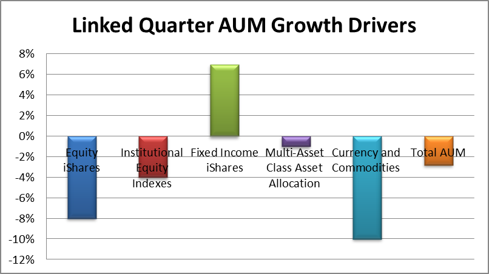 Click to enlarge
Source: BlackRock's Q2 Earnings Release
We disagree with management that it needed to put Barclays's shares out to market as a secondary offer in order to show its investment merits. We have been investors in the company since 2004 and we could see what an excellent investment opportunity BlackRock was. Even though we don't expect it to generate 25% Return on Equity and grow at 20% like it used to, we believe that the company can certainly generate 7%-13% annual EPS growth through organic revenue growth, bolt-on acquisitions, operational leverage, paying down debt/refinancing to a cheaper interest rate and buying back shares.
In conclusion, we are maintaining our holding in BlackRock. We believe that BlackRock's ability to generate strong cash flows and industry leading presence in asset management result in it being a compelling value for investors, even after the 10% run-up when Barclays began selling its shares in BlackRock. We can't for the life of us see why the industry leader in asset management is trading at the same Price to Earnings ratio as the S&P 500, especially due to the fantastic business model that asset management firms enjoy. We recommend BlackRock to the following investors:
Conservative investors who only invest in "high-quality, industry leading, blue chip firms"
Growth investors looking for a company that can still grow EPS by 7%-13% annually
Income-oriented investors who would benefit not only from BlackRock's relatively high current yield of 3.5%, but also BlackRock's consistent record of strong dividend growth.
Value investors who would be attracted to a high-quality industry leading company that is trading at less than 12X 2013 EPS even when taking into account EPS Growth and Dividend Growth.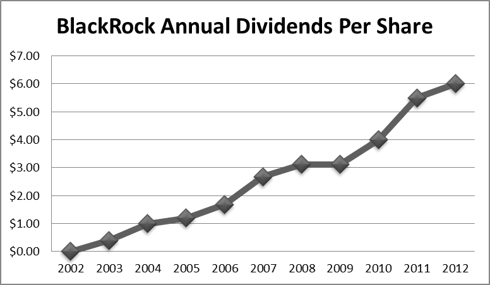 Click to enlarge
Source: BlackRock's Dividend History Page
Disclosure: I am long BLK, BAC.
Additional disclosure: Saibus Research has not received compensation directly or indirectly for expressing the recommendation in this report. Under no circumstances must this report be considered an offer to buy, sell, subscribe for or trade securities or other instruments.