A good company can be a bad stock. Ulta Salons (NASDAQ:ULTA) went public right as the 2007 market topped out. The offering price was $18 but the shares gapped higher and quickly shot to $35.60. Anyone who bought at that price was paying an extraordinary 74.2x that FY's $0.48 in EPS (FYs end Jan. of the following year).
That valuation was unsupportable even before 2008's recession dented ULTA's earnings. By the time FY 2008 wrapped up with EPS of $0.43 the stock had cratered by 88% to $4.10. At that time you could buy this fine company for just 9.5x the already reduced trailing earnings.
As the economy picked up so did ULTA's results. EPS expanded dramatically with the shares skyrocketing due to multiple expansion amplified by the improved numbers. Immediately prior to the August 2011 market sell-off ULTA peaked at $69.90; about 37x the FY 2011 estimate.
That proved to be too high during the panic and ULTA quickly sold off by 30%. At $49 the PEG [Price Earnings to Growth] ratio made it ok to buy. You don't get single digit valuations on companies like ULTA except in environments like early 2009.
ULTA surged again along with the market and touched an all-time high of $98.42 on June 20th. That was 47.5x trailing and 37.9x projected FY 2012 estimates.
ULTA's Officers and Directors appeared to be more than satisfied. Since September 27, 2011 there were multiple insider sales against zero insider buys. 10 of the last 11 reported filings were for $1.3 million - $7.5 million. The lone outlier was for a still-significant $641,250.
The price range of those sales? As low as $64.69 and as high as $95. The largest trades came at $81.06 per share. ULTA's CFO sold down to zero holdings last December.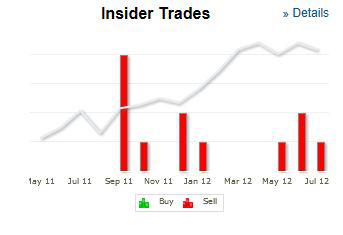 Ulta appeared priced for perfection in late June and still trades today for 41x trailing and almost 33x projected current FY estimates.
A drop to even 25x the $2.60 expectation would take ULTA back to $65. Any disappointing news could torpedo both the estimate and the P/E meaning $65 is not necessarily a safe floor, especially if the overall averages head south.
Morningstar agrees. They rate ULTA with their lowest, 1-star ranking (out of 5), and see fair value as $54. By my calculations ULTA's customers are probably looking far more attractive than their shares.
Disclosure: I have no positions in any stocks mentioned, and no plans to initiate any positions within the next 72 hours.