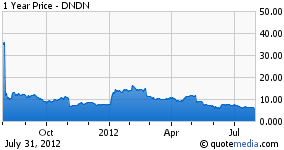 In this volatile market a company's CEO can't afford to make mistakes, as the wrong words or lower guidance can quickly create massive losses in the valuation of a company. Besides Netflix (NASDAQ:NFLX), there is perhaps no better example than with Dendreon (NASDAQ:DNDN), a biotechnology company with an innovating technology that has seemingly made every mistake along the way. Dendreon is a company that can't catch a break, and when you incorporate that it's historically one of the most shorted stocks, somewhat similar to Arena Pharmaceuticals (NASDAQ:ARNA), you have a recipe for investment disaster.
The company announced its second quarter results on Monday after the market closed and once again delivered bad news that reflects major mistakes that the company has made over the last two years, as expectations were simply too high, therefore proving that much of Dendreon's failures have been a result of setting its bar too high so shortly after an FDA approval.
In the first trading day following Dendreon's earnings, the stock closed with a loss of 23%, which is somewhat modest considering that DNDN has often declined by 30% or 40% after previous earning reports. The company announced revenue of $80 million which was a nice gain over the $48 million it posted last year. Dendreon also announced that it added 115 new accounts during the quarter, up from 84 in the year prior, which represents increased physician support that could indicate that reimbursement issues between the company and physicians are stabilizing (an early issue of Provenge that led to slow sales). And although the company still lost $96 million during the quarter, it's much better than the $116 million loss in the year prior, which indicates better management considering the company posted much higher revenue.
The big news from its earnings report was the restructuring, which includes shutting down the Morris Plains, New Jersey plant and cutting 600 jobs within a year's time, over 40% of its staff. This move is expected to save $150 million annually, but will put stress and significantly increase the work load on its other two sites in California and in Georgia. It also leaves a huge hole in the distribution and manufacturing network of Provenge, in the north-east section of the country, a region that is highly populated and creates significant sales for the company. Not to mention that Provenge is already plagued with unbearable logistical issues and this move will make these issues even more complex with longer transport times for a drug that has such a short shelf life.
When you stop to look at Dendreon as a company there are a number of things you could find wrong, however judging by the numbers above it does appear as though the company is finally making some strides in the right direction and for the first time there are positives from its earnings report, despite dreadful stock performance. This signals that Dendreon's largest problem may not be its growth, Provenge's $93,000 price tag, its logistics, or the fact that it requires multiple blood drawls and has a short-term life, but rather the perception of the company, and investors who simply no longer trust its management due to countless mistakes.
In my opinion, Dendreon got way too far ahead of itself before gaining the approval for Provenge. In May of last year it was trading with a market cap of $6.5 billion due to a first-of-a-kind technology in the fight against cancer and sales expectations of $1 billion from nearly every analyst who covered the stock. In other words, its expectations were way too high, and the company didn't help matters, it made things worse, by making bullish bets that it would meet or exceed all bullish expectations.
I have personally never invested in DNDN, and I have always been more outspoken regarding my negativity towards the management of the company, and their decision making. I believe the company has a great technology but is overwhelmed with horrible decision making. Allow me to use the closing of the NJ facilities as an example: Dendreon announced the expansion of the NJ plant back in June of 2009, which was 10 months before it was awarded its FDA approval. Therefore, it didn't know for certain whether or not it would be approved, or the demand for Provenge if it was approved. Yet instead of expanding with the growth of Provenge the company moved forward with the plans for the $50 million 158,000 square foot processing facility that far exceeded the demand of Provenge. To this day, I don't understand why it spent so much on the facility, especially as a developmental company. It should have been a major red flag to all investors, as no developmental company could afford such a cutting-edge facility similar to what Pfizer (NYSE:PFE) would build. However, aggressive decisions such as this has now put the company in a situation with excessive debt, too high of expenses, and a lack of investor confidence, all because of one massive mistake after another.
The good news is that for the very first time it appears the company is aware, making better decisions, and is valued appropriately to create shareholder value. The stock is at 52-week lows, yet the company just announced earnings that reflect significant revenue growth, better relationships with physicians, and more efficient spending. The company already has a great drug, and after scaling back, it will be able to grow with the sales of Provenge, and I anticipate that over the next 10 months the company will rebuild some of its broken relationships that could perhaps lead to profitability in the next 24 months, following some major changes to the company.
I have said for the last eight months that one of Dendreon's biggest mistakes (in a pool of many) was making the decision to go solo in manufacturing Provenge. A lot of people don't realize that PCT Cell Therapy Services, a segment of Neostem (NBS), almost walked Dendreon through the approval process of Provenge. The PCT services businesses manufactured Provenge throughout the trial process, and also performed product and process development, cell and tissue processing, storage distribution and delivery, and consulting and regulatory support, which are all services that Dendreon chose to utilize itself after building its own massive facilities. Yet, the reason I called this Dendreon's dumbest decision is because it is very expensive to build and maintain these facilities for just one drug, and to find qualified professionals to work in these facilities can be even more challenging, yet management at Dendreon felt it was best to build these facilities without the staff or knowledge and hardly considered the expenses to manufacture Provenge because the company had PCT Cell Therapy Services to do the dirty work and hold its hand while in clinical trials. As a result, the expensive facilities, which were FDA approved in early 2011, will be shutting down, and for the time being, will be written off as a massive loss that was paid for by investors while Provenge was in the approval process and before Provenge had proven itself as a successful treatment for prostate cancer.
As I previously said, I now think Dendreon is moving in the right direction. Morally, I hate to see people lose their job, but honestly the company should have never built such an elaborate facility without having some gauge of success for Provenge. At the time, when Dendreon was selling the benefits of the facility to shareholders, its stock was trading north of $30 a share and Dendreon believed the plant was needed to handle the demand. As a result of Dendreon's failed expensive experiment, I think drastic changes will occur to the operations of the business, as the company simply can't lose the presence of the facility and maintain sales. Therefore, I believe it will slowly but surely scale back and use cheaper, more qualified third party sources for the manufacturing and logistical aspects of Provenge. I think a renewed contract with Neostem to perform its same functions prior to Provenge's approval is to be expected and will most likely occur in the next 12 months as the company closes its New Jersey plant, and seeks new partnerships for other functions besides manufacturing so that it can effectively cut down on costs.
As an investor who is considering a purchase of DNDN (for the first-time), I would like to see the company cut down its costs with more effective business practices, such as with third-party manufacturing, storage, and delivery with a company such as Neostem. I believe Dendreon would choose PCT, or Neostem, seeing as how it had a successful relationship with Dendreon, and because it's the best in the industry. Neostem's PCT business has manufactured over 30,000 cell therapy products, provided for more than 5,000 patients, and most importantly has over 12 years of experience and 65,000 square ft. of manufacturing capacity. It would be significantly cheaper and Dendreon would escape the logistical pitfalls that will occur by shutting down the New Jersey plant, while increasing Neostem's revenue, as Neostem manufactures cells for a number of other companies such as Baxter (NYSE:BAX).
Finally, it doesn't makes sense that Dendreon would close the New Jersey facility without a plan due to the need for large scale manufacturing in that particular region of the U.S. Fortunately, Neostem's new 30,000 square foot facility is the next door neighbor to Dendreon's Morris Plains, NJ facility, with Neostem's facility located in Allendale, NJ. And to make the transition complete, Neostem also has facilities located in Mountain View, CA, which is conveniently located near Dendreon's other facility in California. Of course it is speculative, but the dots seem to connect, and considering the financial condition that Dendreon faces after years of bad decisions it seems logical that with its recent news that it would strive to become more effective and make moves such as this, and transition its manufacturing and or delivery, storage, and processing to a company such as Neostem, so that it may become profitable at some point in the next few years. And if not, then there is always the alternative, which is more bad decisions that ultimately lead the company to bankruptcy with its mounting pile of debt. I suppose the next six months will be crucial, throughout this transition, and we will get to see firsthand if Dendreon's executives have learned anything from their past mistakes.
Disclosure: I have no positions in any stocks mentioned, but may initiate a long position in DNDN over the next 72 hours. The opinions in this article are for informational purposes only and should not be used in making any investment decisions without the consultation from a financial advisor. I am long NBS & ARNA.