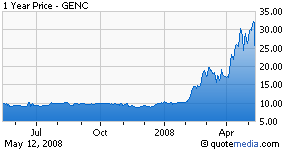 Gencor Industries (NASDAQ:GENC) is at the forefront of two major bull markets, namely infrastructure and agriculture. The Orlando-based heavy machinery maker manufactures asphalt plants, soil remediation plants, combustion systems and screening equipment for the road and highway construction industry. They are working on developing different biomass fuels, waste fuel recovery, asphalt recycling etc. The pending global infrastructure upgrade cycle and agricultural secular growth trend should allow this company to benefit from a myriad of fronts. Management has had an excellent track record of creating shareholder value, namely by eliminating most debt, by maintaining a steady growth in R&D spending and by continuing to grow its core businesses.
Nevertheless, small companies do often incur unforeseen capital expenditures, delays in orders and temporary R&D expenses in an effort to better position themselves for the long-term. While GENC has consistently met and exceeded Wall Street expectations, it just reported a dismal quarter. Nevertheless, the company still managed to earn $1.50 for the trailing 6 months. Even after the miss, it is quite conceivable for the company to earn $3 in 2008 and for it to resume its growth trend after that.
The stock hit a classic technical trading bottom today, declining ~35% on almost 10 times normal volume. Investors in small cap stocks often panic way too much when a company with a solid track record misses its earnings. Witness LSB Industries (NYSE:LXU) and Art'sWay Manufacturing (NASDAQ:ARTW), two other high-growth small-cap stocks which, after a tremendous track record, got unfairly beaten up and subsequently rose 25% from their bottom.
This quarter's results may have quite conceivably been affected by a recessionary environment in which municipalities may have held back their spending for the company's products. Since the stock market is a forward discounting mechanism, one should look beyond this quarter's results; the prospects for GENC are fantastic.
The decline in GENC makes for a compelling technical bottom trade, namely buying the stock at these levels with a tight stop at $19.50. I expect the stock to trade back to $25 as week longs have gotten washed out, short term shorts cover and investors who are aware of the fantastic track record of management give it the benefit of the doubt and invest in the long-term at levels that are extremely attractive. For investors with a short term horizon, I expect GENC to bounce back to $25-27. My 12-month target for the stock is $35.
Disclosure: Author is long GENC.