Goodyear Tire & Rubber Company's (NYSE:GT) 2Q earnings results beat analyst estimates and led to a 10.4% gain in the stock. In 2Q Goodyear faced difficult industry conditions and its tire volumes declined. Its European business was especially challenged and may face continued pressure. Despite the challenges in North America, Goodyear continued to make progress with its strategy roadmap. Goodyear's stock price is down year-to-date and is trading near the bottom of a multi-year trading range. With continued headwinds from consumer demand, especially in Europe, Goodyear may have a challenging 2H 2012. However, at some point people need to replace their tires and Goodyear's business transformation will likely boost results when the cycle starts to tick up. In this article we give an overview of Goodyear's business, examine the 2Q 2012 results, look at the valuation and a comparable company analysis and present our conclusions for investing in the stock.
Introduction
This is the first time that we are writing about Goodyear on Seeking Alpha, so we want to start with an overview of the business.
Goodyear focuses on aftermarket tire sales, mostly in the consumer segment. Goodyear's main geographies are North America and Europe, Middle East and Africa (EMEA).
(click to enlarge all images)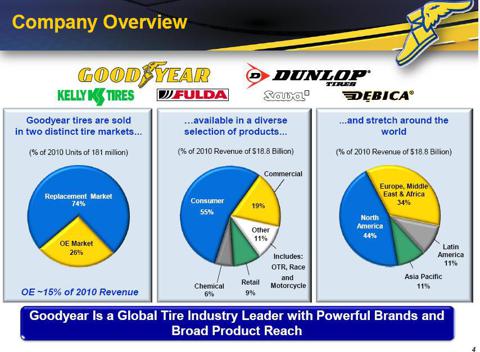 (Source: Goodyear Presentation at the Deutsche Bank Global Auto Industry Conference, January 10, 2012)
The following charts present the geographic and market details for the last three years.


(Source: Goodyear's 2011 10K)
Goodyear's management has implemented a strategy roadmap with the goal of generating $1.6 billion of segment operating income in 2013.
Management has outlined the following industry mega-trends impacting the business.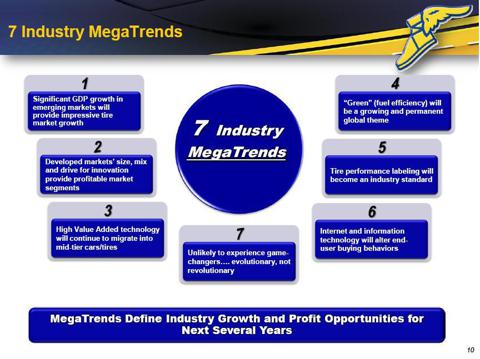 (Source: Goodyear Presentation at the Deutsche Bank Global Auto Industry Conference, January 10, 2012)
Did the Company Beat Expectations, and Have Expectations Been Rising / Declining?
Goodyear's 2Q 2012 earnings material can be found here.
In 2Q 2012, Goodyear generated $5.2 billion of revenue, down 8% from 2Q 2011. Tire unit volumes declined in 2Q 2012 to 39.2 million, down 9% from 2Q 2011.
Goodyear generated 2Q 2012 diluted EPS of $0.33. Excluding one-time items, adjusted diluted EPS was $0.57 per share. The results beat analyst estimates, which called for EPS of $0.46 according to Reuters (via Capital IQ).
Expectations were flat for the last three months, which makes the EPS beat more impressive. Estimates for many other companies were reduced making it easier beat the numbers.
Despite the EPS beat, 2Q was still a challenging period for Goodyear, it just wasn't as bad as analysts expected.
What Drove the Results?
Goodyear's results were weighed down by declining tire volumes, especially in Europe.
The following chart shows the decline in 1H volume compared to past years. Impressively, segment operating margin held up well despite the large decline in volume.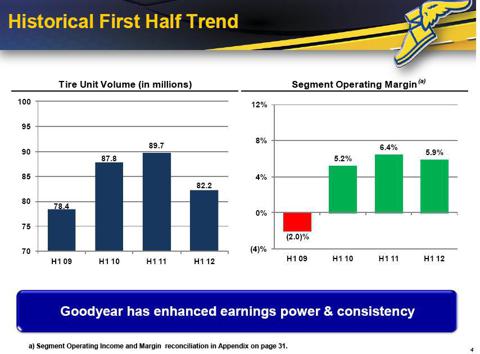 (Source: Goodyear's 2Q 2012 earnings presentation)
Goodyear experienced declining volume in 2Q in three of its geographic segments: North America, EMEA and Latin America. However, the decline in EMEA was the largest. In 2Q 2011 EMEA represented the largest region by unit volume, but it fell behind North America in 2Q 2012.
EMEA also experienced a steep decline in operating margin in 2Q 2012. However, North America's margin improved in 2Q 2012, despite the slight decline in volume. From an operating income perspective, North America had a record quarter.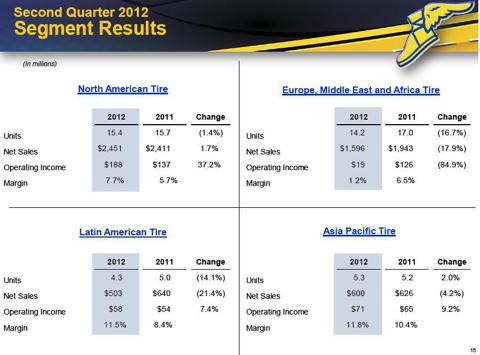 (Source: Goodyear's 2Q 2012 earnings presentation)
Overall, segment operating income declined to $336 million in 2Q 2012 from $382 million in 2Q 2011. The main positive contributor to segment operating income was the change in overall price/mix. On the negative side, raw materials and lower volume were a drag on segment operating income. The following chart presents the bridge from 2Q 2011 to 2Q 2012.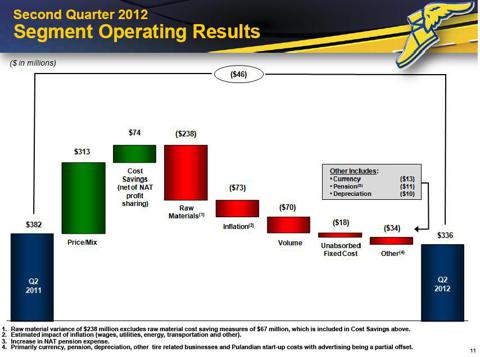 (Source: Goodyear's 2Q 2012 earnings presentation)
On the earnings call Richard Kramer, chairman and CEO, put the financial results in perspective considering the company's operational turnaround. He said (please see transcript here):
Now considering all the positives, as well as the headwinds, perhaps the most important takeaway from our quarter results is that our segment operating income of $336 million was achieved on volume of 39.2 million units. Now to put this in perspective, the last time unit volumes were that low was in the first quarter of 2009, as the recession took hold. Our corresponding segment operating income for that quarter was a loss of $176 million, with North America Tire recording a loss of $189 million. Our results indicate that our efforts to change how we fundamentally run our business are working and gives us confidence that we can lean into the challenges that are still ahead.

Such fundamental change has been our emphasis since 2010. We said that our goal was to drive an operationally excellent business that efficiently makes the right tire, by collaboratively linking our business process from the market to supply, to manufacturing, to procurement.
Goodyear's management gave differing outlooks for the North America and EMEA businesses.
Goodyear acknowledged the challenges in North America, but seemed encouraged by the pent-up demand. According to management, North American consumers are holding off on replacing their vehicles, but they are driving more. This combination should lead to more demand in the future, but it is hard to know when the company will benefit. Also, inventory levels are down, which will help the tire manufacturers when demand picks up. The following chart presents the case for pent-up demand in North America.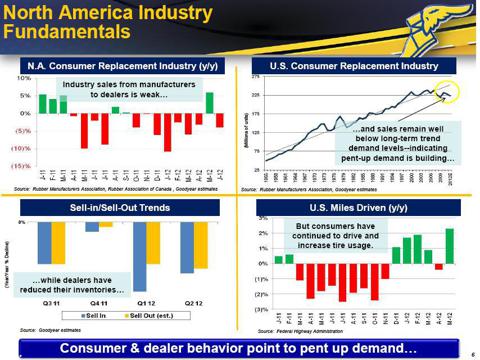 (Source: Goodyear's 2Q 2012 earnings presentation)
With regard to the EMEA business, Richard Kramer said:
Now I'd like to come back to Europe, which is clearly a much tougher and more volatile situation. In our second quarter results, you have seen the severe impact of the economic and policy uncertainty in the European Union, and the fallout of consumer and dealer responses to this uncertainty. Through the first quarter, parts of Europe continue to show stability as market softness was concentrated in Southern Europe. In the second quarter, the weakness extended to Germany and other markets that had been stable through the first quarter. The outcome was a market that was the weakest we've seen in many years and weaker than we had predicted. Our team took actions to reduce production and to help customers manage through the situation. But clearly, no number of actions could fully address this unprecedented weakness in the near term...
Now as we look at our European business, we see a slow growth economy for an extended period of time."
In 2013 new regulations will require tire labeling in Europe. Goodyear sees this as a positive as it believes that its technological advantage will become more apparent to consumers with the new labels.
What Is the Guidance Going Forward?
Goodyear's updated tire industry outlook calls for more weakness than previously expected.
On the positive side, it increased its FY 2012 North America consumer OE forecasts to 5-10% growth, compared to 2-7% growth in the April outlook. Auto sales have been trending well in North America, so this is not much of a surprise. It will be interesting to hear the degree of optimism in the forecasts and comments from General Motors (NYSE:GM) and Ford (NYSE:F) on their July sales conference calls as well as GM's upcoming 2Q conference call (Ford reported last week, but we haven't had a chance to go through the results in detail yet).
On the negative side, the outlook is more negative for EMEA in the consumer replacement and consumer OE segments. Also, the commercial replacement business in the US is now expected to be down as opposed to flat in the previous outlook.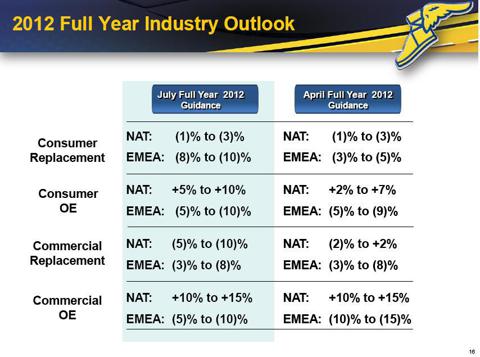 (Source: Goodyear's 2Q 2012 earnings presentation)
Goodyear's outlook for its business is as follows (from the earnings press release):
We remain confident that long-term growth in the global tire industry will continue, but at a slower pace near term than previously forecast due to continued economic challenges, particularly in Europe...

Goodyear now expects that its full-year tire unit volume for 2012 will be approximately 5 percent to 7 percent below 2011.

For the full year of 2012 in North America, Goodyear expects the consumer replacement market to be down between 1 percent and 3 percent, consumer original equipment up between 5 percent and 10 percent, commercial replacement to be down between 5 percent and 10 percent and commercial original equipment up between 10 percent and 15 percent.

For the full year in Europe, Middle East & Africa, the consumer replacement industry is expected to be down between 8 percent and 10 percent, consumer original equipment down between 5 percent and 10 percent, commercial replacement down between 3 percent and 8 percent and commercial original equipment down between 5 percent and 10 percent.

Goodyear anticipates its raw material costs for the third quarter of 2012 will be essentially flat with the prior year. For the full year of 2012, Goodyear expects its raw material costs will increase approximately 7 percent compared with 2011.
Goodyear's management also reiterated its target of segment operating income of $1.6 billion in 2013. During the Q&A on the conference call, the CEO said that the company is projecting volume in the 180 million unit range for 2013, which would allow it to achieve its segment operating income goal.
What Are the Implications for the General Economy?
As we mentioned above, Goodyear's comments on the European economy suggest continued weakness in consumer demand.
However, Goodyear's results and commentary present a mixed message about the North American economy. The declining volume and weak demand for tires, even replacement tires, suggest that consumers are still being cautious about their spending.
However, one bright spot in Goodyear's industry outlook was the North America OE business. Both the consumer and commercial OE segments are expected to show growth this year. Although certain consumers are holding off on spending, there is another segment of the population that is driving growth in new auto sales.
Similarly, growth in the commercial business may be a positive indication of corporate activity and spending.
How Did the Stock Perform Going Into Earnings?
Goodyear's stock has been declining since the beginning of the year and it is trading at the bottom of the $9-$19 range it has been in since 2009, near the lows from the correction last year. Expectations seemed low for the 2Q results.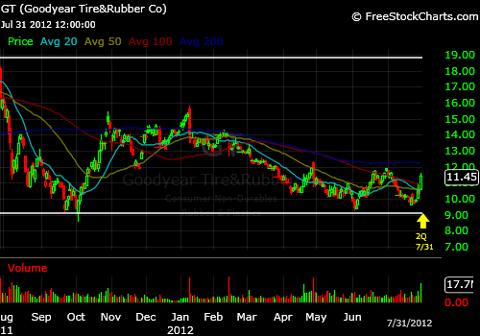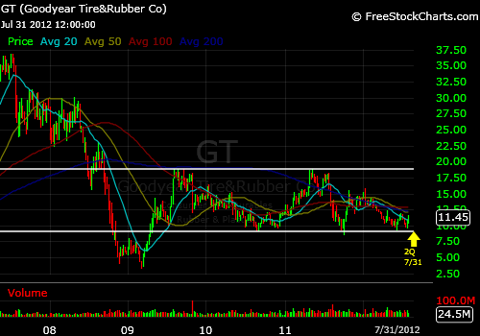 (Source: FreeStockCharts.com)
Goodyear's stock price seems to move in-line with the auto manufacturers General Motors and Ford, though it has been outperforming General Motors and Ford since mid-June as seen in the second chart below.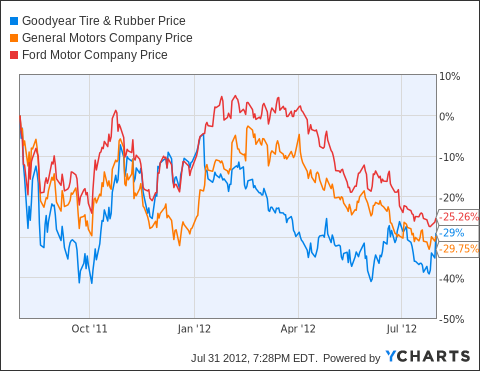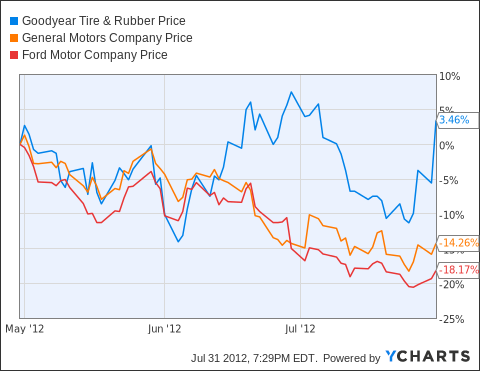 What Is the Market's Reaction to the Results?
The initial reaction was positive as the stock rose 10.4% to $11.45 per share. Part of the gain may be attributed to short covering.
Financial & Valuation Snapshot And Comparable Company Analysis
The following chart shows Goodyear's free cash flow calculation. On a LTM basis, Goodyear generated $569 million of free cash flow after pension expense and CapEx.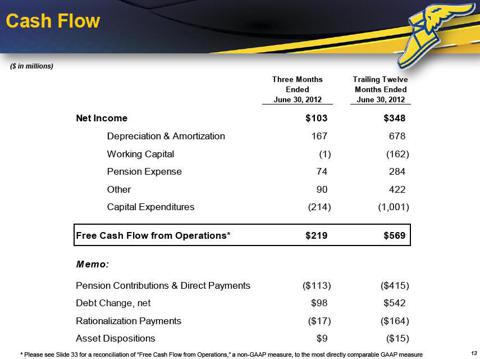 (Source: Goodyear's 2Q 2012 earnings presentation)
Although the company has significant debt, it has breathing room under its maturity schedule with no maturities until 2015.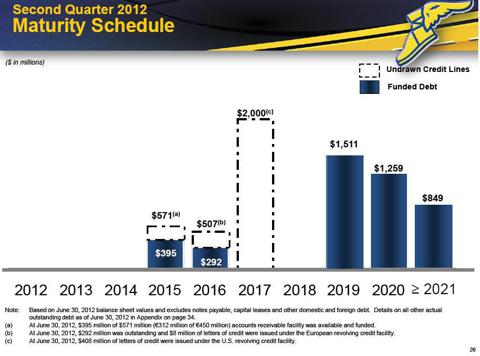 (Source: Goodyear's 2Q 2012 earnings presentation)
Goodyear's pension plans are underfunded and they use up significant cash flow in the near term. Management projects that its global underfunded pension obligations will be $2.625 billion at the end of 2012.
Goodyear is benefiting from the new regulation about pension discount rates in the recent Highway Bill. As a result of the new regulation, Goodyear will be allowed to use a higher discount rate in its pension funding calculations. It anticipates that it will be able to reduce its cash flow for global pension contributions to $350-$400 million in 2013 from $550-$600 million in 2012. This will give the company additional cash flow flexibility.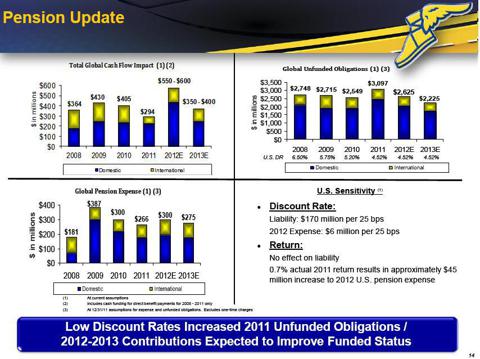 Goodyear's TEV / EBITDA multiple is lower than its peers, but so is its EBITDA margin. Goodyear is carrying more debt than its peers and it does not issue a dividend. Additionally, Goodyear's pension situation is likely a drag on its valuation.
The following is a valuation snapshot and comparable company analysis for Goodyear. The comps are Bridgestone, Michelin, Pirelli and Cooper Tire & Rubber (NYSE:CTB).

Conclusions
Investors have been selling companies with European exposure and Goodyear fits the bill. Europe is a big component of Goodyear's revenue and seems likely to be a drag on margins as the economic mess in Europe continues. However, the company is making progress with its operational transformation and is holding up well in a challenging environment.
At some point the negative sentiment about Europe will dissipate and European consumer demand will pick up a bit. We are not sure when that will happen and it is hard to come up with a specific catalyst for the stock. Macro events may serve as a catalyst if European leaders can make progress toward a solution for their problems.
We have invested in Goodyear in the past, but currently do not have a position. We may be interested in reestablishing a position if the stock trades back down to the bottom of its multi-year trading. Alternatively, we may be interested in the stock if it breaks above the $12 level. In either case, we would use stop-losses to limit our downside.
There are significant risks in an investment in Goodyear, including the uncertain macro economic environment, exposure to Europe, raw material pricing, pension obligations and debt as well as strong competition.
Disclosure: I have no positions in any stocks mentioned, but may initiate a long position in GT, GM, F, CTB over the next 72 hours.