Coca-Cola Enterprises (NYSE:CCE) May 9, 2008 close: $21.49
52-week range: $21.37 [May 9, 2008] - $27.09 [Dec. 18, 2007]
Yield = 1.30% [seven cents quarterly- last raised Q1 2008]
Coca-Cola Enterprises is the world's largest soft drink bottler with 2007 revenues of $20.936 billion. They operate in 46 states plus Washington, D.C., Belgium, France, Canada, Holland, Luxembourg, and the United Kingdom.
CCE shares have typically been a good defensive choice in recessionary environments as soft drinks and bottled water are not high-end luxury items. The shares have a Beta of just 0.75 and Value Line rates them in the 85th percentile for 'stock price stability'.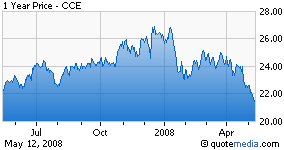 A weak comparison in their Q1 [historically their slowest time of the year] has caused the stock to drop from last December's high of $27.09 to a new 52-week low last Friday. That over-reaction to a poor quarter in the seasonally weak March period has created a good buying opportunity in my view.
Company insiders have spoken agreement with their wallets.
Here are the latest reported insider transactions:
May 1, 2008 CEO John Brock bought 20,000 shares @ $22.58 for $451,600
May 1, 2008 CFO William Douglas bought 5000 shares @ $22.69 for $113,450
April 30, 2008 Director Orrin Ingram bought 5000 shares @ $22.61 for $113,050
Feb. 26, 2008 CFO William Douglas bought 5000 shares @ 24.50 for $122,500
Feb. 20, 2008 Exec.V.P. Cahillane bought 40,000 shares @ 23.775 for $951,031
Feb 15, 2008 CEO John Brock bought 20,564 shares @ 24.30 for $499,705
When the CEO and CFO are buying and no insiders are selling I think that's worth noting.
CCE shares have shown an average P/E of 17.18 over the past six years. Three of the past six years saw a multiple of > 18. In that same span debt to equity has been reduced from 4.32x in 2001 to last year's 1.65x.
Today's dividend yield of 1.3% is the highest ever for Coca-Cola Enterprises. CCE's payout ratio is just 18.67% leaving room for further increases as well.
I'm taking advantage of the recent sell-off to buy some shares and write [sell] some $25 puts for 2009 and 2010. We can buy now for less than the insiders paid over the past few months and not too far from CCE's multi-year absolute low prices. The dead lows hit in 2007 – 2008's horrendous market were $19.80 and $21.37 respectively.
Value Line sees 2008 EPS of $1.50. Zack's looks for $1.51/share. Both services now carry estimates of $1.65 for 2009. A return to 18 times this year's expectations would bring these shares back to $27 or up 25.63% from last week's quote. By year-end 2009 that would lead to a $29.70 target price.
Is that reasonable to expect? As noted earlier, CCE shares traded at $27.09 last December and right at $27 early this year. Revenues, dividends and book value have never been higher than they are now.
It looks like future profits for holders of Coca-Cola Enterprises are "in the can".
Disclosure: Author owns shares and is short puts in Coca-Cola Enterprises.