Facebook's (FB) performance as a public company has been ironically anti-social. The company has lost over 40 billion dollars in value since coming public. The first strike against the company was the infamous IPO where a new term was introduced into the financial lexicon, to get 'Zuckered'. The term was coined by investors in the Facebook IPO. The second strike was the dismal first earnings report where revenues were bleak and growth was waning. The third strike, yet to be thrown, will cement Facebook's fate. I am referring to the impending tsunami of shares released from lock up. In the following sections I will expound on the Facebook's financial fiasco in detail. The bottom line is Facebook is a great company, nevertheless a terrible investment.
Facebook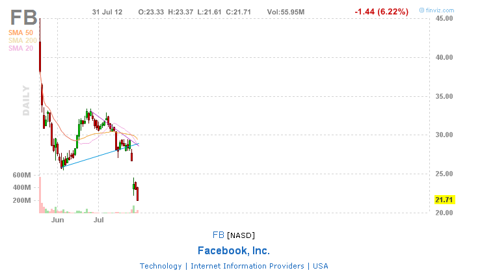 Click to enlarge
Strike One - The IPO
Participants in the IPO have brought legal action against the company stating they were misled. The U.S. Senate Banking Committee has vowed to investigate assertions by investors they were hoodwinked. Facebook has tumbled to new lows; shares are now down 42% from their $38 IPO price.
There have been several articles written in regard to the IPO so I won't rehash the details. Suffice it to say, copious amounts of Facebook shares were sold at the high end of the price range. This maximized the windfall for CEO Mark Zuckerberg and other insiders and fashioned a far-fetched valuation for the company. The street soon realized Facebook's sky-high valuation and the selling pressure ensued.
Strike Two - The Earning Report
Facebook shares nosedived after meeting lowballed estimates. The company reported major slowdowns in payments growth, western user growth, and U.S. ad impressions, as well as huge spending hikes. The ad impression drop fueled concerns the shift to mobile is doing more damage than thought.
Growth for the highly valued North American user slowed significantly year over year from 97% to only 25%. This is very important due to the fact the company receives $3.20 average revenue per North American user versus only 55 cents average revenue per Asian user where user growth was up 70%.
The recent decline comes after Bernstein's Carlos Kirjner recently provided a lukewarm upgrade to Market Perform. Kirjner values Facebook's ad business at $19/share, and everything else at a mere $4/share. Moreover, he's worried about a decline in European ad rates. Another key factor sapping ad rates is the fact a majority of users log on via smartphones. Out of 955 million users 543 million access the service using their cell phones. Cell phone ads are inordinately cheaper than PC screen ads due to size and space constraints.
Strike Three - The Share Lockup Expiration
Facebook's stock is burdened with billions of shares poised to be released from lockup in 2012. Facebook's share lock-up expiration begins in August and will increase Facebook's float by 276% by November. On August 15th 268 million shares will be released from lock-up more than half the shares offered in May. This will be followed by 247 million released on Oct 14th, 1.33 billion on November 13th and 124 million on December 13th.
The release of shares from lock up prior to the end of the year is important due to the fact that capital gains tax rates are expected to rise in 2013. I believe this is why the IPO was scheduled for May. I surmise the fact that capital gains taxes are expected to rise in 2013 has been anticipated. Facebook insiders have calculated this and planned for it accordingly to maximized profits. I expect the stock to experience significant pressure as the lockups expire.
Zynga (ZNGA) had a rough time during its share lockup expiration period. Not only did they lose market value they lost a valuable leader as well. The company lost mobile gaming CTO Laurent Desegur to startup Game Closure. Zynga is down significantly from its IPO price of $10. Zynga and its underwriters have been hit with a class-action suit over the huge insider sales conducted through an April 3 secondary offering. Those sales happened at $12. Zynga is trading at one quarter that level following a brutal Q2 report.
Zynga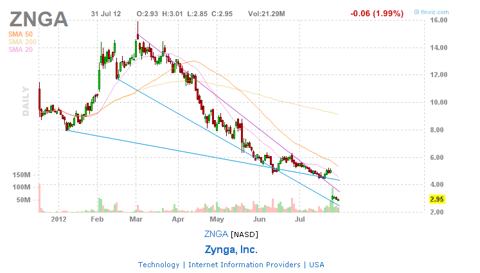 Click to enlarge
Groupon (GRPN) dove to post IPO lows on its share lockup expiration day as well. The decline adds to the sizable losses Groupon saw ahead of the expiration, which allowed approximately 600 million shares held by insiders to be sold for the first time. These events do not bode well for Facebook's post lockup share price prospects.
Groupon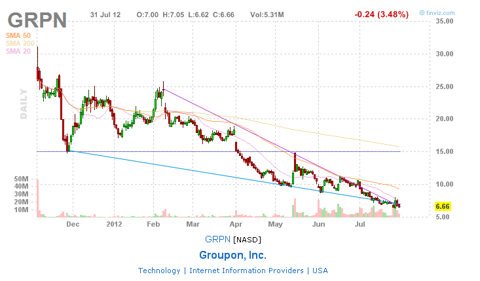 Click to enlarge
Conclusion
How can Facebook hold up to the incredible avalanche of unbridled selling pressure soon to be released upon the stock? The short answer is… it can't. I believe it is fait accompli that Facebook continues its downward spiral. Don't attempt to catch this falling knife. It doesn't matter where a stock has been… only where it's going.
Facebook is a great company but a bad investment. I would sell Facebook and buy either Google (GOOG) or Apple (AAPL) which are in the same sector and have much better prospects for future growth and much better fundamentals.
Google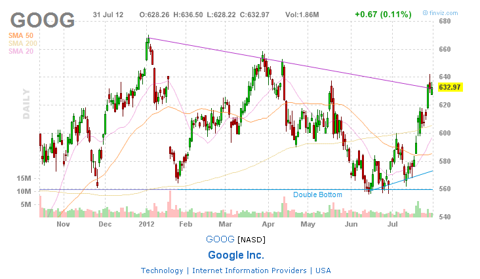 Click to enlarge
Google is vastly undervalued based on fundamentals. Google is trading for 16 times free cash flow. Google's PEG ratio is 1.07. Google's quarter over quarter EPS and sales growth rates are 10% and 35% respectively. Google's net profit margin is 25.74%. Google's ROE is 19% and the company has virtually no debt.
Apple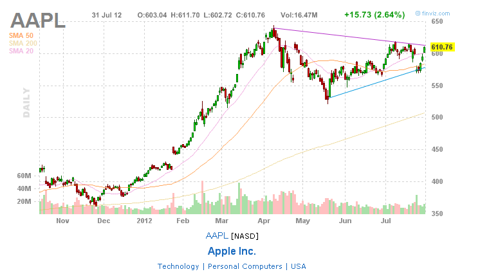 Click to enlarge
Apple is vastly undervalued based on fundamentals. Apple is trading for 13.35 times free cash flow. Apple's PEG ratio is .66. Apple's quarter over quarter EPS and sales growth rates are 20% and 23% respectively. Apple's net profit margin is 26.97%. Apple's ROE is 44.34% and the company has no debt.
Use this information as a starting point for your own due diligence and research methods before determining whether or not to buy or sell a security. If you choose to start a position in any stock, I suggest layering in a quarter at a time on a weekly basis at a minimum to reduce risk and setting a 5% trailing stop loss order to minimize losses even further.
Disclosure: I have no positions in any stocks mentioned, but may initiate a long position in GOOG, AAPL over the next 72 hours.