The worsening U.S. Midwest drought has continued to impact corn production adversely and consequently, corn prices have continued their steep incline. However, the incremental impact on corn crop will not be as hostile now as it was during corn's pollination stage last month. On the other hand, we expect soybeans to be most severely-affected in the upcoming days, as it is soon going to enter its reproductive stage, when it needs rain the most. Corn will also be impacted, as the weather is expected to remain dry in the upcoming two weeks, but we see limited upside for its prices in the future, even though further production cuts are expected. We recommend investors to decrease their holdings in ETFs with high corn exposure like Teucrium Corn (CORN) and PowerShares DB Agriculture Fund (DBA), while we recommend to add to those ETFs with high soybeans exposure like iPath Dow Jones UBS Grains Total Return Sub-Index ETN (JJG). Fertilizer stocks are also good potential options for long positions, although they have rallied a lot already, while crop insurers are good for taking short positions in to play the surging corn prices.
USDA Update
The recent weekly progress report of the U.S. Department of Agriculture (USDA) shows a further decline of 2% in the rating of good-to-excellent corn, relative to the previous week's level of 26% and mid-May's 77%. These ratings were the worst since the same week in 1988, when another such sort of devastating drought hit the crop-intensive region. Consequently, corn has recently surged to an all-time high with its futures climbing to $8.18 / bushel yesterday.
Source: NASDAQ
Weather Forecasts
Agricultural meteorologists are forecasting that the situation in the U.S. Midwest is not likely to improve, which means that the corn production will deteriorate further. According to John Dee, a Global Weather Monitoring meteorologist, "there are no widespread soaking rains in sight".
"The damage has been done to the corn crop," Peter Meyer - a director at PIRA Energy Group - said yesterday. "Now the weather is starting to become more of a factor in the soybean markets," he added. This is because corn crops have surpassed their "critical pollination stage" last month, while soybeans are currently entering their reproductive stages.
Source: Thomson Reuters
Portfolio Holdings - Updates
This fact strengthens our previous recommendation of going long in our favorite ETN, JJG, whose main constituents are corn and soybeans (78.3%), while the rest is occupied by wheat. Previously, we recommended holding 50% of JJG in one's portfolio to bet on a further hike in corn prices, and sell the rest (50%) to avail safe profits. Now we recommend investors to increase their holdings in JJG as we see soybeans crops deteriorate more than corn's plants. This is because, as already mentioned, the former is now entering its most crucial stage of development, while the latter is done with its crucial stage. Furthermore, one of its components is wheat, whose prices have also inclined as a result of declining production due to this drought.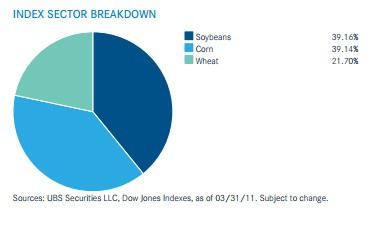 Source: ETFDB.com
CORN and DBA have been our other top picks as a way to play rising corn prices amidst the worsening Midwest drought. Like JJG, we recommended to sell half of each. We are now recommending to sell another 50% of the current positions. The reason for cutting both the positions again into half is to realize considerable profits before the market panics. We believe that the market has already priced in most of the upside associated with falling corn production for both these ETFs. Even if the prices of these ETFs continue their upward incline, realizing almost 37% on CORN and 12% on DBA over three months is not an underachievement. Plus, Meyer's comments that now soybeans are more vulnerable than corn to the Midwest drought make us divest gradually from ETFs with high exposure in corn, and be attracted towards those with a high soybeans exposure. That is the main reason why we want investors to increase their holdings in JJG, as it offers a relatively higher soybeans exposure as compared to CORN or DBA.
| | | | |
| --- | --- | --- | --- |
| | CORN | DBA | Corn commodity |
| May ' 12 (start) | 37.56 | 27.03 | 550 |
| Jul ' 12 (End) | 51.27 | 30.39 | 823 |
| % Increase | 36.50% | 12.43% | 49.64% |
Source: Bloomberg
Portfolio Holdings - Reiterations
We are still bullish on fertilizer stocks, although this might not be an appropriate entry point considering the fact that they have already appreciated a lot amidst escalating corn prices. Nitrogenous fertilizers' players are our favorites, especially CF Industries Holdings Inc. (CF) and dividend-paying MLPs like Rentech Nitrogen Partners LP (RNF), Terra Nitrogen Co LLP (TNH), and CVR Partners LP (UAN). Other potential buys can be Potash Corp. (POT) and The Mosaic Company (MOS).
We also reiterate our previous recommendation of shorting crop insurers to complete the portfolios, like Endurance Specialty holdings (ENH), Everest Reinsurance (RE), and ACE Limited (ACE).
Disclosure: I have no positions in any stocks mentioned, and no plans to initiate any positions within the next 72 hours.