Half of the stocks under our coverage in the data center related sector reported earnings last week, including the companies that are considered the bellwethers for the network-neutral, REIT and CDN sub-sectors, Equinix (EQIX), Digital Realty (DLR) and Akamai (AKAM), respectively.
Before reporting the highlights for each of them, here is a short summary of how all companies performed in term of Y/Y growth, and against analysts' expectations: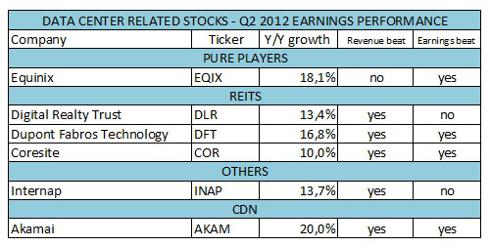 Click to enlarge
(Click to enlarge)
The first thing worth noting is that all companies delivered double-digit growth compared to Q2 2011: an impressive result for the whole sector, especially in this economic environment.
Equinix's EPS of $0.76 easily beat analysts' expectations of $0.61. Revenues ($466.3 million) came slightly lower than consensus (minus $0.79 million), but were strongly impacted by negative currency trends in the quarter. The company increased guidance for 2012, and its shares hit a new 52 week high after earnings.
Digital Realty Trust reported FFO (funds from earnings) of $1.09 per share, up 6.9% Y/Y ($1.07 per share excluding certain items). Revenues of $303.7 million beat by $10.7 million. The company revised 2012 core FFO guidance range to $4.37 - $4.48 per share, increasing midpoint to $4.43 per share.
Dupont Fabros Technology's (DFT) FFO of 0.37 beat by $0.01, and revenues ($82.7 million) were almost $2 million higher than expectations. The company raised its revenue guidance and the lower end of its FFO expectations.
CoreSite (COR) reported Q2 2012 FFO of $0.37 per share, slightly better than consensus of $0.36. Revenues came at $50.6 million vs. expectations for $46.5 million. The company issued revenue guidance in line with expectations, but raised FFO guidance to $1.42 to $ 1.52, higher than analysts' consensus of $ 1.48.
InterNap's (INAP) Q2 EPS of $0.01 missed by $0.01, but revenues of $68.7 million came above consensus. Data center revenues were 3.9% higher Q/Q, and 27.7% higher on a yearly basis.
Akamai's EPS of $0.43 beat consensus by $0.06, while revenues ($331.3 million) came higher by $5.6 million. The company guided for Q3 revenues of $332 million to $342 million, and EPS of $0.40 to $ 0.42, both numbers in excess of analysts' expectations ($330.8 million and $0.38, respectively).
The company attributed its unexpected performance to strong demand for its higher-margin cloud solutions, and the shares gained 24% after earnings, the best performance among all companies under our radar screen.
Here is a complete look at how data center related companies behaved after earnings: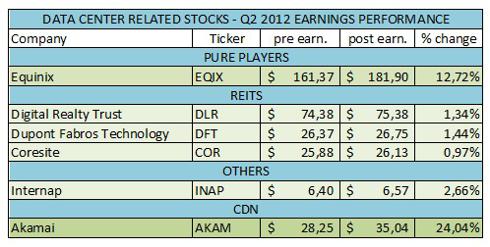 Click to enlarge
(Click to enlarge)
What's next?
Odds seem in favor of a positive earnings performance from the remaining players in the sector.
The solid results delivered by their peers should bode well for the European based network-neutral TeleCity Group and InterXion (INXN), which is due to report on August 8th, before market open, and for CDN player Limelight Networks (LLNW), due to report on August 2nd , before market open.
Rackspace (RAX), due to report on August 7th, could also benefit from the positive comments on strong cloud computing demand made by most data center players who already reported Q2 numbers.
Disclosure: I am long EQIX.