The month of August will be another important month for the Healthcare and Biotech sectors. One difference is that the majority of possible catalytic events will be directed towards large-cap companies. This is significant for two reasons. The first reason is that investors will not see extreme share price fluctuations that are typical of micro-cap stocks. Also, large-cap firms have an added expectation to receive approval from the FDA in order to increase revenues with new products. Therefore long term investors will be disappointed if the company receives a rejection.
August 4
Sanofi (SNY) and Regeneron (REGN) will begin the month by receiving a decision from the FDA regarding Zaltrap. Zaltrap is intended to treat patients with metastatic colorectal cancer. While Regeneron is one of my more favored stocks on the market, I am not convinced we will see an approval here.
The good news is that Zaltrap's Biologics License Application (BLA) was primarily based upon the Velour phase three study. In this study, it was proven that Zaltrap improved overall survival and progression-free survival. On the other hand 2.4% of patients in the Zaltrap arm died during the Velour study due to adverse effects, compared to 1% in the placebo arm. Therefore while Zaltrap did meet the primary endpoint, the safety of the treatment is questionable.
The bad news for Zaltrap is the Venice trial. Zaltrap failed to meet the overall survival endpoint established for the Venice trial. It is important to note that the current BLA is intended for metastatic colorectal cancer and the Venice trial studied Zaltrap's effects on metastatic androgen-independent prostate cancer. However it does not fair well leading into an FDA decision to have a drug that has an unsatisfactory safety profile.
Nevertheless, even if the FDA solely basis the decision on the Velour trial Zaltrap may be rejected. There are a few reasons why I believe this. The first is that the Velour trial was not spectacular. Secondly, the BLA was initially delayed by Sanofi. It was planned to be filed in December, but Sanofi decided to hold off until April. This hesitation indicates that Sanofi was not terribly thrilled about Zaltrap, or it could mean Sanofi simply needed more time to perfect the application. The third reason I am not convinced Zaltrap will be approved is the Venice trial. There seems to be a clear pattern that Zaltrap is not as safe as one would hope for.
With that said, Zaltrap was given Priority Review status. This indicates that the FDA acknowledges the fact that Zaltrap will be able to help a portion of the medical field where current treatments are weak. The problem will be whether Zaltrap can satisfy the FDA's risk/reward profile? It is clear to me the risks of taking Zaltrap are relatively high, therefore the rewards for using the new treatment must be even greater.
August 8
On August 8th Amarin (AMRN) will be hosting the firm's second quarter earnings conference call after the close of the market. The conference call may be a catalyst because if any possible buyouts are on the table this would be a great opportunity for management to announce it. I am not expecting any buyout announcement on August 8th, but it is a possibility. It is clear Amarin's management would prefer a large pharmaceutical company to take over the reigns, but it is also apparent that Amarin is willing to market Vascepa on their own if need be.
Either way I am expecting to see several questions from analysts regarding the current state of any buyout talks and marketing plans for Vascepa. These questions were addressed in the post-approval conference call, but give Amarin another two weeks and analysts will be expecting to hear a specific marketing goal and timeline.
If there is any hint regarding talks with a major pharma player the share price will take off like a rocket (especially if the stock stays under 12).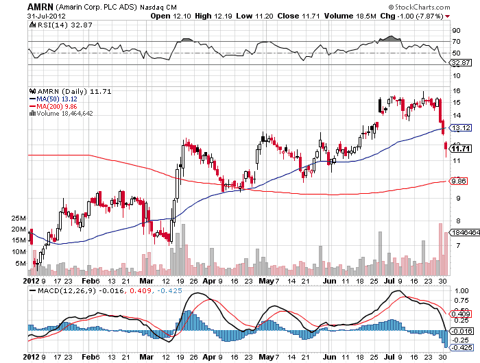 (Source: StockCharts.com)
August 12
Talon (OTC:TLON) will be receiving a decision from the FDA regarding the firm's Philadelphia chromosome negative acute lymphoblastic leukemia treatment, Marqibo. Just as with Zaltrap, I am not convinced we will see an approval here either.
Marqibo may have the capability to reach a patient population that needs a better treatment, but is Marqibo the one to do it? Currently Marqibo has not been studied in a phase three trial. The phase three trial, Hallmarq, was initiated June 1st. Therefore the FDA's decision will be solely based upon a phase two study and the Advisory Committee's recommendation.
The Advisory Committee in charge of Marqibo did not give Marqibo a very strong recommendation. The vote went 7-4 in favor of approval with two votes abstained. This is far from a unanimous decision and I believe Tuesday's share price collapse may have something to do with some concern over the lack of strength of the vote.
After Tuesday's 20 minute collapse in the share price, investors are presented with a great speculative opportunity. It is possible the stock will continue to crash, but it is just as likely that we will see a rebound. As I said, I am not convinced Marqibo will be approved. The NDA was delayed three months already and the FDA may want to see the completed phase three results before making a decision. At the very least the FDA may request interim results as the phase three trial progresses before making a final decision.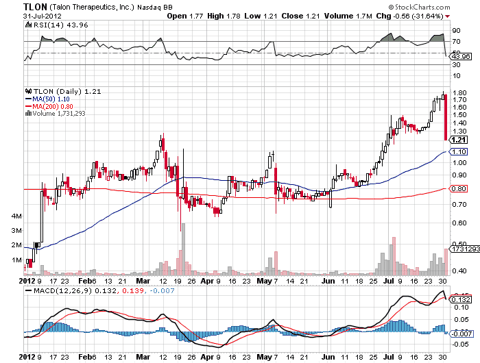 (Source: StockCharts.com)
August 17
August 17th is another possible catalyst for Amarin. August 17th is the somewhat official deadline for the FDA to update the Orange Book. The Orange Book will tell Amarin investors whether Vascepa received New Chemical Entity status. This is important because it will give Vascepa five years of exclusivity. Not to mention if the various pending patents are approved we could see Vascepa have an open market from generics for two decades.
If Vascepa is granted NCE status along with the five year exclusivity we will see the share price move substantially higher. However this will not last unless Amarin announces some sort of partnership or buyout.
The truth is Amarin has a good thing going. But creating a top notch drug is different from marketing. It is similar to a Nobel Prize Professor that is unable to teach at the same level as his research.
The point is that Amarin investors are hoping for a buyout. Can Amarin market Vascepa on their own? I personally believe they can. But it will take several quarters before investors and traders are able to see the proof. The NCE status will give the stock a nice pop, but it will not last unless a buyout is announced.
August 21
Pfizer (PFE) will likely receive a three month delay regarding tofacitinib because the FDA asked Pfizer to submit additional analysis of previous data. Tofacitinib is intended to treat moderate to severe rheumatoid arthritis.
This rheumatoid arthritis market is already filled with stiff competition from the likes of Humira (ABT), Enbrel (AMGN), and Remicade (JNJ), but if Pfizer's safety data satisfies the FDA requirements then we will see an approval in November. Keep in mind tofacitinib received an 8-2 positive vote from an Advisory Committee. However the committee did express concerns regarding the safety of tofacitinib. Nevertheless, Pfizer will be seeing a delay and a new action date will be set for later this year.
August 27
Gilead's (GILD) Quad will likely receive approval from the FDA this month. The Quad is a combination of elvitegravir, cobicistat, emtricitabine, and tenofovir. Quad is intended to treat HIV-1 infected adults that are treatment naive. The Quad was recommended by an Advisory Committee 13-1. Compared to Marqibo, this is the kind of near-unanimous decision investors would like to see.
Gilead is currently an HIV treatment machine. Truvada was approved in July to help reduce the risk of catching HIV. Not to mention Gilead is churning out positive HIV trials left and right. The important point to note here is that the Quad will be approved because the treatment performed very well during the clinical trials and Quad is composed of four already marketed drugs. Therefore combining them is more of a way to save HIV patients from taking several different medicines.
August 28
As Abbott Labs continues to hit new 52 week highs, the firm's Humira will go up against an Advisory Committee later this month to determine the safety profile of the sBLA. Humira's newest sBLA is for the treatment of patients with moderate to severely active ulcerative colitis.
This should be a relatively painless Advisory Committee. Humira is already approved for rheumatoid arthritis, plaque psoriasis, Crohn's disease, ankylosing spondylitis, psoriatic arthritis, and juvenile idiopathic arthritis. With that said, these previous approvals do not constitute a future approval for ulcerative colitis. On the other hand I am expecting to see a strong Advisory Committee recommendation.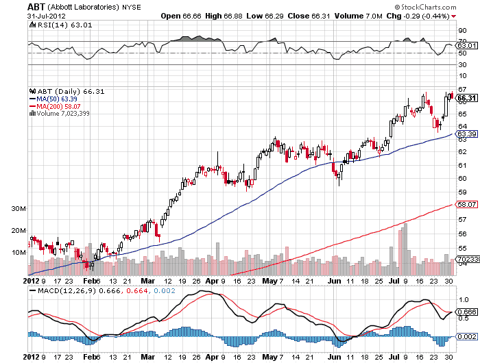 (Source: StockCharts.com)
As you can see August only has two possible catalysts for small cap stocks. The rest are for large cap stocks that are simply looking to improve upon their long term potential. This is actually a good thing for biotech traders. After blockbuster potential drugs from Vivus (VVUS), Arena (ARNA), Amarin, and Horizon (HZNP), it appears biotech traders are burnt out and more than willing to sell their positions. Furthermore, August will be a good consolidation month for the biotech sector in general after a tremendous first seven months of the year.