Three pharmaceutical companies announced news today before the market opened. Here is a look at the companies and the news.
1. Ziopharm Oncology (NASDAQ:ZIOP) is a biopharmaceutical company focused on the development and commercialization of new cancer therapies.
Click to enlarge images.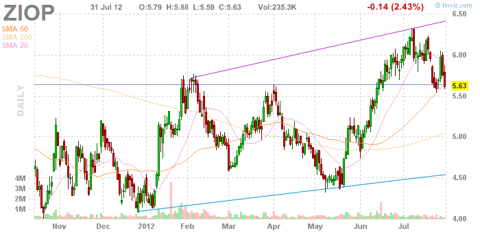 News
The company announced today that the Independent Data Monitoring Committee of the company's Phase III trial (Picasso 3) of palifosfamide (ZIO-201) in first-line metastatic soft tissue sarcoma has recommended continuation of the trial as designed and conducted. This is after completing a planned, pre-specified futility analysis using all available study data.
Enrollment in Picasso 3 -- which is an international, randomized, double-blinded, and placebo-controlled study -- was completed in June 2012. Ziopharm expects to announce the results of the trial, which has a primary endpoint of progression-free survival for accelerated approval, in the fourth quarter of 2012.
My Analysis
I wrote an article about Ziopharm on March 16, which I believe is still valid. The stock has a $8.25 price target from the point and figure chart. I will be looking to be a buyer on dips toward the $5 level.
2. Ampio Pharmaceuticals (NASDAQ:AMPE) develops innovative proprietary drugs for inflammation, eye disease, kidney disease, CNS disease, metabolic disease, and male sexual dysfunction. The product pipeline includes new uses for previously approved drugs and new molecular entities. By concentrating on development of new uses for previously approved drugs, approval timelines, costs and risk of clinical failure are reduced because these drugs have strong potential to be safe and effective while their shorter development times can significantly increase near-term value. A key strategy includes actively exploring partnership, licensing, and other collaboration opportunities to maximize Ampio's product development programs.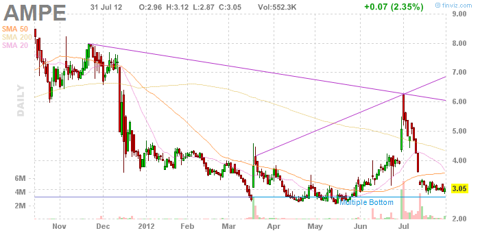 News
The company announced today that a pre-IND meeting with the FDA's ophthalmology division of the Center for Drug Evaluation and Research took place on July 31, 2012, seeking guidance for a clinical trial path for Optina. A summary of the meeting is as follows:
The meeting followed a letter from the FDA providing guidance for the path of approval of Optina in the U.S.
The FDA agreed to Ampio's proposed indication for Optina as a drug for the treatment of diabetic macular edema in adults.
The FDA agreed that the approval process through the 505(b)2 pathway is acceptable.
The FDA raised no safety or CMC concerns.
The FDA agreed that no additional non-clinical studies are necessary and that guidance for the dose and inclusion/exclusion criteria for this larger trial may be drawn from the recently completed successful Canadian trial.
The proposed study, agreed by the FDA to be conducted by Ampio, will be based on similar end points as the intraocular injectable drug, Lucentis.
Financials
Ampio received gross proceeds of $16,912,545 from a secondary offering closed on July 18. The company reported the first-quarter financial results on May 4 with the following highlights:
| | |
| --- | --- |
| Cash | $8.3 million |
| Net loss | $0.09 per share |
| Revenue | $0.013 million |
Pipeline
The company is planning to conduct three Phase III trials during 2013. These drugs include:
Zertane, an oral drug in successful late-stage development as a proprietary treatment for premature ejaculation, a condition that has a major impact on the quality of life for men and their sexual partners.
Optina, an existing oral drug being developed as a new treatment for diabetic retinopathy and diabetic macular edema.
Ampion, an NME being developed as a non-steroidal injection and oral drug for the treatment of diseases involving inflammation.
My Analysis
The stock is trying to carve out a bottom at the $3 level. I would give it about a 50% chance that this level will hold.
3. Pharmacyclics (NASDAQ:PCYC) is a clinical-stage biopharmaceutical company focused on developing and commercializing innovative small-molecule drugs for the treatment of cancer and immune-mediated diseases.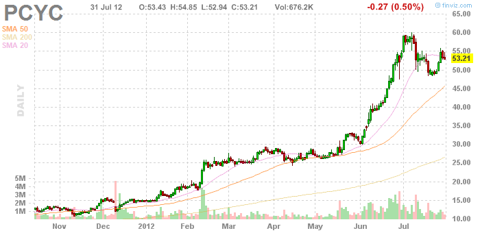 News
The company announced today that the international Phase III randomized, multicenter, open-label clinical trial, Resonate (PCYC-1112), of ibrutinib vs. ofatumumab for patients with relapsed or refractory chronic lymphocytic leukemia or small lymphocytic lymphoma (CLL/SLL) initiated by Pharmacyclics has enrolled its fifth patient. The enrollment of the fifth patient has subsequently triggered a $50 million milestone payment obligation from Janssen Biotech, one of the Janssen Pharmaceutical Companies of Johnson & Johnson (NYSE:JNJ) and the worldwide collaborator on ibrutinib in oncology. As Pharmacyclics or Janssen initiate further Phase III trials in specific indications and enroll the fifth patient, additional milestone payments of $50 million may be triggered up to a total of $250 million. Pharmacyclics anticipates an additional Phase III trial milestone payment during calendar 2013.
Upcoming Milestones
Pharmacyclics and Janssen plan to initiate three additional Phase III studies over the next six to nine months. These studies include the following:
Phase III combination study of bendamustine/rituximab plus ibrutinib vs. bendamustine/rituximab plus placebo in relapsed or refractory CLL/SLL patients.
Phase III frontline study of single agent ibrutinib vs. a comparator in elderly CLL/SLL patients.
Phase III study outside the U.S. of ibrutinib vs. temsirolimus in subjects with relapsed or refractory mantle cell lymphoma (MCL) who have received at least one prior chemotherapy regimen.
Clinical updates planned at a medical meeting by the end of 2012 include the following:
PCYC-1104, Phase II study of single agent ibrutinib in patients with relapsed or refractory MCL, including cohorts of subjects either previously treated with bortezomib or naive to bortezomib treatment.
PCYC-1102, Phase Ib/II study of single agent ibrutinib in patients with relapsed or refractory CLL/SLL.
PCYC-04753, Phase I study of single agent ibrutinib in patients with recurrent B-cell malignancies. The update will focus on the cohort of evaluable patients with follicular lymphoma.
PCYC-1106, Phase II study, of ibrutinib in subjects with relapsed or refractory diffuse large B-cell lymphoma (DLBCL). Patients were enrolled with two genetically distinct subtypes of DLBCL, the activated B-cell (NYSE:ABC) subtype and the germinal center (GC) subtype.
PCYC-1111, a Phase II study of ibrutinib in subjects with relapsed/refractory multiple myeloma (NYSE:MM).
The company's ongoing Phase II studies of single agent ibrutinib in DLBCL and MM are expected to mature with continued enrollment in both histologies over the next 12 months. By mid-year 2013, the company intends to provide a meaningful update on the clinical development plans in non-Hodgkin's lymphoma and MM.
Financials
The company's financial highlights for the quarter ending March 31 include the following:
| | |
| --- | --- |
| Cash | $215 million |
| Net loss | $0.14 per share |
| Shares outstanding | 68.8 million |
My Analysis
The stock has had a very impressive rally from $1 per share in 2009 to the recent high of $60 per share. I believe a pullback to $40 level would present a buying opportunity.
Disclosure: I have no positions in any stocks mentioned, but may initiate a long position in ZIOP over the next 72 hours.