Philips 66 (NYSE:PSX) reported earnings this morning of $1.2 billion and adjusted earnings of $1.4 billion. Earnings were $1.86 per share and beat the whisper number of $1.79/share. On the back of these excellent results, the company announced a $1 billion share repurchase plan.
Greg Garland, chairman and CEO commented:
We're off to a solid start, running well in a positive margin environment. The location of our domestic refining, midstream and chemicals facilities enabled us to access advantaged feedstocks, creating strong earnings and cash flow. The announcement of our share repurchase plan is evidence of our commitment to strong and growing shareholder distributions.
This was the PSX's first earnings report as a standalone entity after the spin-off from Conoco Phillips (NYSE:COP). The results were a home run. In fact, the ball was knocked out of the park. You can read through the entire earnings release here.
Click to enlarge image.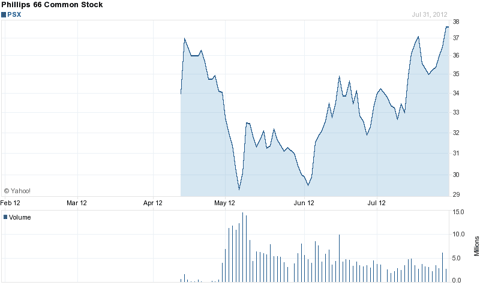 Click to enlarge
Phillips 66 is organized into three segments. A July investor presentation appears on the company's website, and I have borrowed liberally from this presentation to describe PSX's three operating segments.
Refining and Marketing: The R&M segment has 15 refineries (11 in the U.S.), 2.2 MMBPD of capacity, 10,000 marketing outlets, 15,000 miles of pipelines, and 56 terminals. Its 12% ROCE trails only Exxon Mobil (NYSE:XOM) and Marathon Petroleum (NYSE:MPC). Refining represents about 40% of the 2009-2011 adjusted earnings. PSX's refineries are talking advantage of discounted shale oil feedstock and increasing exports more tied to international prices (Brent).
Chemicals: The chemicals segment consists of a 50/50 joint venture with Chevron CPChem. It is North America's largest producer of HDPE and its fourth largest ethylene producer. CPChem holds a leading position in the Middle East. It has a capacity of around 30 billion lbs/year. The segment's 25% ROCE is the best in the industry.
Midstream: The Midstream is primarily conducted through a 50% equity investment in DCP Midstream -- a joint venture with Spectra Energy. The segment gathers, processes, transports and markets natural gas. It also fractionates and markets NGL predominantly in the United States. Phillips 66 owns and operates three NGL fractionators as well as gathering systems at important NGL hubs in the U.S. In addition, PSX owns a 25% interest in the Rockies Express (NYSE:REX) natural gas pipeline. Once again, this segment's 19% ROCE is tops in the industry.
PSX plans to gradually shift its portfolio more toward its very profitable Chemicals and Midstream businesses. That said, PSX is currently enjoying a very profitable refining business due to its ability to capitalize on using WTI (currently $87.95/barrel) for its feedstock and selling refined product in a market more tied to Brent (currently $104.92/barrel).
Analyst Paul Y. Cheng of Barclays recently said:
We believe the U.S. refining sector has been undergoing a major three-phase, multiyear structural improvement, the return of a new golden age, which has not been fully reflected in the market. We think this new golden age will be more sustainable than the industry's last strong cycle from 2003 to 2007. In our opinion, the previous 'golden age' was cyclical in nature, while this cycle is driven by structurally lower North American natural gas/oil prices compared to the international benchmarks.
As a result, he upgraded PSX from equalweight to overweight and lifted his price target to $60 from $38. Cheng also has an overweight rating on Tesoro (NYSE:TSO), Valero (NYSE:VLO), Marathon Petroleum, and Holly Frontier (NYSE:HFC). PSX may have an even greater investment advantage over other pure refining companies, since its chemicals business can leverage off the extremely low NA natural gas prices vs. its overseas competitors.
Back in February, I wrote an article on Seeking Alpha titled "The Bakken Crude Discount: A Reversal of Fortune Coming Soon." In it, I suggested that the price differential between WTI and Brent (then $19/barrel) would tighten up once the Seaway pipeline was reversed. I also published a link to this Bloomberg website that tracks Bakken oil prices at Clearbrook, Minn. Let's revisit those prices now in the following chart:
Crude Oil Prices as of July 31, 2011 close

Brent

$104.22

WTI @ Cushing

$87.84

Bakken @ Clearbrook

$83.06
So the spread between Brent and U.S. "land oil" is still around $19/barrel. I was wrong in my prediction. What I missed was the huge increase in oil production coming out of the Bakken (now over 600,000 bpd) and Eagle Ford shales. While I was expecting production to increase, I had no idea it would increase at such a rate as to pretty much fill up Seaway and still be left with the same problem as before it was reversed. I bet the Bakken producers are sure glad that pipeline was reversed or there is not telling where Clearbrook prices would be today.
According to Philip Weiss of Argus Research, Phillips 66 ordered 2,000 railcars in June to transport crude from the Bakken shale to its refineries on the East Coast. The cars should allow PSX to transport up to 120,000 bpd of the cheaper crude. This is a big advantage for PSX, since crude represents 85% of the cost of gasoline, according to Weiss. Argus has a Buy rating on the stock.
Back at Barclays, Cheng also said:
Adjusting from 2009 cycle trough earnings for our estimated structural crude discounts and major capital projects, we estimate the five major refiners … can easily support a 4% regular dividend yield with less than 40% payout ratio.
PSX currently yields 2.2% at $0.80/year. Expect dividend increases soon at PSX as Standard & Poor's estimates the company will earn $5.52 for 2012.