Westpac's (NYSE:WBK) attractive and sustainable dividend yield of 6.64% is a key factor that needs to be considered by yield-hungry investors with regards to their regular income portfolio. However, going forward, the bank is expected to face a decline in its top line, given the fact that WBK was forced to cut down the rates on its variable rate mortgages, to which it has a large exposure. This is why we think investors who own the stock should not expect a significant immediate price appreciation, especially after considering that it is 19% up YTD. We recommend investors hold the stock and take advantage of its high dividend yield.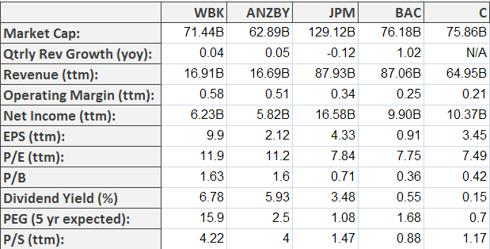 Company Overview
Westpac Banking Corp is one of the four largest Australian banking organizations. For the purpose of reporting, the bank's operations are organized into Australian Financial Services, Institutional Bank and Westpac New Zealand. WBK is New Zealand's largest banking organization. The bank's Australian Financial Services division includes Westpac Retail & Business Banking, St. George Banking Group, and BT Financial Group. Please note that since the company reports in Australian dollars, all figures quoted in the remaining investment thesis will be in Australian dollars.
2Q2012 Results Overview
The bank generated profits of $2.9 billion on revenue of $8.8b when it reported its results for 1H2012. Strong performances in the bank's two largest divisions, Retail & Business and Institutional Banking, resulted in a top line surge of 6%. However, its bottom line plunged by 25%, compared with 1H2011. The decrease in profits was attributed to increases in operating expenses and impairment charges. Both, revenue and profits, remained largely in line with the results reported for the half year ended September 2011. Over the past five years, the bank has shown tremendous growth; with growth in sales, EPS and dividends being 16%, 6% and 6%, respectively.
A closer look at the bank's divisions reveals that its Australian Financial Services division has been the biggest contributor to earnings. Over 60% of the bank's revenue accrues from this division, followed by Westpac Institutional Bank and Westpac New Zealand at 20% and 8% respectively. This shows that the bank has great reliance on Australian retail lending. Under the Australian Financial Services division, Australian housing loans remained the main feature of loan growth.
The bank's net interest margin of 2.17% for 1H2012 plunged 6bps from 2H2011. Despite a decline in the net interest margin, the bank witnessed an increase in its net interest income of $640 million, meaning that the figure reached $6.18 billion. This was helped by a growth in loans and deposits.
Net non-performing loans for the bank, as at March 31, 2012, have gone down to $2.6 billion from $2.8 billion as at September 30, 2012. This is a decrease of 7%.
Operating expense for the half ended March 2012 increased by 7% to $3.89 billion, compared with the half ended March 2011. This resulted in a 10bps increase in the expense-to-cash-earnings ratio (41.1%) over the same time period. The surge in expenses reflected a one time expense resulting from the impact of the acquisition of JO Hambro, as well as an increase in provisions for the bank's supplier program and expenses resulting from the Bank of Melbourne expansion.
The bank was able to grow its loans from $484 billion to $506 billion, showing a surge of 5% compared with the half ended March 2012. Deposits increased by 10% to $377 billion over the same time period.
The bank's capital showed an improvement. WBK's Tier 1 capital ratio improved by 30bps to 9.8%, from the half ended March 2011. Its American counterparts, Citigroup (NYSE:C) and Morgan Stanley (NYSE:MS), have Tier 1 capital ratios of 14.3% and 4.5%. Furthermore, the company is highly leveraged. Its debt-to-equity of 400% is much higher than the industry standard.
Dividends
The bank offers a dividend yield of 6.64%, and its five-year average is 5.66%. This combined with an operating cash flow yield of 10.5% makes shareholder distribution very attractive, especially when the 10-year treasury yields are at a record low of 1.45%. This dividend yield is also much higher than what large cap U.S. banks are offering. JPMorgan (NYSE:JPM), Bank of America (NYSE:BAC) and Citigroup, as compared with Westpac, have dividend yields of 3.48%, 0.55% and 0.15%, respectively.
Valuations
The stock is trading at a premium of 65% to its book value. However, when compared with its industry peers, it is trading in line with regards to its price-to-book value multiple of 1.65 times. WBK is trading at a discount of 35% with regards to its price-to-earnings multiple of 12.16 times when compared with peers. JPMorgan, Bank of America and Citigroup, as compared with Westpac, have price-to-book value multiples of 0.71 times, 0.36 times and 0.42 times, respectively.
Westpac enjoys higher margins than its peers, both U.S and Australian.
Recent Developments
90% of the Australian housing market consists of variable rate mortgages. To pass on part of the Australian Central Bank rate cut, Westpac, in June, cut its variable rate mortgage rates by 20bps. Since Westpac Banking Corp has a 25% market share in the overall Australian housing credit, this move will adversely impact the bank's income.
While the Australian Banking Industry is considered one of the safest and strongest in the world, its bankers are facing industry-wide pay and job cuts. Westpac, along with its major peers, is cutting costs by reducing wages for its employees. If these practices are implemented successfully, the bank will get support for its bottom line.
In conclusion, we think the bank has sufficient financial resources to continue an attractive dividend distribution, which is why we recommend our investors to hold the stock.
Disclosure: I have no positions in any stocks mentioned, and no plans to initiate any positions within the next 72 hours.