When we think of the income of a business, we typically think of the GAAP net income figure. This figure is then used in calculating the ubiquitous price-to-earnings, which is then supposed to offer the investor a measure of the relative valuation of a common stock. But because of consolidation accounting, the accrual process, and goodwill impairment or amortization charges, the GAAP net income numbers are not as useful as they could be. To solve our problems with GAAP accounting, Warren Buffett proposes, "owner earnings"; this is a less formulaic, less (fake) precise, and partially subjective version of free-cash-flow. For our purposes, we will use a simpler and more formulaic definition of free-cash-flow:
Free-Cash-Flow = Operating Cash Flow - Capital Expenditures
(Using the unaudited quarterly GAAP figures, on a trailing-twelve-month basis.)
Free-cash-flow can be defined in other (frequently better) ways. But for our purposes, GAAP operating cash flow will give us a decent view of things.
The two companies on our list are selling at depressed prices due, perhaps, to Amazon's (NASDAQ:AMZN) success. One is selling at depressed prices for various reasons: it is depressed due to the success of Apple (NASDAQ:AAPL), the success of mobile in general, and due to a poorer reputation overall.
GameStop Corp. (NYSE:GME)--21.5% FCF TTM Yield
The world's largest video game retailer has been increasing store count and revenue for years. Today, the shares face negativity about the future of the company, and this is partially justified. For instance, Amazon, as noted above, has been encroaching by selling what they call "electronics and other general merchandise," which includes video games. Further, Activision Blizzard (NASDAQ:ATVI) noted that while retail game revenue was down, online game revenue was up, suggesting that the future of video game sales might include an increasing mix of games downloaded straight from the internet at the expense of the retail channels (e.g., like through Microsoft's Xbox Live).
That said, the market for legacy (i.e., used) video games is strong and made up greater than 46% gross profit since 2009 (see p. 36 of their 2011 10-K).
So think of it this way:
If GameStop's TTM FCF is $450 million, and its market capitalization is $2,080 million, its FCF yield is 21.5%. If it loses all sales, which could be taken away from it by Amazon, Wal-Mart (NYSE:WMT) or online delivery, we could assume it would retain its used game business:
$450 * 46% (of gross profit) = $207 million
FCF / Market Cap = FCF Yield
$207 million / $2,080 million = 9.95%
Given a full loss on its sale of new video games (and console hardware) it can still earn about a 10% FCF Yield, a yield which is still greater than 78% of S&P 500 companies. Despite the challenges which the economy has gone through, its store count has still increased from 5,264 in 2008 to 6,683 in 2011.
While video game sales were down in retail (but not online), another negative trend in new games sale is the increasing concentration of titles. To use Activision Blizzard again:
The concentration of retail revenues among key core titles has continued as a trend in the overall interactive software industry. According to the NPD Group, the top 10 titles accounted for 26% of sale in the U.S. video game industry in 2011 as compared to 23% in 2011. (Activision Blizzard 2011 Annual Report, p. 5).
That is, with fewer titles making it into popular use, fewer disks will be sold. Also noteworthy, GameStop has no debt (not counting operating leases).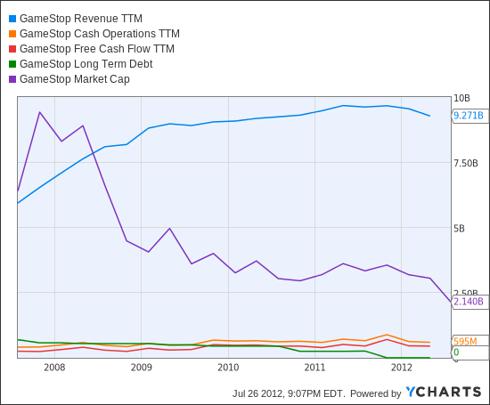 Dell Inc. (NASDAQ:DELL)--20% FCF TTM Yield
Dell is trying to make its way in the world of IBMs and HPs. In fact, it is possible that HP just surpassed Dell as the world's leading seller of commercial computers (that is a claim of HP's which I believe applies to Dell; correct me if I am wrong). That being said, it is possible, with Dell following the path of IBM, that the frequent comparisons between the two companies make Dell look even worse than it is. Dell has been acquiring software companies and is trying to make itself a premier end-to-end IT company. The share price suggests that people are not buying it.
Free-Cash-Flow TTM: $4,200 million
Market Capitalization: $20,690 million
Free-Cash-Flow Yield: 20%
Dell is emphasizing the enterprise market, and the numbers suggest their strategy is moving forward successfully. For instance, Dell's revenues from "Enterprise Solutions and Services" have increased to 31% of revenues in 2011 from 23% in 2008; management claims it now makes up 50% of the company's gross margin. Dell shares are just off their 52-week low, and Michael Dell himself made significant purchases last year at around $14.21 - $14.41. But unlike GameStop, which has freed itself of debt, Dell has been increasing its debt level partially due to its acquisitions and stock buybacks. (See my article on Dell here.)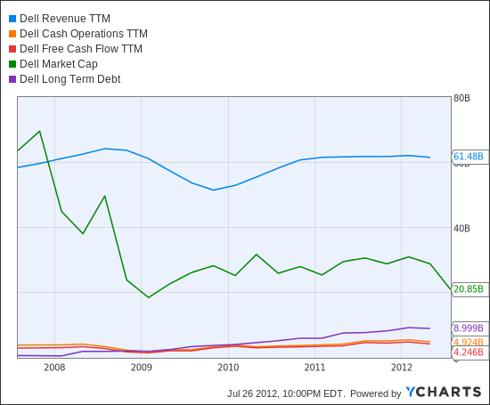 Best Buy Co. Inc. (NYSE:BBY)--27% FCF TTM Yield
Having recently written about Best Buy, my old thoughts can be found here with one big caveat: Best Buy could potentially be challenged as an electronics retailer by Staples (NASDAQ:SPLS) which sort of invalidated some of my earlier thoughts on the subject. Nevertheless, Best Buy is, like GameStop, selling at depressed levels due to a belief that its business model is dying and that Amazon is cleaning their clock. Best Buy, unlike GameStop, is also suffering from a serious lack of leadership. While the interim CEO knows all the buzz words, their management troubles are enough reason for caution. A look at Best Buy's figures:
TTM Free-Cash Flow: ~$1,600 million
Market Cap (7/26/2012): ~$5,890 million
Free-Cash-Flow Yield: 27%
Best Buy is in a period of change. Store square feet is to be reduced 15 - 20% (not, however, to the size of Radio Shack). They are executing their plan to open Best Buy mobiles: a 15% increase in Best Buy Mobile stand-alone stores last quarter, 283 to 326 stores. Further, their revenue mix is shifting away from entertainment (probably due to GameStop and Amazon) to "Computing and Mobile Phones" (May 5th 2012, 10-Q, p. 32). Also, Best Buy's MindSHIFT is in play, but financial information about that is hard to come by. There are many negatives: the closure of 50 stores, lay-offs, declining revenue in China (they ended appliance subsidies), alleged loss of power over suppliers (due to Amazon's prowess), show-rooming, and, of course, Amazon.
With such a mighty Free-Cash-Flow yield, it is important for us to recognize that if their FCF were cut in half, it still would yield 13.5%--which gives the investor considerable margin for error, since it is unlikely Best Buy is going out of business. Not counting operating leases, Best Buy has debt (excluding operating leases) of $1,984 million, which their free-cash-flow could pay off in 1 year and 3 months. At $17.23, hopefully Best Buy is executing share buybacks, since their shares offer a return of 27%. Best Buy also stands to benefit from the forth coming product cycle.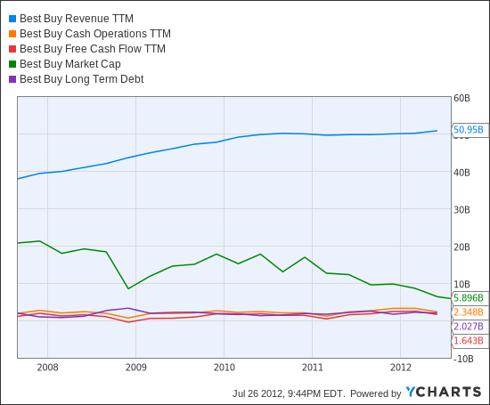 Conclusion:
Price-to-earnings has had its day because the GAAP accounting process has ruined the usefulness of GAAP net income. Therefore, price to free-cash-flow and free-cash-flow yield can give us better indicators about the relative valuation of the company compared to the actual counted cash moving in and out the door.
Disclosure: I have no positions in any stocks mentioned, and no plans to initiate any positions within the next 72 hours.