Beleaguered mining company Crystallex International Corp. (KRY) gave investors some hope on Monday. The stock jumped more than 50% after the company said it filed a legal rebuttal to the Director General at Venezuela's Ministry of the Environment and Natural Resources, who rejected a key environmental permit Crystallex needs to build a mine at the Las Cristinas project.
The Director General has 15 days to respond, and if he does not reply in that time, it is assumed the response is negative. In that case, the company can file an appeal directly with the minister of the department.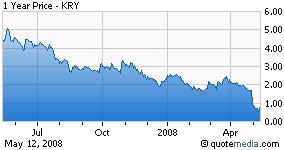 Crystallex also slammed the rejection from the Director General, saying it is in "direct conflict" with the approval of the company's environmental impact study, and that local and indigenous communities continue to support Las Cristinas.
In a statement Crystallex said:
The Company is continuing its efforts with the support of Venezuelan governmental agencies to advance the Las Cristinas project which will create significant employment, healthcare facilities and sustainable development for the surrounding communities.
A report also surfaced over the weekend that Venezuela will decide this week whether to grant mining permits to Crystallex and Gold Reserve Inc. (GRZ). Gold Reserve shares jumped more than 10%.