Coal companies have become unloved during the past year that the stock prices of some of the public traded coal miners in U.S. have fallen some 70-85% to lows not seen in years.
How did we get here?
A lot of reasons have been discussed and explained in the investment community. A warm winter last year in U.S. plus the switch to natural gas from coal to generate electricity have been the mostly mentioned as the coal's downfall year-to-date. But let's look at news from China contributing to this mess:
China's met coal imports surged 175% in H1 2012
China Customs data released over the weekend showed the country's imports of coal in June jumped by 98% year-on-year to 27.2 million tonnes.
Coking coal rocketed by 94% to 6.5 million tonnes June compared to last year.
During the first half of 2012, China imported a total of 140 million tonnes which was 66% higher, boosted by an increase in coking coal imports of 175% year-on-year to 43.6 million.
In contrast, China's exports of coal slumped 18% during the first half compare to 2011.
Coal inventory at China's Qinhuangdao Port hits record
The amount of steam coal held in storage at the port city Qinghuangdao in northern China's Hebei province is approaching maximum capacity and has sparked safety concerns that the pile could combust without warning. Coal prices are set to continue to fall as high inventory levels have forced suppliers to try to boost sales.
How those two pieces of news co-related?
This is very simple. Chinese utilities are importing record amount of coal overseas, therefore their domestic coal producers are left with huge unsold inventory. The overseas coals are generally cheaper than their domestic ones, thanks for the precipitant drop in coal prices in South Africa, Australia and U.S. (The picture shows New Castle coal price benchmark)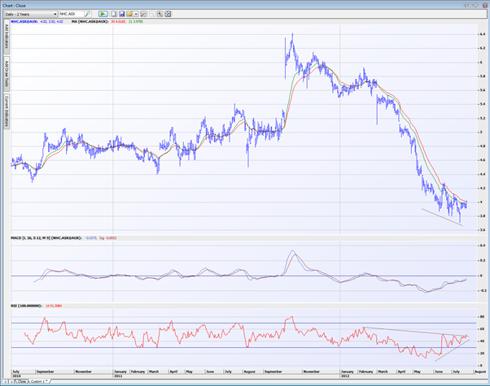 Click to enlarge
What has triggered the drop in this magnitude is the news that storage of some of the Chinese utilities, especially in southern China, reached record levels. We asked some of those utilities recently of why they stocked up some much coal. Their answers:
The demand grows weaker as the economy slows. Chinese GDP slowed to 7.4% in the 2nd quarter.
Hydropower constitutes a much larger portion of energy sources for electricity generation, due to the heavy rainfall in some areas of China.
Chinese utilities have been busy buying coals from overseas during the price downfall.
The coal sector in China consists of mostly medium to small coal miners supervised by local government. Along with the fact that coal mining is labor-extensive business in China, these local governments have been reluctant to curb production to support the price because of "wei wen" (i.e. keeping social stability by getting everyone a job.)
The Chinese government made it very clear that there will not be a 4 trillion yuan stimulus like the one in 2008.
In summary, the news has been self-reinforcing to a degree that many prices are either very close or under the cost of producing coal. Looking forward, we can see quite a few opportunities ahead:
China mini-stimulus
While not in the magnitude of 2008, the mini-stimulus from Chinese government started to flow into the economy. The most recent PMI was 49.5, which still signals a contraction, but is much better than two months ago.
Australian cost
Due to its proximity and super quality, Australia has been a large exporter of its coal to China and India since 2001. We could not help noticing the cost of producing those coals has been on the rise for several reasons: the spectacular rise of Australian dollar; the recent introduction of carbon tax, which alone should add 2.66 Aussie dollars to the cost, and the news of health issues of the coal miners over there, which will ultimately result in wage increases from the ongoing labor negotiations.
Developing countries demand
The demand for thermal coal by developing countries is projected to rise substantially from the current levels. Sadly, the Obama administration has been taking a hard line on the coal fired plants to control emission. The rest of the world apparently still wants to use coal as much as they can.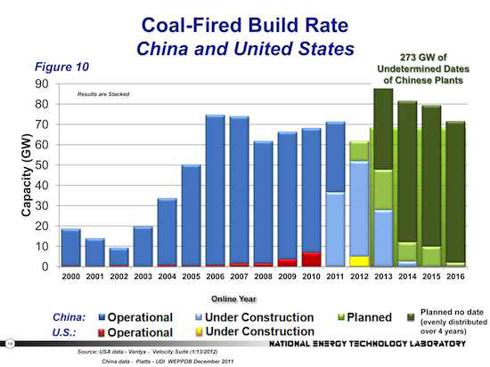 Click to enlarge
Source: coalnews.net.
We believe this type of environmental regulation by EPA is an exercise in futility. Even if the emission from the U.S. comes to zero, world emissions are still projected to rise.
Rumors from the Chinese stock market about the government intervention of coal imports are causing the Chinese coal miners' stock price to fluctuate. Experts we talked to do not believe the truthfulness of such intervention. Chinese policy for coal consumption has been consistently to rely on overseas supply while they can.
Now, the bad news: For the U.S. coal miners, the recovery will not be a straight-up one.
Inventory level needs to be worked down
Qinhuangdao's inventory level has been down from 940 tonnes early July to 840 tonnes. While this is generally a good piece of news, it is still higher than 500-600 tonnes which we consider as "normal". Plus this decline seems to stem largely from the input / output flow control versus the demand pick-up.
U.S. thermal coal inventory seems to have peaked in May at 205 tonnes. We will see the June and July number shortly; however, based on the earnings calls from BTU and ACI, executives seem to believe it should come down to a sustainable level by year-end.
The price will have to move back up to a level which reflects the reality: domestic and geographical disadvantage of the U.S.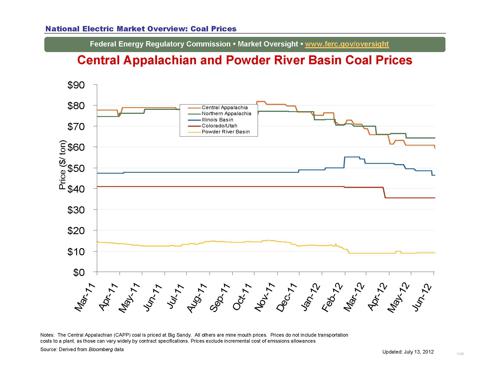 Click to enlarge
Source: Federal Energy Regulatory Commission.
Let's face it: With natural gas at this low level, the economic value of thermal coal should be suppressed, regardless of the environmental regulation imposed by this administration. If natural gas continues to rise or at least get stabilized at $3, there should be some force to push the coal price higher.
In a weak market, met coal price will have to be marked down when exporting to Asian to account for freight costs in order to be competitive. While the met coal market is hugely profitable for Indonesian or Australian exporters, it is less so for U.S. coal miners, which have to cut prices $50-60 in this market.
Indonesian intends to expand its exporting coal capacity
Local news has reported that Indonesian government forecast a stunning 30% rise in coal exports year-over-year. If the price starts to rise, this will encourage more coal mines to come on-line.
Wild cards:
It is worth noting that there are a couple of pieces of news which investors should pay attention to:
Obama vs. Romney
The race is tight, but media forecasts have been pointing to Obama's lead. Any reversal should propel coal stocks higher - just maybe some psychological relief.
Disruption in supply
We can not "predict" any of these disruptions, therefore we will keep a close eye on it.
In Summary
We prefer large and diversified coal producers. Opposite to the market price indications, we think thermal coal will have a better chance of recovery than met coal. We are bearish on the Australian coal sector due to the cost over-run.
We are hereby issue our recommendation to the following coal stocks:
Peabody Energy Corporation (BTU) - hold
Peabody has been focusing on Australian export market and having consistent higher margins among all. We are concerned about their Australian unit's cost after the decade's expansion.
Walter Energy, Inc. (NYSE:WLT) - sell
In this environment, any high-cost producer should be avoided.
Arch Coal Inc. (ACI) - buy
The company had an impressive quarter. We noted that despite the headwinds, it had positive cash flow from operations. We don't like their leverage, however, given how depressed the share price we would recommend the stock.
Alpha Natural Resources, Inc. (ANR) - buy
If we have to choose one coal company to buy, we will buy ANR. Alpha is well-diversified and well-managed. It will benefit the most while the thermal cost price recovers.
James River Coal Company (JRCC) - sell
We are concerned about this company's liquidity. Although there is no immediate threat of bankruptcy, we don't think it is wise to take risks in smaller players in this environment.
Disclosure: I have no positions in any stocks mentioned, and no plans to initiate any positions within the next 72 hours.