Remember the 80's Hall and Oates classic 'Private Eyes?' Who can forget such powerful lyrics:
Private eyes, they're watching you, they see your every move. Private eyes, they're watching you. Private eyes, they're watching you, watching you, watching you, watching you.
Well, flash forward 27 years to see just how right they were. If you happen to be a proprietary trader or stockbroker, and you are thinking about becoming a famous rogue trader, think again. While you may get famous and bring down a huge bank like Societe Generale (OTCPK:SCGLY), your chances of landing in prison just increased. Why? Because of Israeli ingenuity. Actimize, a NICE Systems (NASDAQ:NICE) company has launched a surveillance product for rogue trading detection.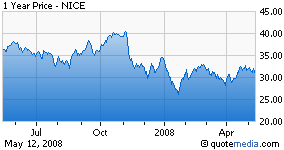 The company worked with financial institutions to develop a product that meets the needs of the firms.
Axel Pierron, senior vice president at Celent said:
In response to regulatory pressure and rogue trading events in early 2008, large firms around the world are reviewing their systems and risk management processes. Solutions, such as Actimize's, that provide a centralized view of trading activities supervision as well as employee surveillance are clearly matching the current needs for 'rogue trading' prevention solutions in the financial industry.
Long-term investors may want to take a long look at NICE. With a continued focus on tracking money flows, even if we see a slowdown in IT spending in the financial services industry, NICE may not see that slowdown. In many cases this is becoming required spending, and slowdown or not, NICE's product suite will be in demand. Coupled with continued strong EPS growth, NICE, potentially, maybe an interesting long-term play.
Disclosure: The author's fund has a position in NICE. He has no position in any other stock mentioned as of May 12, 2008.