Aircastle Ltd. (NYSE:AYR) caught my eye in March when the company slashed its quarterly dividend from 70¢ per share to 25¢. This was after 6 straight dividend increases from 16¢ to the earlier mentioned 70¢. The stock had peaked at about $40 last summer and had been declining steadily, with the downward slope steepening just before the dividend slash announcement.
I think the early stock price erosion was tied to the overall credit crisis and its effect on a company that requires a lot of debt. The dividend cut was accompanied by the announcement that the company wanted to preserve cash in difficult times. Internet scuttlebutt hinted at difficulty with funding sources.
At this point, Aircastle has shored up its financing needs and the recently released Q1, 2008 earnings show a company in pretty good shape. Percentages shown are changes from Q1, 2007 and Q4, 2007.
Revenues: $135 million, +92.8%, +11.8%;
EBITA: $119.9 million, +101.7%, NA;
Net Income: $31.6 million, +46.9%, -10.5%;
Net income before depreciation: $83 million, +49%, +5.5%.
The net income before depreciation is the important one for a leasing company like Aircastle. The $83 million translates to $1.07 per share, giving excellent coverage to the 25¢ dividend.
Since I failed to mention it earlier: Aircastle is in the aircraft leasing business. It currently owns 136 aircraft, leased to 59 customers in 39 countries. 92% of the aircraft are to customers outside the U.S. and 25% are air freighters. The company went public in 2006 and acquired approximately 50% of its fleet in 2007. Going forward, growth should be more incremental with several economic trends in their favor.
AYR finances its aircraft at approximately 60% LTV. This allows them to borrow at attractive rates (last round at LIBOR +1.75%) on aircraft that have a current net lease rate return of almost 14%.
Global air traffic is growing at a projected 6% rate per year.
Of the approximate 25,000 global airliners, 4,000 are older, economically obsolete, fuel pigs. Higher oil prices prompt airlines to quickly replace these aircraft.
From listening to the last conference call and reading some of the press releases, I believe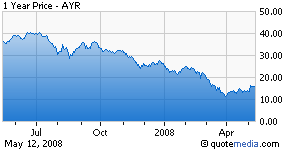 Aircastle is in a strong economic position to both grow their business and start increasing the dividend again. On the conference call, management made no commitment about the dividend, but the previous policy was 70% of free cash flow (net income before depreciation). For this last quarter, that number was $1.07 per share. Even if the 70% was too big a slice, 40% to 50% equals to a doubling of the dividend.
AYR currently yields 6.3% on the $1.00 per year dividend. I am adding this stock to my site's Income Portfolio with the expectation of both dividend and share price increases over the next year.
Note: I currently have a long position in AYR.