Investors in microcap nursing home provider Advocat, Inc. (AVCA) should be pleased with first quarter earnings.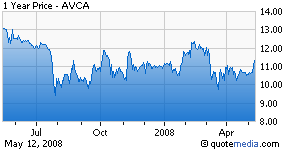 Revenues increased 30.9% year-over year, net income from continuing operations was up 124.7% (to $.50 per share, fully diluted), and funds from operations rose 45.7%. Part of the increase was due to Advocat's purchase of seven Texas facilities in August 2007, but even on a "same center patient" basis revenues were up 7.2%, while same center expenses were down 1%.
According to CEO William R. Council III:
The first quarter of 2008 was another eventful and productive period for the Company. We are pleased with our financial performance, which we believe reflects our continued success in generating operating results at our facilities through a combination of census mix and rate increases. I am particularly pleased with the integration of the Texas facilities, demonstrating that the Company can successfully implement our culture and systems to improve the operations of acquired facilities. The renovation program continues on schedule with excellent results. We expect to complete two more renovation projects by the third quarter of 2008, and have plans underway for additional projects.
Bottom line:
If Advocat can string together a few more quarters like this, and keep professional liability costs in check, I think it could make a run at its old highs.
DISCLOSURE: Long AVCA.