Mexico has been outperforming behind the scenes, as investors have focused their attention on the doom and gloom in the Eurozone and the U.S. The exchange traded fund iShares MSCI Mexico Index (NYSEARCA:EWW) has popped above its 200 day-moving-average.
"Economists are predicting that Mexico is on track to surpass Brazil as the biggest Latin American economy over the next decade thanks to several encouraging factors. Nomura Securities cites that favorable demographic trends and its proximity to the largest market in the world (the United States) will allow the country to thrive while economic growth expectations in neighboring countries are cooling off," Styan Bojinov wrote on ETF Daily News.
EWW has returned about 15% year-to-date, while the broad-based U.S. ETF SPDR S&P 500 (NYSEARCA:SPY) has returned about 7%. The Brazilian equity ETF iShares MECI Brazil Index (NYSEARCA:EWZ) has lost about 10% and the iShares MSCI Emerging Markets index (NYSEARCA:EEM) has gained a mere 2%, reports Bojinov.
Enrique Pena Nieto's win is considered a positive sign for the Mexican economy. The new President supports structural, pro-market reforms and citizens are optimistic. The scope of the oligopolies will be curbed, giving more opportunity to small business.
The drug-related violence that Lain America's second largest economy has been plagued with has not kept the economy from moving forward. The economy grew 4.6% in the first quarter of 2012, and 2011 had a total growth rate of 3.9%. Vincent Mao for Investor's Business Daily reports that the U.S. economy saw an increase of 1.9% in 2011.
EWW is a highly concentrated ETF. The fund holds about 50 stocks and the top 10 holdings have about two-thirds of the assets. Consumer defense and telecom have the biggest allocations. Basic materials, financials and industrials round out the fund.
For investors who are bullish on the Mexican economy, the ProShares Ultra MSCI Mexico Investable Market ETF (NYSEARCA:UMX) will give 2x the leveraged exposure that EMM gives.
iShares MSCI Mexico Index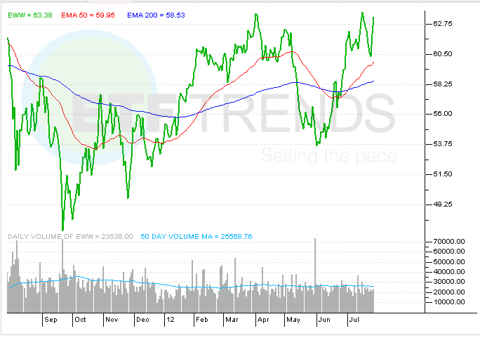 Tisha Guerrero contributed to this article.
Disclosure: I am long SPY.
Additional disclosure: Tom Lydon's clients own SPY.