China Medicine Corporation (OTCPK:CHME) of Guangzhou said Q1 results show a 54% increase in net income ($1.2 million) on revenues that were 39% higher ($7.1 million) than the same quarter a year ago. China Medicine develops and distributes prescription and over-the-counter pharmaceuticals, traditional Chinese medicines, and nutritional and dietary-supplements.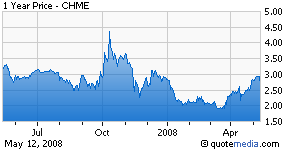 China Medicine said its improved financial performance was helped by an expansion of its distribution network to include the rural areas of its home base in Guangdong Province. The company was also able to take advantage of the online bidding process to increase its provincial distribution rights in Q4 of 2007. Because of the China New Year celebrations, a similar increase did not take place in Q1, but China Medicine expects to continue its penetration of that market in the future.
China Medicine also commented that Q4 is its best quarter, and Q1 traditionally records the lowest numbers for the year. Hospitals and other distributors stock up prior to the holidays and then work off their excess inventories during Q1.
Breaking down its revenues by division, China Medicine said prescription products and over-the-counter products accounted for 58% of the total, TCM provided another 38% and medical formula sales contributed the remaining 3%.
China Medicines reported that gross profit equaled $2.3 million in the first quarter, representing a margin of 33%. That is lower than most China biopharmas, a result of the fact that China Medicine does not perform its own manufacturing. China Medicine said it is actively seeking to make an acquisition of a manufacturing facility to redress this problem.
At the end of Q1, China Medicine listed $31.5 million in working capital, though it has only $5.2 million in cash and cash equivalents. The company's cash actually decreased by more than $500,000 during the quarter because its Trade Receivables climbed $1.7 million. China Medicine, which was careful to say the receivables are "bank-guaranteed," ascribed the rise in Trade Receivables to its increase in sales.
China Medicine has two drugs in development: Yutian Capsule for the treatment of chronic obstructive pulmonary disease, and aflatoxin-detoxifizyme [ADTZ] products, an animal feed product. The company expects to file its request with the SFDA in June to begin human trials of Yutian Capsules, and to begin experiments in animal feed with its ADTZ products about the same time.
For all of 2008, China Medicine predicts that revenue will grow approximately 30% and net income to climb 21%. That would give the company revenues of $55 million and net income of $8.3 million. If China Medicine could make a manufacturing acquisition and bring that segment of its business in-house, it would have the potential of substantially increasing its profitability on an already solid revenue base.
Investors sold shares of China Medicines after the announcement. It was down 6% or 18 cents at a price of $2.75 per share. There are 15.3 million shares currently outstanding, giving China Medicines a market capitalization of $42 million.
Disclosure: none.