The oil and gas story is alive and well and looks to be into the foreseeable future. San Juan Basin Royalty Trust (NYSE:SJT) looks very well positioned on the higher moving price of natural gas, but has experienced some negativity as recent costs have been higher than expected, cutting into earnings and the last few distributions. Looking forward, this trust looks to have capacity for the next ten years, as they have resources of over 50 trillion cubic feet.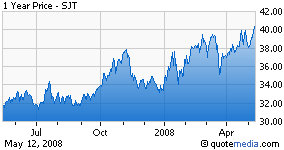 Year over year we have seen oil and gas production decrease 10%, but with realized oil prices doubling last year this coming quarter could be very good for earnings. If we look at average price attained last year gas was $6.11 per Mcf, and oil $63 per barrel. Last year saw a decrease in the collected price of natural gas and that was the main contributor to negativity with respect to earnings. Capital expenditures have also been a problem as 2006 was very large and there wasn't enough of a decrease for last year. I believe we will see these expenditures come down this year more in line with 2005 numbers. The trust estimates capital expenditures will decrease by $5 million for this year.
Decreased expenses are not the only reason I believe SJT will beat earnings; the ever-increasing price of oil and gas should help things along. Gas will be most important to SJT's bottom line as it accounts for over 80% of revenues. Since SJT's contracts are classified, as per the Trust's annual report, we are notified after the fact what earnings SJT will garner.
Current quarter earnings are estimated to increase 30% year over year. The earnings estimate seems to lag, as they are stating that this will occur while revenue increases are estimated at over 145%. One of these two figures are not right and I believe it to be the earnings as the only affect on this number could be costs, as SJT seems to be better this year even with a higher realized price. Even if earnings meet expectations, the stock seems to have value as the PE is at 16, setting the PEG ratio at a very inexpensive number. Current growth rates see the PE shrinking to 12 next year.
The current chart is very bullish. Money flow has been increased since January. The 50-day simple moving average was eclipsed on May 2nd. The current trend has the stock going to $57. I see this stock coming in ahead of earnings, as we have with most oil and gas companies. Buy before earnings or for long term.