One of the reason smallcaps can be so lucrative is that they receive very little media or analyst coverage. Unfortunately, it can also be why you can suffer horrific losses when you do not know the reasons behind the price movements in your stock.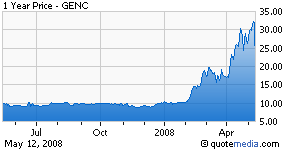 A cursory examination of Gencor (NASDAQ:GENC) would reveal a tempting little stock. It's in a good sector, has what appears to be a reasonable valuation, and we just had a major pullback. The stock had tripled if you go from its 52 week low to where it was at just last week. Perhaps it was a mere oversight that the stock was the largest decliner of any U.S. stock today in all time record volume for the security.
What gave Gencor the momentum it had enjoyed? It wasn't the infrastructure boom. While other infrastructure plays soared in 2007, this stock actually was DOWN 13%. This stock moved due to three catalysts that simultaneously disappeared Friday (after hours if you want to get technical.)
Gencor was the target of activist investor Lloyd Miller (think Carl Icahn with much much smaller stocks.) When Lloyd Miller accumulated a large position in GENC and got himself a place on the board, this stock tripled in only a few months. While he was there, Lloyd Miller did what all activist investors do - tried to create more shareholder value. It was announced last Friday after the market close that he had resigned, as of May 7th, from the board of directors. At the bottom of this article you can check out his resignation that he sent out (this can be found in their SEC filing exhibit 17). He didn't appear to leave any wiggle room there. It's safe to say that we can say goodbye to catalyst #1. The stock traded at around 9 dollars a share before Miller joined the board.
Their earnings looked huge due to some non-recurring events (see their filings for the same quarter last year.) Without those non-recurring events, this stock has an almost 90% year over year drop in EPS. You normally could say that the fact that it was a non-recurring event was already baked in, but it wasn't, as growth investors piled in without reading the 10-Qs (see catalyst #3) . Once again, a risk you take with smallcap names. Now you can get away with a 90% EPS drop if you're a beaten up housing or banking stock. But when you have had a 300% price movement, the expectations tend to be on the high side. The fact that the company announced earnings at the same time as Miller's resignation made a bad situation far worse for shareholders.
The EPS growth from previous non-recurring events and the price momentum pushed this stock to unsustainable levels. Most notable was its appearance in the Investor's Business Daily 100. Since EPS growth and price momentum are crucial factors in a stock's inclusion in the IBD 100, I would not count on seeing that name when you open Investor's Business Daily this coming weekend.
The reason this stock sold off is that the three legged stool of the catalysts I mentioned were all kicked out from under GENC at the same time. Like most stocks that lose their growth and momentum after parabolic moves, it will likely retrace back to where it started at. With Lloyd Miller gone, this stock goes back to where it was before his involvement. In other words I would put a price target of $14 on this stock. And that is being generous.
Here's Lloyd Miller's resignation:
May 7, 2008

Gencor Industries, Inc.,

5201 North Orange Blossom Trail

Orlando, Florida 32810

Attention: Corporate Secretary

Dear Sir or Madam:

I hereby resign as a member of the Board of Directors of Gencor Industries, Inc. effective May 7, 2008.

Sincerely,

Lloyd I. Miller, III Lloyd I. Miller, III
Disclosure: Author has a short position in GENC