After several false starts, Cisco Systems' (NASDAQ:CSCO) TelePresence technology — that next-generation video conferencing solution — is finally gaining traction in selected high-end vertical niches. And now Cisco is introducing lower-end "personal" TelePresence systems for individual offices.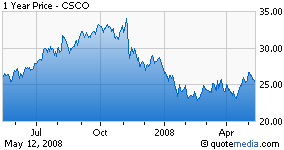 Still, TelePresence will need to overcome at least two more major challenges before it goes mainstream, I believe.
First, the good news: When set up and configured correctly, TelePresence delivers the goods. I have participated in several TelePresence demonstrations, and they are spectacular. In a typical demo, participants sitting in two separate TelePresence conference rooms feel as if they're part of one virtual room, sitting only a few feet — rather than thousands of miles — from each other.
In a best-case scenario, TelePresence can help companies to vastly trim their travel expenses, and it can improve corporate communications — allowing people from multiple regions to have true eye-to-eye contact and rich conversations without having to get on a plane.
Sounds great. But TelePresence also has its drawbacks. Generally speaking, a TelePresence conference room designed by one company (say, Cisco Systems) can't work with a TelePresence conference room designed by another company (for instance, Hewlett-Packard (NYSE:HPQ)). Also, TelePresence conference rooms can cost $300,000 or more to set up, plus annual support costs can exceed six figures.
Tuning In
Still, TelePresence is beginning to find a home in corporations, thanks to several key developments.
First, small, nimble companies like LifeSize have been introducing aggressively priced systems. (Cisco is now following up with its own low-end systems.) Next, Cisco is working to have TelePresence systems deployed in major hotel conference centers. The result: Small business owners and deep pocketed companies alike will be able to pay an hourly fee to reserve time on TelePresence systems across the globe.
It's easy to imagine corporate board members scattered across the globe heading to TelePresence centers — rather than getting on planes — to discuss urgent business matters over secure IP video connections.
It's still early in the TelePresence game. Only a few dozen consulting firms across the globe really know how to sell, service and support TelePresence systems. Within the next 12 to 18 months, though, I expect that number to increase dramatically.
And that trend could be healthy for Cisco and its shareholders.
Disclosure: none