Deutsche Bank is out with a good call on Smurfit-Stone (SSCC) and other badly beaten down sector names saying a recent event may support containerboard prices:
1) An explosion is causing an unexpected outage at a large IP mill
2) The International Paper (IP)/Weyerhaeuser (WY) deal received quick regulatory approval.
Without that IP mill, the effective linerboard operating rate is near practical capacity.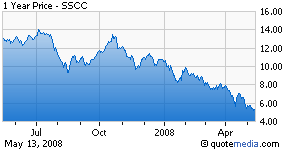 At the same time, the rapid approval of the IP/WY deal removes a potential "loose cannon" from the market.
The firm notes the loss of IP's Vicksburg mill is a "big deal" - if the mill is out for any extended period of time. Maintains Buy and $15 target on SSCC.
Notablecalls: SSCC represents a very nice bounce candidate here, in my opinion.