Renren (RENN) reports 2Q12 results on August 7th.
The Street expects:
Revenue: $42 million
EPS: $0.04 loss per share
Q3 revenue guide: $52 million
Heading into earnings, I will be focusing on 1) user growth and engagement, 2) additional color on Renren's mobile initiative, and 3) Nuomi's operational metrics.
As of Q1, Renren had 154 million activated users and 40 million monthly active users. Despite an increase of 33% y/y, MAU as a percentage of total activate user has been flat over the past year.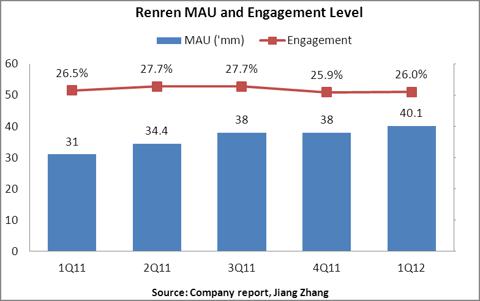 Compared with Facebook (FB) in North America only, Renren has a lot of work to do in bringing up its user engagement level. While I understand that comparing Facebook's daily engagement with Renren's monthly engagement is not apple-to-apple, I would like to point out how much Renren lags behind Facebook given that Renren's daily active user engagement could possibly be even lower than its monthly user engagement.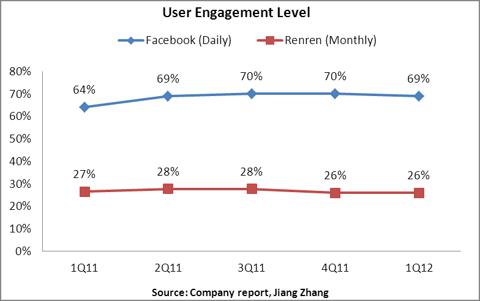 Low user engagement, coupled with weak macro environment, contributed to its disappointing advertising revenue growth in Q1. In this upcoming quarter, it would be encouraging to see incremental increase in engagement level, which I believe is critical to attracting advertising dollar.
In the mobile front, Renren continued to introduce new products such as its own Android fork. For a deeper analysis, please see my June 11th note titled "Renren: Capitalizing On Mobile Potential With Smartphone OS." However, the mobile space is becoming highly competitive. I note that Tencent's WeChat mobile application, which allows users to chat, share photos, find nearby friends and group chat, has been widely popular among young urban users and university students, Renren's core market. Growing usage of WeChat among users would result in user stickiness that lead to high switching cost that creates headwind in Renren's mobile growth.
Finally, Renren's group-buy unit Nuomi could continue to register losses. However, the bright side is that China's group-buy industry continues to consolidate. In May, China had 2,996 group-buy sites, down from over 6,000 a year ago. Recently, Chinese group buy site, FTuan, merged with Gaopeng, a joint-venture between Groupon (GRPN) and Tencent. Continued consolidation will benefit Nuomi only if Renren is willing to make the investment. I note that in Q1, Nuomi recorded $2.5 million of net revenue but $8.2 million in net loss, after considering $0.3 in cost of goods sold and $10.4 million in operating expense.
Disclosure: I have no positions in any stocks mentioned, and no plans to initiate any positions within the next 72 hours.