American States Water (AWR) announced a 27% increase in their dividend this morning. AWR always adds extra details to these press releases praising their own dividend history. They should be proud to announce 58 consecutive years of dividend growth. Think about 58 years of raises, that is longer than most professional careers. Not all are 27% increases but there is little doubt that this is a company focused on shareholders. This newest dividend increase was a management decision to share profits from the contract services division. Profits have grown in that division over the last few years and have reached a level of stability that will allow shareholders to participate via a higher yield (read here).
AWR is doing business in California with about 255,000 water connections and 23,000 electrical connections. With a tiny market cap of 766M, AWR is not an international power house or even a US player. American States has very little diversification and is rather sleepy, but who can argue with 58 years of dividend increases. I do understand that no one wants to live off of a 2.7% yield (before the huge increase today), but everybody should have a few good utilities in the portfolio that are acting like AWR. This is even more true for those near or entering retirement.
A good utility can deliver capital appreciation and yield. Let's look at AWR's chart, from ycharts.
10 Year Price and Yield Chart for American States Water: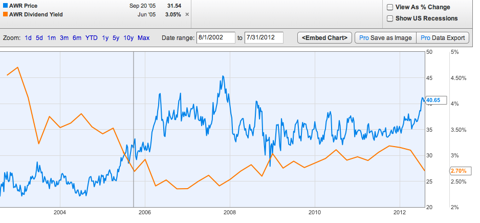 AWR looks a little over bought right now but the new yield level is causing me to reconsider that. The dip in the orange line is not from a drop in yield it is due to price growth out pacing the dividend growth. The DGR (dividend growth rate) for AWR has been rather low for the last ten years at about 2.4% per year. These guys are just barely making past my rule that the DGR has to be at or greater than the government reported CPI to be included in a retirement income portfolio. CPI (less food and energy) for the last ten years is 1.9% I feel CPI is understated compared to the cost of real life but I still use it as a benchmark for growing dividends. If you add in the new 27% dividend hike from AWR it looks better. However, putting these guys in client portfolios had nothing to do with that most current hike. It was the 58 year history.
Anyway, let's check on the numbers for AWR. From Morningstar.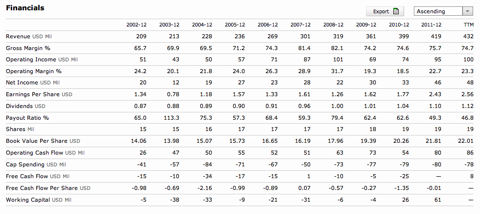 Earnings per share are up over the last 10 years, not straight up, but up enough for me. Operating margin is steady over that same time frame. Utilities carry lot of debt, this can be a good thing if the IRR is much higher than the debt cost. Over a long time frame if earnings are growing and margin is steady I immediately look at the debt levels to see if the growth is debt financed.

I'm good with this chart. Long term debt levels are stable and trending down some. AWR is growing, some of that growth is inflation and that's great as long as that kind growth is passed on to shareholders, and that is the case with AWR.
Investment Strategy for AWR
Until today I have been waiting for a price drop to enter new AWR positions. I'm not buying on today's news. I'm waiting to see the emergence of new technicals over the next few weeks or months. My previous buy range around $35 per share may no longer apply. With the dividend at $1.12 per share the yield support at $35 per share was 3.2%. Meaning, that I like AWR when I'm buying a yield of 3.2% with my money. The price run up over $40 upset those value levels by driving the yield down to 2.7%. With the new payout at $1.42 the 3.2% yield support level would suggest a share price of $44 in my new buying range. I'm watching this develop and I'm ready to move my conservative buy range from up $35 to something around $42 per share.
Disclosure: I am long AWR.