If you were are Sara Lee shareholder for the last month post spin-off you have owned shares in Hillshire Brands (NYSE:HSH). Here we review key metrics on the stock to assess its valuation relative to other meat producers as well as the general trends for the stock. We conclude the stock is unattractive.
Key Metrics
| | | | |
| --- | --- | --- | --- |
| Company | Hillshire Brands (HSH) | Hormel (NYSE:HRL) | Tyson (NYSE:TSN) |
| Market Cap ($B) | 3.0 | 7.4 | 5.5 |
| Price To Earnings (TTM) | 8.5 | 16.1 | 9.2 |
| Sales Growth (MRQ) | +2.4% | +2.7% | +3.3% |
| Operating Profit Growth (MRQ) | -13.5% | +8.8% | -0.3% |
| Operating Margin | 10% | 9% | 3% |
source: Yahoo Finance, company reports
An Acquisition Target?
Hilshire Brands is less than half the size of the others by market cap, leading some to conclude it is an acquisition target. This might make most sense for Tyson, moving it from commodity lines to higher margin products, since Hillshire owns the strong Jimmy Dean brand among others. However, equally there is nothing wrong with being a commodity provider and arguably that's where Tyson's core strengths are.
Fundamentally Slow Growth
However, Hillshire's sales and profit growth is lackluster. Management intends to change this with innovation on the top line and cost cutting over the next few years. Nonetheless, meats are fundamentally a relatively slow growth business, particularly as health conscious consumers substitute to other forms of protein, and cost cutting can only achieve so much in delivering year-over-year equity returns. The success of innovation is necessarily hard to forecast, but the key Jimmy Dean brand is already relatively broad spanning a range of meat products.
The Key Brand Is Jimmy Dean
The photo below shows Jimmy Dean's products at a Safeway store in the Pacific Northwest; this shows the strength of the Jimmy Dean's brand, but also that the brand is already relatively broad and dominant and hence the capacity for innovation may be limited.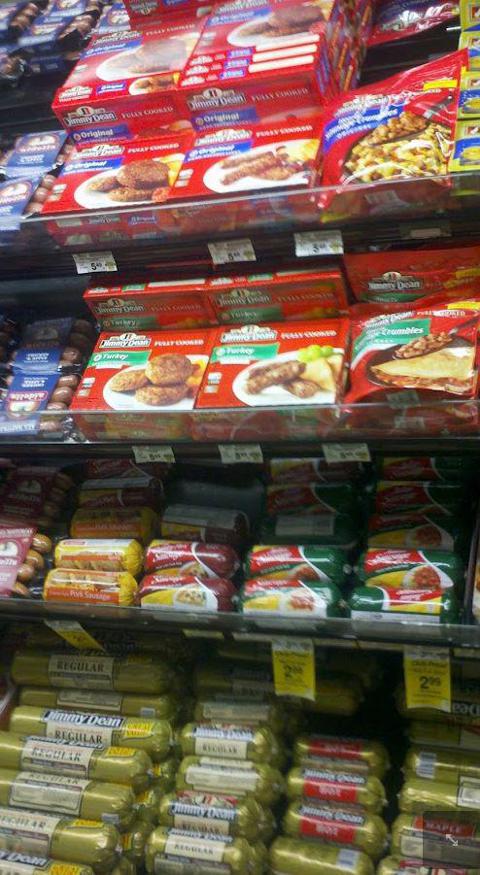 (click to enlarge)
Commodity Costs Create a Headwind For The Industry
The relative drought in the U.S. is driving up commodity prices. Meat products lose out more than most from this trend, because animals consume significant feed, the price of which rises with other commodities. Of course, some of this may be passed on to the end consumer, but as the Wal-Marts (NYSE:WMT) of the world continue to consolidate the retailing of consumer products it is not clear that producers have the power to pass through all of these costs, and even with the most optimistic of assumptions these costs will be passed through with a lag, hurting earnings in the short term.
Recent Stock Performance Weak
Since listing a month ago Hillshire Brands has underperformed the S&P 500 by 15%. This is fairly typical of spin-offs and often creates buying opportunities as new spin-offs are often sold down by their new owners and don't get the same level of marketing investment and attention IPOs receive.
Conclusion
Hillshire Brands does not appear to be a compelling investment. There is some chance of an acquisition, but it is risky to build an investment case on a relatively uncertain event and without it, Hillshire appears a slow growing company with an as yet unproven aspiration to innovate, and a commitment to cost cutting, which is unlikely to deliver sustainable growth. Hillshire does have premium brands such as Jimmy Dean, but it also has a bakery segment that is strongly underperforming and other more commodity businesses within meats, as a result meaningful growth will be hard to deliver given this offsetting force. In addition, on a price-to-sales basis the company is already expensive relative to peers.
Risks
Hillshire is starting to look cheap on several metrics such as trailing P/E, however the costs of operating as an independent company, together with commodity feed cost increases, should cause costs to rise this year and depress earnings.
Though I believe the prospect of an acquisition is overplayed, that could be a potential source of upside for the stock with acquisitions typically yielding premiums of 30% over the pre-acquisition share price based on historical averages.
Disclosure: I have no positions in any stocks mentioned, and no plans to initiate any positions within the next 72 hours.