Oft criticized online video streaming pioneer Netflix (NASDAQ:NFLX) reported second quarter 2012 earnings last week that drove the company down twenty percent to a fresh 52-week low. If you have a heart condition, the one year chart of Netflix below might be difficult to stomach. The stock has plummeted over seventy-five percent in the last year as it has fallen from over $250 to $60. You know things are bad when Research in Motion (RIMM) is outperforming you over the past year (RIMM is "only" down 70% over the same period). I have been screaming that Netflix is the ideal short candidate since September 2011 and the stock has tumbled over 50% since then.

Click to enlarge
(Click to enlarge)
(Source: Yahoo! Finance)
This feels like déjà vu all over again as Netflix tumbled sixteen percent after its last quarterly earnings release. I dubbed the first quarter 'The Good, The Bad, And The Ugly'; however, this quarter has more of the latter than the former. Below I will highlight the most alarming aspects of Netflix's earnings release and conference call. First you need to see if Netflix really even was profitable at all.
How Did Netflix Turn a Profit?
Netflix was able to turn profitable this quarter but exactly how did it do it? I want to call your attention to Netflix's income statement, specifically the items I marked as (A) and (B) in red.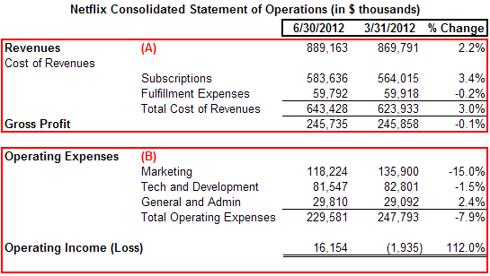 Click to enlarge
(Click to enlarge)
In exhibit A you can see that gross profit was marginally lower as revenue gains were more than offset by the cost of content. The cost of subscriptions actually rose 3.4% while revenue rose only 2.2%. Fulfillment expenses declined slightly but those are insignificant and relate primarily to the DVD business. I believe it is misleading to proclaim that the company has "returned to profitability" by touting its growth when that does not tell the full story. Hastings even said on the call "we're not trying to rein in content costs" - maybe it is time that they should.
Exhibit B reveals how Netflix broke-even: cost cutting. Marketing expenses were slashed by $17.7M, or 15%. If marketing expenses were the same as last quarter the company would have had an operating loss of $1.5M compared to $1.9M for the prior quarter. This type of short-term earnings magic has long-term implications in the form of marketing expenses that are vital for the company to have a chance against its competitors.
International Continues To Drag Profits; DVD Cash Cow On Last Legs
Netflix's financials tell a clear strategic story. The company is relying on its domestic DVD operations to keep the company profitable (or dramatically reduce the net loss in prior quarters). The true burden for Netflix has been its costly international streaming, which had a contribution loss of $89M this quarter. Therefore, the domestic streaming contribution profit of $83M could not even fully absorb the international loss. Fortunately for Netflix it still has a robust cash cow of a domestic DVD business to rely upon. Domestic DVD rentals are far and away the company's main source of profits with a contribution profit of $134M and contribution margin of 46%. Unfortunately for Netflix, 6.7M of its 9.2M DVD subscribers are also domestic streaming customers and would be prime candidates to eliminate the DVD subscription. In the past three quarters the company has lost 4.6M DVD subscribers and I believe that the third quarter guidance for a 600,000 to 900,000 subscriber loss is on the low end. At this rate Netflix will lose the majority of its lucrative DVD customers in the next two years and will be in a crisis situation if its international operations do not turn positive by then.
Management Comments Do Not Inspire Confidence
Netflix's conference calls and management discussions are always entertaining due to the enigmatic CEO Reed Hastings. The following comments were quite disconcerting:
"We have enormous challenges ahead, and no doubt will have further ups and downs as we pioneer Internet television."
Fourth quarter launch in another international market will cause a net loss
"It would be challenging to achieve that goal [7M annual domestic subscription additions] by year end"
Guidance of 1M to 1.8M domestic streaming net adds - Hastings attributes this weak guidance to the Olympics despite the 2008 Beijing Olympics only having a "small negative effect"
Exclusive Content Is Important, Until We Lose It
Netflix has been beating the drum extolling the benefits of securing its exclusive content over competitors, which is a logical argument. With significant competition from outsiders it makes sense to offer consumers video that they cannot obtain elsewhere on the Internet. Management dedicates an entire section in the earnings release to "Original Programming" in which Netflix mentions five shows that it has in development. However, early in the release Netflix discusses how the termination of its exclusive deal with EPIX will not have a significant impact on the company. So exclusive content is important to Netflix when it has it but irrelevant when it loses it? Apparently Netflix wants to have its cake and eat it too. With Netflix starting to invest more heavily in generating its own exclusive content this could be an expensive gamble that backfires. The history of companies having success by branching out into developing their own content is quite bleak and I have minimal confidence in Netflix.
I have been very bearish on Netflix primarily because it has no competitive advantages or significant barriers to entry that can prevent competitors from entering its online streaming space. Not only does Netflix compete with cable provider heavyweights but it battles directly with Amazon (NASDAQ:AMZN) and Apple (NASDAQ:AAPL). As of last year Apple had 200M iTunes accounts with credit cards compared to Netflix's ~28M streaming customers. Not only does Apple have the more established platform to push its videos to users but with the potential iTV on the horizon the partnership could become strained. Currently Apple TV allows consumers to pay for Netflix via their iTunes account which likely is a material source of revenue for Netflix. If Apple decides to get more serious about streaming I envision trouble for Netflix as Apple could almost "flip the switch" and do irreparable harm to Netflix.
How To Play It
Netflix is a scary investment because it lacks an identity. The growth is not present to support the high forward PE (57.2) and its cash cow operations are rapidly deteriorating. The forecast of only 5.8% domestic streaming growth simply cannot justify investing in this stock, especially when the cost of content are rising in-step with revenues.
I recommend going long the January 2013 $50 Puts currently trading at $5.69. I selected this option as that should encompass two earnings releases for Netflix and this strike had the most open interest for the period. The Netflix short story is definitely more difficult after its recent tumble but there is still money to be made here. I will not take my foot off of the bearish pedal until the company can show profitable international growth or at least stem the tide of domestic DVD subscriber losses. Unfortunately for Netflix I do not envision either of these happening anytime soon.
Disclosure: I am long AAPL.